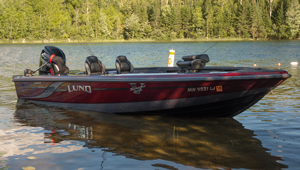 Tom Dunham Emailed with a Question; "As always, I greatly appreciate the words you put out for us to read and I must confess I'm dying to hear your report of your glass 208 GL/Verado combo.
You have a couple things making this one of the more cherished reviews possible, 1) your daily life is spent in the thing, and 2) You came form a long stretch in the aluminum Alaskan/optimax and should be able to provide a perspective unique as any.
I imagine others would love to see a detailed review of the good, bad, love it, hate it. Thank you, Tom in Iowa.

A) Thank you for the vote of confidence Tom, I'll do my best."

My history with Lund's 2000 Alaskan goes back about 15 years; I think I've had 11 of them so far and I've seen a lot of changes to this model over those years. When I bought the first one, many of my guide customers wondered why I didn't start using them even sooner than I did.
In many ways, I agree with them because from a strictly utilitarian point of view, the Alaskan has been the ideal fishing boat for me and my customers.
That's why using the term "Post Lund Alaskan World" isn't completely accurate. I didn't buy the 208 Pro V GL to replace the Alaskan, I still have my most recent one and it's still working great. In fact if there's any one go anywhere, do anything rig, the Alaskan still gets the nod from me.
My decision to purchase the fiberglass Pro V goes beyond utility though, it is based on times when my rig has to serve needs that go above and beyond expecations for most routine fishing trips. This boat shines at times when there's a need for ultimate comfort, convenience and superior control.
The most notable and obvious difference is the ultimate ride that the glass Pro V provides. My home waters, lakes like Leech, Upper Red and Winnibigoshish can dish out some nasty conditions. I can honestly say that except under the most extreme conditions, I can go anywhere on these waters and still provide my customers with a dry, smooth ride.
In fact, we were caught by a "freak storm" on Winnie last summer and these were the worst conditions that I've ever navigated. Making an emergency run for safety; observers on shore believed that we capsized more than once, but we didn't; we stayed high and dry all the way back to a safe harbor.
I don't want to over-dramatize the event, but I do believe that this boat saved us from what would likely have been a gloomy outcome that day.
From a fisherman's perspective, the boat tracks well, it's easy to control and maintaining precise contact with fish is easily accomplished. The most notable difference about the fiberglass is how slowly the boat drifts. Using the Alaskan, my drift control bag is the magnum size and it's in the water almost all of the time. With the Pro V, I use a much smaller drift bag and it's in the water only occasionally. When I do use it, it's typically to aid in slowing my trolling speed rather than to control drift speed.

Not that the 200 Verado doesn't troll down nicely, it does; but if we're trolling spinners or crankbaits on a calm day, I do occasionally need the bag to keep us at optimal speeds. By the way, the power steering makes operating the big tiller effortless and I love being able to take my hand off the tiller without going off track.
At first glance, it appears that the 200 HP Verado is a lot of engine for a 20 foot boat, but it's not. The boat weighs in at 2400 pounds empty and by the time you add gear, gasoline and a crew, you're over 5000 pounds and need all 200 HP to get up on plane in a timely fashion.
The 200 Verado does get me up on plane and it does allow me to keep my crew riding high and dry. But I won't win any races with my friends who own bass boats. That said, it gets me around fast enough, it trolls me down slow enough and it's easy to control. It does everything I need and it's quiet, smooth and clean running to boot; I'm happy.
Fish-ability and comfort aside, it may surprise you to learn that many of the biggest impressions made on me by the Pro V were by smaller features. There was a lot of thought put into the layout and when you're using the boat it shows.
The built in tackle trays are set into in the perfect spot and for a dis-organized person like me, really help save time and cut down on clutter. Every single lure that I needed for the entire summer was contained in those trays and I still had room for more.
Other built in features like the tool holder, cup holders and storage compartments are well thought out and useful too. The storage in this boat is very dry, the driest of any boat that I've ever used and they are well placed for convenience.
Comparing the launch ability of the Pro V to the Alaskan isn't really fair because if there's such a thing as a 4 wheel drive boat, it is the Alaskan. If there's water, I can launch mine and get it back on the roller trailer. Using any fiberglass boat with a bunk trailer is bound to present a few limitations.
Despite my apprehension about using a bunk trailer at shallow landings, I was pleasantly surprised by versatile this rig is. Provided that there is enough water to float the boat, the bunk trailer is absolutely delightful for loading.
There were only a few shallow ramps that presented problems and the list of problem spots was way shorter than I thought it would be. I did give up access to a handful of shallow landings, but I was able to find alternative launch sites for many of them. In the end, I think that the ease of loading was actually a net gain for me, even if I did have to change my travel patterns somewhat.
Overall, I was thrilled by performance, ease of use and the extremely comfortable ride; I will happily buy another 208. Beyond that, my 208 is probably one of the most attractive fishing boats that you'll see on the water. The colors and layount combined with excellent fit and finish has wowed everybody that's seen it.
If you have more specific questions, shoot me an EMAIL and I'll be happy to expand on this review. Better yet, if you're in the neighborhood and would like a test ride, don't hesitate to ask; I'd be happy to provide an opportunity to let you experience it for yourself.