I use my Humminbird Side Imaging system to find large concentrations of pre-spawn fish, often associated with mid-depth sand dunes that provide feeding opportunities as well as areas protected from the increasing current.
Another tool that we find very effective for finding fish at this time of the year is our Aqua-Vu underwater camera. In these cold, clear waters of very early spring, fish can be relatively easy to find with traditional sonar or high-frequency imaging techniques, so separating the undesirable fish (like shad, sheephead, suckers, etc.) from our target species is important for fishing with high efficiency. The Aqua-Vu Micro 5 camera system is incredibly lightweight and portable, has a long-life lithium ion batter, and features outstanding optics for excellent image quality in the relatively clear river water.
While the weather is warming and becoming consistently more pleasant, water conditions are changing in a wide variety of ways. As water flows will slowly begin to increase, that increase in flow will bring with it a decrease in water clarity and a decrease, yes a decrease, in water temperature. Fishing in cold, dirty water is very different from fishing in the cold, clear waters of late winter.
River rookies are often caught off-guard by the fact that water temperatures always fall before they begin their long march to summer highs. The reason for this dip is simple: melting snow generates large volumes of ice-cold water. As that snowmelt travels under the receding snowpack and over still-frozen ground, it carries those cold temperatures into the streams and creeks that feed larger, walleye-laden rivers.
The first week of March features typical late-winter temperatures in the low 30s. Warm spring weather slowly increases the water temperatures, until the icy cold snowmelt hits the main stem of the river, causing water temps to crash back down. The water will stay cold until most of the snow is gone, allowing the soils to warm and either absorb the snowmelt, or transfer the soil's heat to the spring runoff.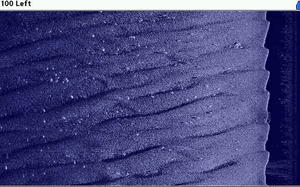 An excellent example of walleyes relating to sand dunes in this Humminbird Side Imaging capture.