Fish Recipes: "Baked Northern Pike" Jeff Sundin
Northern Pike, especially those of larger sizes are ideal for baking. Not only do they taste great, but their flesh is meaty and firm, making them a great choice for use in most baked fish recipes.
This simple recipe for baking Northern Pike is perfect for entertaining, providing consistent, delicious results without requiring lots of cooking. I guarantee the recipe will be a hit with your friends and family.
Baked Pike; Ingredients
1 Medium to large Pike (2 Fillets) De-Boned, Skin Removed, Cut Into Thirds
1 Cup Mayonaise
2 Onions Sliced
2 Tomatoes Sliced
Salt and Pepper To Taste
---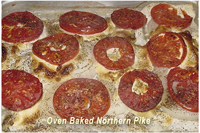 Pre-heat oven to 350 degrees.
Place cut pieces of pike at the bottom of suitable size baking dish or cake pan and layer sliced onions over the pike fillets, followed by one layer of sliced tomatoes.
Spread mayonaise evenly over the entire dish and add salt & pepper to taste.
Bake approximately 30 minutes, until fish becomes flaky and there's a light brown coating over the mayonaise.
---
Join And Become A Duly Deputized Fishrapper Cub Reporter
Helping your fellow fishermen and women stay abreast of the fishing conditions in your area is good for everyone and it's easier than you think!
Fishing Reports Minnesota is the Facebook counterpart to this page and it's open to the public. Be like me, become a duly deputized "Cub Reporter" and post your own pics and comments. If it's good for fishing, then it's Good For Everybody!