Fish Recipes: "Blackened Northern Pike" Jeff Sundin
For folks who have fished with me and sampled my blackened Northern Pike recipe, the pursuit of Northern Pike has taken on a whole new meaning . Even customers who were dead set against trying them have agreed, this simple recipe turns un-wanted "hammer handles" into a meal fit for a king.
Don't worry about too much heat, even the full-strength recipe will give your Pike a lively, but manageable blackened flavor that's not too hot.
If you're tempted to start with a milder version, just cut the amount of blackened spice in half. Using only a light coating of seasoning produces a mild blackened flavor that's not hot at all. I sometimes refer jokingly to this as "Cajun Cooking, Norwegian Style" as I prepare the mild version for first time taste testers.
Once you try this, you'll be back for more and I guarantee the recipe will be a hit with your friends and family.
---
Blackened Pike; Ingredients
2 Small to Medium Pike (4 Fillets) De-Boned, Skin Removed, Cut Into Thirds
1/4 Cup Olive Oil, Vegetable Oil or Canola Oil
2 Tablespoons Blackened Spice
---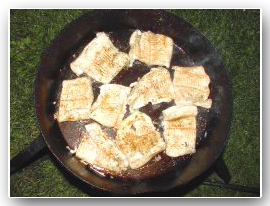 Pre-heat a dry cast iron, steel or other non-coated frying pan under high heat. You'll know it's ready when you begin to see smoke rising from the dry pan.
Place cut Pike pices into a 1 gallon ziploc bag or other sealable container. Add the oil and blackened spice, seal the container and shake vigorously until spices are evenly distributed to all pieces.
Coated pieces of fish are placed directly into the hot pan. Sear the Northern Pike pieces on each side, then allow fillets to sizzle for a few minutes turning as needed; do not over-cook. Fish are ready to serve as soon as flesh begins to flake apart. Fillets should be served quickly, while they're juicy and hot!
---
Join And Become A Duly Deputized Fishrapper Cub Reporter
Helping your fellow fishermen and women stay abreast of the fishing conditions in your area is good for everyone and it's easier than you think!
Fishing Reports Minnesota is the Facebook counterpart to this page and it's open to the public. Be like me, become a duly deputized "Cub Reporter" and post your own pics and comments. If it's good for fishing, then it's Good For Everybody!