Fish Recipes: "Coconut Pike Delight" Grilled Pike Recipe (Click Images To Enlarge)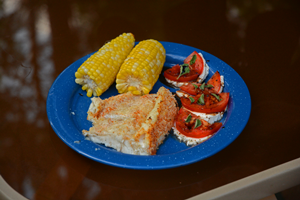 Okay Pike skeptics, here is the deal; eat this meal and then look me in the eye, and tell me that you don't like northern pike. If you can do that, then you're off the hook and you'll never have to listen to another word about pike as delicious table fare.
You may still have some explaining to do though, my co-collaborator, "The Hippie Chick" says "Coconut Pike Delight is the best grilled fish recipe ever". I know for sure that she believes it and I only wish that I could share the first words out of her mouth when she first tasted it.
Large Pike are not required, fish ranging in length between 20-22 inches are ideal. One fillet, de-boned provides a generous serving size for each guest and the beauty of the recipe is its simplicity; anybody can make it, all you need is a grill and a few simple ingredients.
---
Coconut Pike Delight; Ingredients
2 Small to Medium Pike Fillets De-Boned (Learn How To De-Bone Pike) Skin On
1 Tablespoon Coconut Oil (per whole fish)
1 Tablespoon Butter (per whole fish)
Tony Chachere's Creole Seasoning (or substitute your favorite brand) Sprinkle On
Shredded Un-Sweetened Coconut Shake On Liberally
---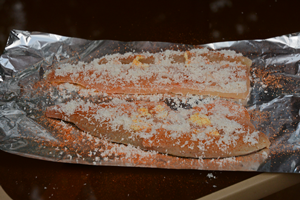 Place Pike fillets on aluminum foil, skin side facing down. Spread each fillet with Coconut Oil and Butter, sprinkle on creole seasoning and finish preperation by shaking on a liberal coating of shredded Coconut.
Place prepared fillets on pre-heated grill, medium heat, about 400 degrees. There's no need to turn fish, fillets will cook thoroughly with the skin side facing down. Skin will stick to the aluminum foil, making it easy to slip a spatuala between the fillet and skin for serving.
Cooking time averages about 12 minutes, but varies slightly depending on size of your fillets. Test that Pike are fully cooked with a fork, when flesh begins to flake apart, they are ready for the table.
---
Join And Become A Duly Deputized Fishrapper Cub Reporter
Helping your fellow fishermen and women stay abreast of the fishing conditions in your area is good for everyone and it's easier than you think!
Fishing Reports Minnesota is the Facebook counterpart to this page and it's open to the public. Be like me, become a duly deputized "Cub Reporter" and post your own pics and comments. If it's good for fishing, then it's Good For Everybody!