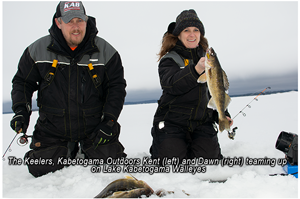 If you're like me and love the idea of finding great ice fishing on a lake that's remote, but accessible, then keep reading. There's a lake right here in Minnesota that's calling your name.
One thing you can't do on Lake Kabetogama is buy an ice pass; you won't be able to drive your pickup out to the walleye hole.  If you're searching for a spot to park your 'wheel house", you're going to struggle with that too. That's because the National Park rules prohibit rental operators from plowing roads over most of the lakes surface.
"We get calls all of the time from folks asking about us plowing spots where they can park their big ice fishing rigs. We could be busy day and night moving people on and off the lake, but that's just not something we can offer here;" so said Kent Keeler, co-owner of Kabetogama Outdoors.
Keeler, along with his wife Dawn and their son Kolby entertained us on "KAB" last week and while we were there, we talked a lot about what folks CAN DO on Lake Kabetogama. As a matter of fact, we learned firsthand that catching fish is one of them. Walleyes were on the prowl during primetime and there were perch, pike and tulibee hitting at random intervals too.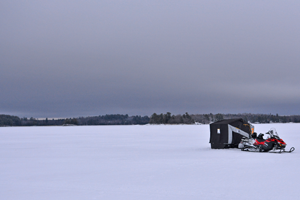 "What we have here is special; you could take a snow machine to a great fishing spot and enjoy an action packed day in a gorgeous wilderness setting. Or we could shuttle you out to one of our sleeper rentals and you can spend the night fishing in total comfort, in a peaceful, remote setting;" Keeler said.
That image, "peaceful and remote" is what struck me about our experience on Kabetogama. There were other ice fishermen on the lake, but they were few and far between. Keeler explains; "That's one of the good things about being in the Voyageurs National Park, there's just enough access to provide anglers with an opportunity to fish the lake, but the wilderness setting has been preserved. If it wasn't for its location within the national park, the lake could easily be over-developed like so many other lakes already have been."
Less development means less fishing pressure and that definitely translated into a better fishing experience for us. On this trip, the fish were in a semi-active mood, especially during the daytime. Because we were able to see fish on our electronics throughout the day, we had a good idea of where we wanted to be set up for the prime time feeding run. Because there wasn't a lot of fishing pressure, we were free to move around, knowing that we could always move back later without tripping over other anglers filtering into the area.
When prime time did arrive, the walleye did get active and followed classic feeding patterns. We fished structure like underwater points and submerged rock reefs, typically in water depths of 28 to 32 feet. Walleye ranged in size from 10 to 24 inches and every size in between.
We caught fish on Lindy Glow Spoons, Quiver Spoons and Rattl'n Flyers. During the daytime, the slower drop rate of the Quiver Spoons offered a triggering advantage. But somewhere around 4:00 PM I switched to the Red Scale Glow Spoon and that was like flipping the light switch; fish struck it aggressively until dark.
With a 17 to 28 inch protected slot size regulation, you'd anticipate releasing a fair number of fish and we did. Still, catching some fish for a meal wasn't hard, fish in the 14 to 16 inch range made up about 1/3 of our walleye catch. There were some keeper size sauger and a handful of impressive perch in the mix too.
Keeler said; "We encourage our guests to enjoy the overall fishing experience; not just consumption. Almost everybody catches enough eaters for a family fish fry, but fishing on "Kab" means that they've always got a chance at catching big fish too. The walleyes here are fat and stout, so opportunities for getting a nice photo come along pretty often."
Considering that it's only a couple of hours drive from my front door, I'm not sure how I let Kabetogama slip under my radar screen this long. But I won't make the same mistake again.  I've got the phone number for the Keeler's and Kabetogama Outdoors added to my speed dial and I'm itching for an excuse to pay them another visit.
If an ice fishing destination that's remote, but accessible fits into your plans, then you should give them a call too, I promise that you won't be disappointed.
For more information about a remote ice fishing experience on Kabetogama, contact Kent and Dawn at Kabetogama Outdoors 218-875-2281
---