Lake Trout Ice Fishing Tips and Tricks January 11, 2022 — Comments from resorts, outfitters and guests.
I used to fish for Lake Trout a lot more than I do these days. Not that I didn't love it, I did, but since I became addicted to ice fishing for panfish, Laker's sort of wound up on the back burner for me.
Lately though, not only readers, but some family members too, have been asking questions about how to get set up for ice fishing Lake Trout. Since it's been a while for me, I decided that the best way to handle the questions by getting some tips from my friends who fish for Lake Trout a lot more than me. This way, I can do justice to their questions while I also use the project as a refresher course to help fill in gaps in my own knowledge.
I started by calling my friend Andy Arola (photo left), he'd just returned home from a successful ice fishing trip for Lakers. As it happens, he and his crew were fishing on Clearwater West, a lake that I've fished in the past too, it gave us some familiar experiences to compare.
Before we get into the "how-tos" of catching them, let me interject this; the obvious best way to catch Lake Trout is to select a lake that has a lot of them. However, traveling to the best of the best Lake Trout Lakes takes commitment. So, if you're planning on dabbling, learning the ropes so-to-speak, it might be a good idea to check out some of the lakes in your own back yard first.
No matter where you live in the Midwest, you can find them close to home. Obviously, some lakes are better than others, it pays to do your research ahead of time and pick the one that you believe offers a reasonable opportunity for you and your circumstances.
Once you arrive at the lake, Arola offers this advice; "My best overall depth range averages about 35 to 45 feet deep, especially during morning and evening. Sometimes, during midday, I'll move out deeper, but I rarely fish water depths over 70 feet deep."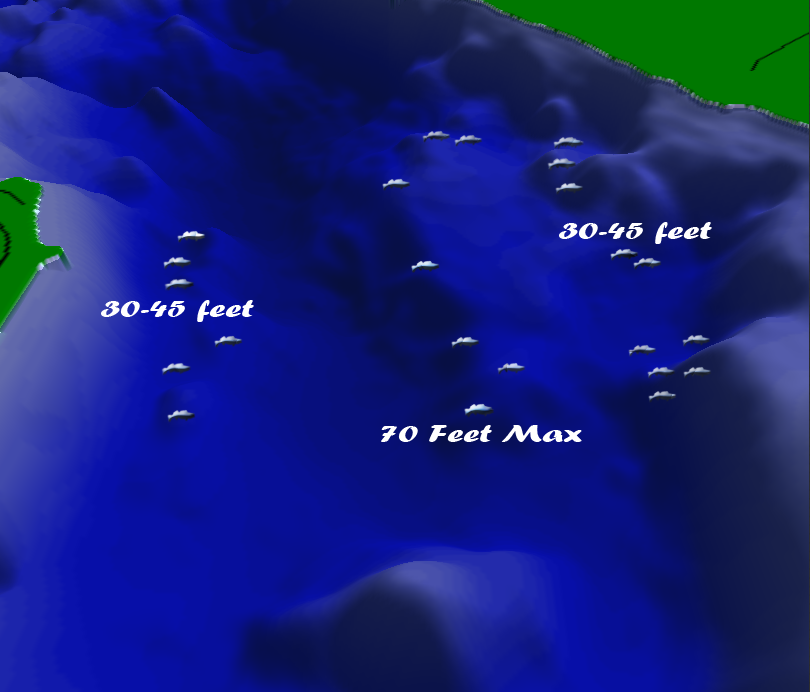 Structure is important but differs from the type of spots that walleye anglers might choose to fish. Mid-lake structures, bars and humps for example get little attention from Arola. Shoreline related rock points or sandy shoals get the most attention. Early and late in the day, stick tight to the structures closest to shore. During mid-day, loosen up the perimeter and experiment in deeper water.
Judging how long to fish in a spot is subjective, the rule of thumb is to make short moves first but expand the search area when necessary. Arola; "If I'm seeing lots of baitfish on the screen and there is an occasional Lake Trout sighted, I'll stick close to the area. When I do move, it will be typically short distances, 100 to 200 yards. But if the screen is blank and there are no signs of bait or predators on the locator, we will make both longer and more frequent moves, sometimes a couple of miles between stops. When you land on the right area, you will see fish roaming in and out of range."
The gear he uses daily is somewhat lighter than you might expect. A 34 inch, medium to medium-heavy action rod paired with 15-pound test braid is standard. A 6 foot long, 8-pound test fluorocarbon leader is used to help give his lures the most natural appearance. Arola; "I'm a big believer in using reels with smooth and reliable drags, they protect the lighter line from breaking when a larger or stronger fish makes an unexpected run."
Arola does have one heavier action rod rigged up and uses it when larger fish are observed. The heavy artillery is a 36-inch, heavy action rod with 30-pound test braid and an 8 foot long, heavier fluorocarbon leader.
Arola's views about fishing gear echoes the advice I got from Grant Prokop, 1000 Lakes Sports, earlier this winter when I was shopping for Christmas gifts. Prokop: "Getting set up with heavier rods and line is great for when you're hooking up with big enough fish. But most of the time, anglers encounter fish that average smaller, 3 to 7 pounds or thereabouts. Stiff rods don't offer enough give and take to prevent giving the fish slack line. A lighter action rod stays loaded up much better and makes losing those average size fish a lot less likely."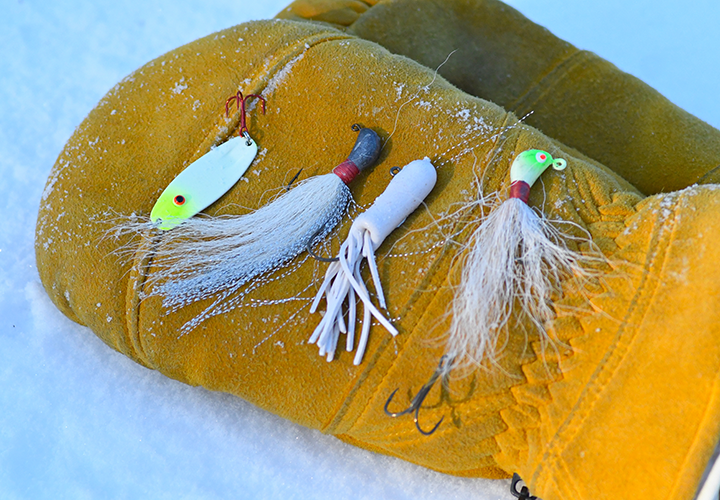 Personally, I've never had an ice rod which was devoted to lake trout fishing. A medium-heavy action Ugly Stick, 30 inches long I think and rigged with 10 pound test has served as my pike-walleye-trout combo rod. Admittedly, if I ever hooked a really big lake trout, I'd probably lose it. But so far, I have never hooked one big enough to give me that problem.
Arola's array of trout fishing lures is fairly simple. "My #1 favorite lake trout lure is a ½ ounce white bucktail jig, white, it has to be white!" Arola says. "Some of my friends like using the white tubes with a 3/8 or ½ ounce tube head stuffed inside them, but I like the action of the bucktails better."
Arola suggests that we should also have one rod rigged up with a jigging spoon too. It should be flashy, but not too heavy. I asked if something like a ¼ ounce Quiver Spoon would be a good choice. "Yes, you want it to flutter down slower and give off lots of flash, that allows fish more time to find and strike it." Arola added.
Finally, I asked for an opinion about the weather and which, if any weather patterns were more favorable than others for finding trout in an active mood. Truthfully, I was hoping that he'd validate my observation that showed a preference for cold, clear weather patterns. But Arola didn't go that far, he said, "I don't really think that matters, the weather pattern might influence where or how we fish, but we catch fish when it's cloudy just as often as we do when it's clear. I think we may fish shallower on a cloudy day or deeper when it's clear, but that's about the only real difference."
If you never tried it, you should, it is a hoot. For me, catching them is fun, and I like to eat them too. But the real thrill is getting the strike, one second nothing is happening and the next, there's somebody shouting fish on!
So, with the lake trout season upon us, getting rigged and ready doesn't sound that complicated, does it? Maybe this is your year to give a try.
---