---
---
Jeff Sundin Fishing Report November 7, 2019 "Ice Watch 2019"
It's one thing to talk about puddles and ponds with ice on them, but you know that winter is here when full-size fishing lakes freeze over.
O'Leary Lake, the one you see pictured here is a 140 acre lake with a max depth of less than 20 feet. I saw it yesterday, but based on the snow cover, I guess that it must have frozen over a couple of days ago. Deep water lakes in that neighborhood still had open water, but ice was gaining on them too.
Upper Red Lake is freezing fast as well. Yesterday, a note from Bill Lundy at Mort's Dock says; "As of this morning it's looking really good. There is ice as far as we can see. If the cold weather keeps coming and we don't get a lot of snow this weekend, we're probably (only) a couple weeks out."
Frankly, I'll be surprised if it takes more than a week before we start seeing images of people venturing out onto the ice. There's always a clamor among certain folks to produce evidence that they are "the first ones out". I'm not quite in that big of a rush; I can wait a few extra days. But once the ice looks good for an adventure, I'll be out there too.
No matter whether you're chomping at the bit to get out onto the ice or not, the ice fishing season will be here soon, so it's time to get ready. To that end, I might as well get started by answering some of the questions arriving at my in box.
---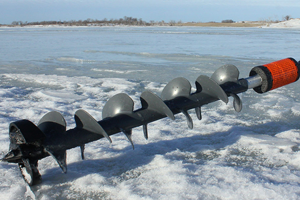 Q) On Tuesday, Dr. Jim Davey wrote; "Jeff, (last week) you mentioned you were going to pick up a K-Drill. Why that particular drill? Have you had experience with other drills? I saw a video the other day about the Ice Bee made by Rapala. Have you any experience with it? The video looks good.
A) Thanks for the note Dr. Jim; yes, my new K-Drill arrived here this past Monday.
Let me preface my answer by saying that I'm not actually using the electric to replace my gas auger; I just wanted to add a lightweight and convenient alternative to my arsenal of ice gear. Most of the stand-alone electric augers on the market are really good too, and if I'd been in need of a full-scale replacement, I might have chosen one of them instead.
The main reason I decided to go with the K-Drill is because over the past few years, I've seen these drills in action a bunch of times and I have been thoroughly impressed by their performance. I've seen them drill a lot of holes, in a lot of situations, so I'm confident that this auger will drill a hole wherever I need one.
Making the decision even easier for me was that I already have a good drill to use it with. So instead of shelling out $500+, I'm up and running for $200, ready to drill my first hole. If I needed to go out and buy the drill too, then I would have looked at some of the other augers on the market as well.
I used the link you sent me and I looked at the Ice Bee video. I couldn't see any reason not to be optimistic about that product. But I also could not find any place in the US to buy one. Maybe they'll be available later, but for the moment it's hard to speculate about the viability of that item.
If the Ice Bee does become available here, I'll find out what I can and add the updates to my original article >>  
Like I said, the gas auger that I bought a few years back is still working great, so the K-Drill will only need to serve as a good supplement. But if I was in the market for a new full-time auger, then I'd have to take a really close look at the whole array of augers on the market. By the time the St. Paul Ice Show rolls around, there's liable to be more information too and I'll be sure to post updates about whatever I learn.

— Jeff Sundin 218-245-9858 or EMAIL
---
November 7, 2019 "Jeff Sundin's Go To Ice Spoon"
"It never fails, the mid-day action starts to slow down, I reach for some lunch and wham, a nice walleye whacks my lure.
No matter how fast the action is, or not, you have to have bait in the water before you can catch a fish.
For me, making sure that I have the right bait in the water has gotten a lot easier lately.
Here's a nice little video testimonial about Lindy's Glow Spoon. In it, you'll hear my thoughts about why this lure has become one of my all-time favorites and why it's the first lure I tie on at every new fishing spot." View Video >> Jeff Sundin's Go To Ice Spoon
---
Jeff Sundin Fishing Report November 6, 2019 "Noting The Note-Able"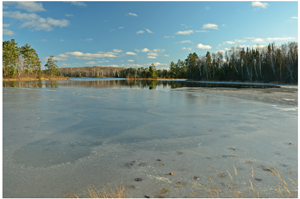 In the Grand Rapids area, it's still a lot easier to find open water than it is to find an ice covered lake. But the odds of stumbling into frozen water are increasing by the day.
On Tuesday, I drove north toward Marcell and found several lakes in the later stages of ice development. The scene depicted in the accompanying photo was a common one, shallow bays are frozen, while mid-lake sections remain open.
Lakes in various stages of 'freeze up" obviously provide lots of opportunity for taking pretty pictures. But that's not the only reason I take these "ice-watch" driving tours. For me, watching the process unfold provides a lot of information about where and when I can get onto "safer ice" for my first fishing trip.
What I'll be watching for over the next several days are lakes that have ice cover all the way from one shoreline to the other. These will be the first ones on my list to fish during the earliest part of the ice season. Once there's a full sheet of ice covering an entire lake, ice thickness will increase at a fairly uniform rate. So if I know that there are 6 inches of ice near the shoreline, there will likely be decent ice over the middle portion of that lake as well.
Equally important to me is keeping track of lakes that are not freezing uniformly from shore to shore.
Let's say for example that your favorite lake has quite a bit of deep water in the middle, but also has a lot of littoral area where water depths of 15 feet or less are common. It's not unlikely at all that the shallow portion of that lake could freeze well before the water over the deep portions ices up. A few weeks from now, when it all looks the same, knowing where the dividing lines are could be really important.
I'm bringing this up now because being a bit later than usual, the upcoming firearms deer season opener will provide us with a bonus opportunity. While we're travelling to and from deer stands, it won't be hard to make a few detours and check out lakes that we're interested fishing in a few weeks.
I wouldn't want you to lose focus on your deer hunt, but if you're in the field this weekend anyway, why not check out a few lakes too. The information could come in really handy after the deer season is over.

— Jeff Sundin 218-245-9858 or EMAIL
---
Fish ED Video November 6, 2019 "Jigging Lures For Both Ice and Open Water Fishing"
Join Fish Ed host Jon Thelen as he talks about the versitility of the Lindy Glow Streak!
This isn't just an ice lure, it is equally as effective in open water too. The Glow Streak's hybrid design employs a single tail hook combined with a razor-sharp treble hook to ensure good hookups.
The unique swimming action combined with internal rattles and glow stick technology will put more fish on the ice or in the boat for you this season!
Learn More >> View Video Jigging Lures For Both Ice and Open Water Fishing
---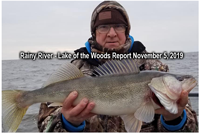 "On the south end of Lake of the Woods, late fall walleye fishing continues for those willing to dress up in warm gear and fish. The south shore of Lake of the Woods continues to hold good numbers of both walleyes and sauger and these walleyes will remain through ice up.
Anchoring up with a jig with frozen shiner is still the best method. Nice mix of walleyes and saugers for those few out on the water. Some small chunks of ice starting to appear. Small bays and some harbors are already iced up.
On the Rainy River, walleye fishing was good this past week. Anglers had good luck with numbers of walleyes, but not as many of the trophy walleyes as the week before. Fish caught in spots with current breaks mainly jigging with minnows or in some cases, plastics. Depending on the location you fish, focus on water depths in the 7 to 16 foot range, that will get you in the ball park. There is still a strong current so 3/4 oz to 1 oz jigs are the most common weights.
Up at the NW Angle, walleyes fishing remains good but there are few anglers on the water. Fish are staged in traditional fall spots. Most looking ahead to ice fishing. Jig and minnow still effective and the go to. Muskie bite has been great all fall." — Lake of the Woods Tourism, (800) 382-FISH
---
Wired2Fish November 5, 2019 "Wired2fish Gear Giveaway"
As outdoor enthusiasts, we all love to represent our favorite brands by sporting their gear. Here at Wired2fish, we love our brand because it is who we are on a day to day basis; we are Wired2fish.
We want our readers to have a chance at sporting the Wired2fish brand as well, so for this week's giveaway, five readers will have the opportunity to win a package of Wired2fish branded gear. Each winner will receive a Hooded Sweatshirt, Long Sleeve T-shirt, Rambler style thermos, Wired2fish hat, and five Wired2fish stickers.
This giveaway ends November 19th, 2019. Good luck! Enter >> Wired2fish Gear Giveaway
---
Jeff Sundin Fishing Report November 4, 2019 "Ice Arriving At Area Lakes"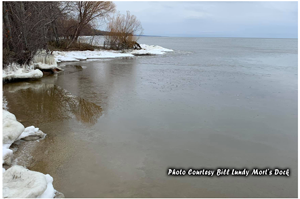 When I ordered my new K-Drill last week, I never dreamed that I'd be ready to use it so soon. But it looks like by the time it arrives, I'll be un-packing the box while I drive toward the lake to use it for the first time!
Depending on where you are when you read this, you may or may not be surprised to hear that ice is coming fast to the northland. In fact, it will not surprise me if we begin hearing that folks are walking out on Upper Red Lake at the same time other folks are walking into the woods for the deer opener next weekend.
At Mort's Dock on Upper Red, Bill Lundy says; "Ice is coming pretty quick now!! After Monday looks like it's below freezing for as long as we can see." The accompanying photo makes it look like there's more ice than there is, most of the frozen water is within a hundred yards of the shoreline. But it won't take long for the lakes mid-section to freeze over, especially if the next week features calm winds.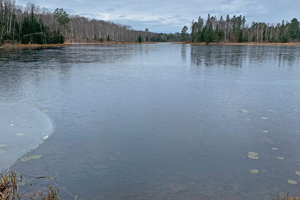 You could be saying; "That's no big news, everybody knows that Red Lake is one of the earliest to freeze." You'd be right, Red Lake does freeze earlier than most, but I won't have to drive to Washkish to see ice today.
Itasca area residents are already reporting ice covered lakes in our region. On Sunday, I got an email from Sean Casey letting me know that his lake, a small, moderately deep one in the Marcell area was already locked up. By this morning, it's probably got a dusting of snow on it too.
My step daughter's boyfriend has been travelling between Duluth and Grand Marais lately. He told us on Saturday that there are numerous frozen lakes between the two northeastern towns. "They're not just frozen a little bit, they're solid ice with snow covering them completely"; he said.
Looking at the upcoming weather forecast, I think it's safe to say that we'll see a lot of frozen water by the end of the week. I'm not trying to rush you into the ice season, but I will be patrolling the Grand Rapids area this week. I'll make a point of getting some hard statistics about where I find ice and how much of it there is when I do.
One good thing about lakes freezing and snow falling is that it finally gives me a chance to talk about some of the experiences we had last winter. Like the trip we took to Lake Winnipeg last winter.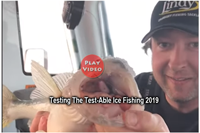 If you haven't already done it yourself, you've probably at least heard about fishing for "Green Backs". Those giant walleyes that people catch on Lake Winnipeg during the ice fishing season used to intrigue me to no end! That is until I finally got to go up there and see for myself what all of the hubbub is about.
Here's a video that came about last winter while we were testing a new ice fishing lure. At the time, the Lindy Glow Streak was in the middle stages of development and we already knew that it was going to be a winner. We had been catching fish with it everywhere we'd tried them. The purpose of the Winnipeg Trip was to find out whether those big Green Backs liked them as much as the fish south of the border did.  
View the video to find out more about >> Big Walleyes and What They Like to Eat
That trip wasn't the only one we made last winter, in fact we were really busy testing, perfecting and documenting the experiences. That means there will be plenty more videos, photos and articles where this one came from. Stay tuned, I'll be sharing them all with you as soon as they become available.

— Jeff Sundin 218-245-9858 or EMAIL
---
Wired2Fish October 2019 "StrikeMaster Lithium 40v Ice Auger Review"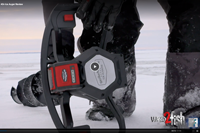 "The ice fishing industry is undergoing a power transformation with new-age lithium-ion battery-powered ice augers coming on the scene with value and performance that has many questioning the viability of gas-powered models.
Renowned Mille Lacs Lake fishing guide Tony Roach shares his opinion of the StrikeMaster Lithium 40v ice auger after two years of guide punishment. Few drill as many holes as Roach, who's known for keeping customers on fish by "ice trolling" (non-stop moving) upward of 90 days annually.
He discusses durability, cutting speed, the weight factor, battery longevity and why quiet electric power is a big deal on ice." View Video and Learn More >> StrikeMaster Lithium 40v Ice Auger Review
---