May 23, 2022— "Completing The Complete-Able"
"My audience is the greatest! There were a couple of small, but important ommissions in my May 20, 2022 article >> Preserving My Prescious Shiners. Messages from 2 readers, each pointing out a seperate ommission came in yesterday and their comments will help make the article more valuable.
Q) First, Mark Hager wrote; " (I) Read your article on having two near identical coolers for minnows. How do you move them from one cooler to the other? Some kind of netting or metal basket inside?
A) Mark thank you for the note. Yes, there is a nylon mesh basket (photo left) included with the Engel coolers. The basket fists the cooler perfectly and lifts out all of the minnows at one time. Besides making it easy to transfer from one cooler to another, it saves on unnecessary handling and allows minnows to survive even longer.
Second Steven Renneberg wrote, "Jeff, great topic! One thing to add is keeping a clean bait cooler! We commonly see and smell some really nasty bait coolers and bait containers. Simple cleaning of their bait containers will go a very long ways to better bait and less bait loss."
A) Steve, yes you're right. I guess I figured that keeping the coolers clean went without saying, but judging by your comments, maybe not. The cleaner and cooler the water is, the healthier and happier my mionnows are. The timing between cleanings depends on how clean I keep the water; changing it daily extends the time between full cleanings. I'd estimate that I fully empty and wash my coolers about once every 10 days. Another thing I do to keep the water both cooler and cleaner is to avoid using the cooler as the main boat container. Instead, the cooler is used only for storage. I put a small supply of minnows into a seperate pail and use that supply for fishing. Occasionally replenishing that supply from the main cooler.
Did I miss anything else? I hope not, but I know you'll let me know if I did.

— Office Cell Call or Text 218-245-9858 or EMAIL
---
"Minnesota AIS Legal System For Preserving My Prescious Shiners and Live Bait Cargo" — Jeff Sundin May 20, 2022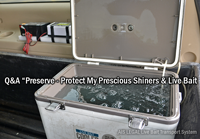 Paul Plinske emailed with this question. "Q) With all the talk of a limited supply of spot tail shiners this year, I was just wondering if you had any tips for keeping them alive once you leave the bait shop? They seem to sometimes die if you just look at them the wrong way.
A) Paul, you're right Spottails can be tricky to keep alive, so can some of the other popular fishing minnows like Red Tails. Your question reminds me that it's been a long time since I've written about keeping live bait alive, so I thank you for the lead into this fresh update.
In my experience, keeping minnows alive for extended periods of time involves addressing 3 main issues, the first 2, involve what the minnows need to survive: space, and environment. Space, to me, means having enough water so that my minnows are not over-crowded. Environment includes temperature, aeration, and ..." Read >> Minnesota AIS Legal System For Preserving My Prescious Shiners and Live Bait Cargo Sundin May 20, 2022
---
May 12, 2022— "Best Ways To Preserve Minnows For Bait?"
Travis Verdegan wrote; "Since you brought up the subject of bait shortages I thought I'd pose a related question that's been on my mind for a while. Q) Have you ever with any success used preserved dead bait, specifically walleye sized minnows?
I asked because after a few of the Covid era shortages I started thinking about a way to use left over bait. I've had some success with an aerator to keep minnows alive but inevitably they tend to die off slowly or I forget to change the water in which case they die off quickly. I found some info online including one on the Wisconsin DNR website.
Ultimately I chose to experiment by brining them in a 50/50 salt borax mix for a day then after brushing off as much of the mix as I could, I placed them in a quart freezer bag with a thin coating of mineral oil. I did this early last winter and honestly haven't even tried them yet. I carried them around in my ice fishing gear all winter and they seem to have held up well. Maybe I'll give them a try this weekend (maybe I won't have a choice). Either way I think it's a practice I'll keep toying with if only to waste less bait and be prepared in case of the event that lbait is hard to come by."
A) Travis, when it comes to fishing with preserved minnows, I still consider myself a dabbler. While I do use frozen minnows quite often, I discount the value of my field experience because of where and when I've used them. Lake of the Woods walleyes do respond very favorably to frozen shiners. When we fish the Minnesota side, frozen minnows purchased locally almost always makes up part of our bait supply. The thing is though, fish in that system respond well to stationary, and ultra-slow presentations. Frozen minnows, delicate and fragile, work out okay because there isn't a lot of action that forces them off of the hook.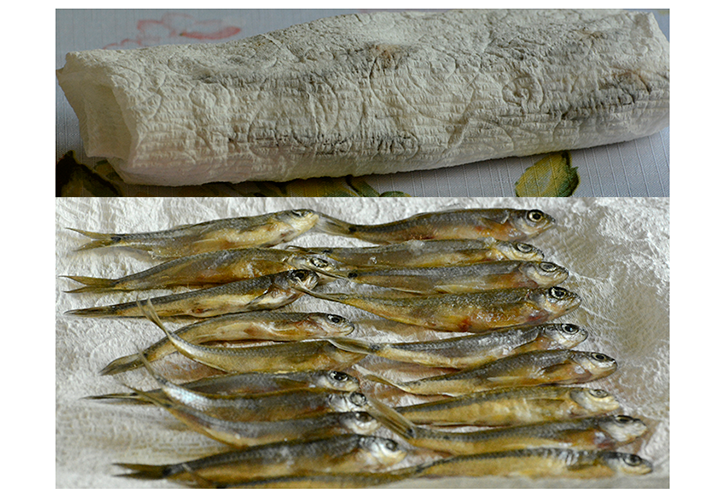 At times, I've tried to stretch my bait supply by freezing some of the extra minnows I buy at my favorite local shops. But when used on lakes closer to home, frozen minnows produce far less impressive results than they do on Lake of the Woods. The problem is that frequently, walleyes in my region seem to prefer more aggressive presentations. Hopping, snapping, and sometimes even ripping a jig tipped with minnows can be the best way to trigger walleye strikes. Frozen minnows, under those circumstances, don't hold up on the hook very well.
Hoping to "toughen up" frozen shiners, I once tried the borax method that you mentioned. Unfortunately, I learned the hard way that this is not at all good for fish; here's what happened.
Way back when my kids were little, we, along with one of their primary school teachers had permission to keep a live bass as a class project. That bass survived well in the fish tank and was fed with minnows that we bought at the bait store. One day, we ran out of live minnows on a day that the bait shop was closed, so we fed that bass a shiner minnow that had been preserved using the borax method. The fish ate the minnow, and everything appeared to be fine. But the bulge in that fish's belly never went away, day after day, the bulge stayed there and as long as it did, the fish would not eat. In every possible way, the fish appeared to be fine, but apparently, the fish felt full, had no urge to eat and began losing weight. We started counting the days without feeding and after 64 days without a meal, the bass died of starvation, with the bulge still in its belly. Thinking about how many times in a typical day, fish strike our lures and eat the bait without getting hooked, I swore off using borax for preserving minnows.
What I figured out is that when freezing minnows, water is the enemy that makes them soft and mushy. That's why they are harder to use for more some of the more aggressive presentations. These days, I still do freeze some of my local minnows but I use a different method to help toughen them up. Removing all the water first, I lay 12 to 18 minnows on a paper towel and roll it up. The small, dry paper rolls are then placed in plastic bags and frozen. As shown in the accompanying photo, the finished product isn't pretty, they often appear to be wrinkled and over-dried, but on a jig head, they work a lot better than mushy, wet frozen minnows.
I followed the link you sent for the Wisconsin DNR website and viewed the >> Video about preserving minnows without freezing . It piqued my interest because I've never tried either of their liquid preservation methods before. I can't see any reason not to give their liquid preservation methods a whirl. Considering my previous experience with borax though, I plan to skip that suggestion.
The video piqued my interest in another way too, it left me pondering the legality of transporting either preserved minnows or frozen ones. So, I checked the Minnesota DNR website and read; "Most bait that originates in Minnesota can be used as fresh, dead, or frozen bait. This bait does not have any specific labeling or preservation requirements." But this is Minnesota and as usual, there are myriad exceptions, exclusions, and conditions, so before you start packing your freezer full of frozen or preserved minnows, read this entire section of the MN DNR site titled >> "Fishing with dead, frozen or preserved bait."
Personally, I've never used any of the commercially prepared preserved minnows, but coincidentally have a package of them ready for this weekend. Due to the late ice out we experienced this spring, most bait shops were already closed for the season, but the ice was still good, and I wanted to keep fishing. On my last outing, I completely cleaned L&M Supply out of their last few minnows and feared running out of them and I bought a package of commercially preserved shiners as a backup plan. As it happens, I never needed to use them, but do intend to try them this weekend and will report about their effectiveness once I've used them.
For now, that exhausts my working knowledge of using either frozen or preserved minnows. But I'll bet that readers might have other tricks for producing preserved or frozen minnows that works well. So, folks, if you do, we'd love to know about it. I know that I say this a lot, but you do not need to wait for a gold engraved invitation! Share your thoughts and help out your fellow anglers, you know how it works, today you help them, tomorrow they help you and, in the end, we all come out ahead.

— Office Cell Call or Text 218-245-9858 or EMAIL
---