Luckily, every manufacturer has some tried and true models, machines that have been around for a while and have a proven track record. I believe that there are plenty of good ones out there and you'll have the opportunity to make some good choices. So the real effort lays in "Drilling Down" the list of options.
Consider this, you and I have different fishing styles. You mention up to 70% of your time is spent spearing. That means that you'll need to use it inside of a shelter and perhaps an LP Gas or electric model will serve best your needs.
For me, the auger will be asked to perform almost entirely outside where a 2 stroke would be fine. In other words, if you bump into me on the lake, don't be surprised if I suggest one auger for you and wind up with a different one for myself.
First, the easy part of your question; how big should the holes be, 8 or 10 inches?
For me, an auger with a 10 inch bit is way too much tool for the job that I need to do. Spending most of my ice fishing time searching for Panfish, I'm happier with a smaller, lighter weight machine that drills a 6 or maybe even a 4-1/2 inch hole.
While I'm exploring territory, I do a lot of walking; I'm carrying the auger, so the extra weight of the larger drill is a concern. So are those gigantic holes; I have run into enough ice holes to know that the smaller they are, the less chance I have of getting hurt. If you've ever stepped into one, then you know what I mean, if you haven't, then you're luckier than I am.
So unless I was spending lots of time fishing for Lake Trout in Canada, or monster Pike on Lake of the Woods, a 10 inch hole will never be needed. Besides, it is a lot easy to drill a smaller hole; that's why for fishing Panfish, I'm setting myself up this year with a 6 inch bit instead of the conventional 8 inch.
While I am the world's foremost authority on my own experiences, trying to become a "hands on" expert about all of the choices would take me longer than you want to wait before taking your decision.
Hand testing all of the models and brands is a job too big for me to complete myself. Instead, I can offer some educated guesses, advice that's intended to give you some solid ideas.
Because I like things that work, the first consideration is Reliability. If we could assume that the reliability of every make and model of ice auger is equal, then comparing the features and price is all we'd need to do.
The problem is that they're not equal and for me, the reliability of any ice auger is its number one feature. So somehow, we have to come up with a way of factoring this in to the decision.
Getting an objective answer about reliability isn't always that easy because these days there are so many new products on the market, many of them don't have a "track record".
For that reason, bear in mind that assessments about reliability are really subjective. I'm factoring in anecdotal evidence from trustworthy friends, consumer ratings compiled by retailers and of course, my own personal experience. I've tried to avoid the pitfalls associated with brand loyalty and creative marketing.
I am doing my best! But rest assured there will be folks standing in line to counter my conclusions and offer you the complete opposite advice of mine; so with that caveat, here we go.
Back to Dave and his original comment "I spear 60-70% of my winter fishing". To me, that means that most of the time you are either inside or at least have access to a warm shelter.
Electric Auger Motors have a bright future in ice fishing and continue to get better all of the time. Like the LP Models though, severe cold works against them.
The Ion® 40V Electric Auger is not the only electric on the market, but at the moment, it is leading the way as the industry standard.
I have not had any hands on experience with this unit but I do have friends with experience using them. In fact, I was only minutes away from buying this unit last winter, before I got talked out of it.
People I know tell me that the performance and convenience of these units ranks high and they are generally very well liked. I've seen live demonstrations and under controlled circustances these augers are very impressive.
Experts argue over how many holes you can drill before charging the Lithium battery and that became the rub for me. Everybody agrees that if you don't want to be stranded, so just to be sure you have a backup plan, you do have to carry a spare battery. Besides having the spare battery on hand, you'll have to keep it warm to be sure that it delivers it's full charge when you need it.
The Ion weighs in at 22 lbs. which is really very nice for walking around on the ice as you explore. For some ice fishermen, this will be good option, especially for those who love hoofing it to the early ice fishing spots or need an auger to re-open existing holes in a permanent shelter.
At $529, it's getting close to the high end of the price range and if you fish during extreme conditions, shelling out an extra $149 for a spare battery could put this one over the top. But if you're committed to staying away from gas models, this is a reliable option.
4 Stroke Gas Auger Engines appeared on the scene a few years ago and as I said earlier. I have had firsthand experience with these.
My Honda Powered Strikemaster 4 Stroke Auger, while it was working was wonderful. It started easily, ran quietly without producing any smoke and cut holes in the ice very fast.
The problem is that I can't recommend this unit. Mine has failed me twice; the first time, it conked out half way through drilling a hole as we prepared to fish. The second time, it failed to start at all, leaving me stranded on Devils Lake for almost a week. At the time of this writing, it still does not start.
What disappointed me the most was that when I brought it in for service, I was scolded by the technician! He said that in spite of the fact that I'd only owned it a few weeks and no matter that I had produced less than 100 holes with it, I hadn't changed the oil often enough. My first reaction was what, how often are you supposed to change it, every week?
To be fair with Strikemaster, this issue really lies with the manufacturer of the engine, not the auger. I've had other Strikemaster 2 stroke power augers that have provided me with years of reliable service.
Jiffy's LP Pro Lite 4 is a 4 Stroke LP GAS Auger that I've had experience with these and generally have liked. Because there's no smoke, it works especially well inside of a shelter. It is a really attractive choice for Dave, or anybody who can avoid using them when it gets too cold outside.
On warm days, they start reliably and perform very well either inside or outside. But when the conditions get harsh, like when temperatures are subzero or during super low wind chills, these engines do begin to struggle.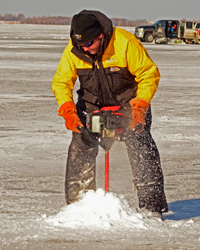 Eskimo's Shark 51.7cc Ice Auger happens to be the auger that kept us going last winter when the others failed. It has features that I really like and I cannot find anyone who has complained about reliability.

The Winner for Sundin - The Nils USA Power Auger has achieved a fantastic reputation among it's cult following. Their fans are intensely loyal and every Nils auger owner that I have talked to raves about them.