Pro Troller
The moment the boat landings are free of ice, you can bet Brumbaugh will be launching his Lund Pro-V and plying big water for 'eyes. "The mistakes I see people making most? They troll too fast, and their baits are swimming below the fish," Brumbaugh asserts.
"As long as you use lures that have a wide-wobble when trolled slowly, and keep them within the top ten feet of the water column, you'll catch fish."
Brumbaugh's favorite ploy is pulling floating bodybaits with deep-diving lips, like Reef Runner's 300 Series Skinnysticks, at .06 to .09 MPH. Lures with flat sides, like the Skinnystick, produce mega flash as they flip flank to flank. And rarely does Brumbaugh let out more than 30 feet of 10-pound-test Trilene XT behind his inline planer boards, keeping his lures within ten feet of the surface.
If planer board aren't in play, switch to shallower-running versions of similar bodybaits. Look for lures like Rapala Shad Raps, Smithwick Suspending Super Rogues or Strike King Lucky Shad cited to run from 4 to 10-feet.
"The bigget walleyes are almost always in the upper few feet of the surface," asserts Brumbaugh. "This is where the water is the warmest, and, where the forage is."
In Lake Erie's Western Basin, for example, he'll target walleyes suspended in 20 to 30 feet deep adjacent to reefs known to host spawning rituals. "No matter where you're fishing, it's the deep water nearest where walleyes spawn that are best," he adds. Such basics are transferrable to natural lakes, reservoirs as well as large river systems: search for pre-spawn walleyes in 20 to 30-feet of water; specific fish elevation within the water column varies by location.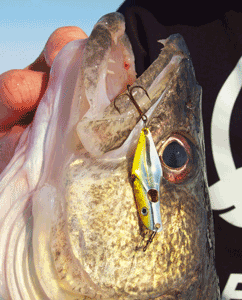 Bodybaits and spoons with flat sides, like this Fin-Wing spoon, produce a lot of flash when trolled at slow speeds. Photo courtesy of Fin-Wing