---
---
Jeff Sundin July 25, 2023 "Reporting the Report-Able"
Yesterday, July 24, 2023, I my friends Linda and Marion Roberts hired me to take their grandson Derrick, and his girlfriend Grace on a fishing adventure. We discussed options during a pre-trip consult, and I mentioned Upper Red Lake as a destination for a "walleye or die" fishing trip. That's the option that got the nod, so off we went.
Roger's Campground was a lot quieter than the last time I was there, conditions at the ramp were great, dry and level. I talked with one of the campers who tipped me off about anglers who'd done well on the south shore over the weekend. "They caught limits in 6 feet or water", he told me. That gave us confidence and after quickly launching the boat, getting to our first fishing spot went fast too.
The plan was to try a few different presentations, but we started with trolling spinners tipped with minnows. That worked, and we ..." Read >> Sundin Report July 25, 2023
---
Jeff Sundin June 26, 2023 Upper Red Lake Fishing Report "Sorting the Sort-Able"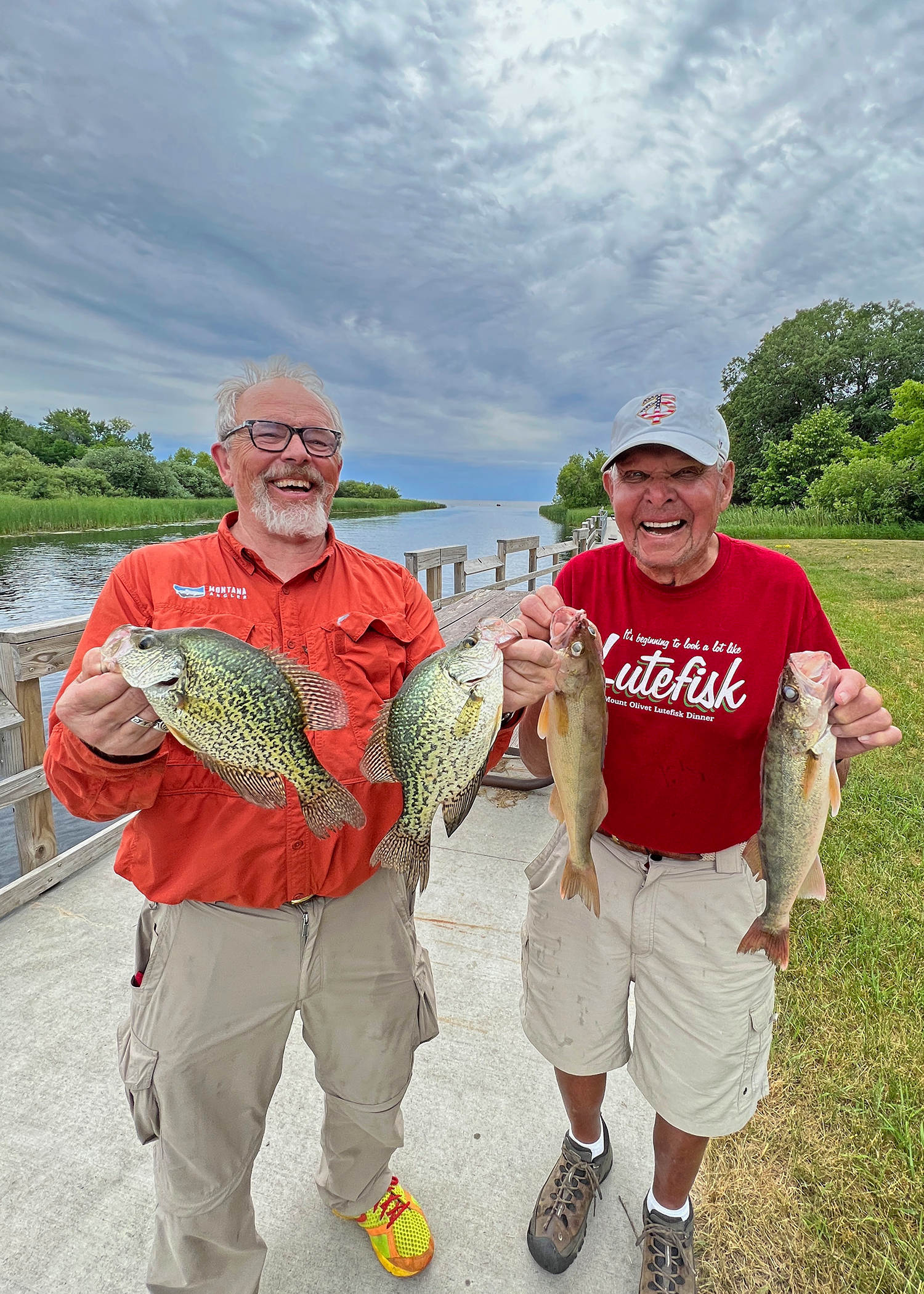 When we arrived at the public landing at the west side of the bridge, there was only 1 pickup truck in the lot. The larger, more popular landing on the east side of the bridge was busier, but far from being full; maybe it was 1/3 full. My first thought was "oh boy, I hope this doesn't mean that word on the street has been that fishing is poor up here." But we were already there, and there wasn't much sense in worrying, so we got the trip underway.
On the lake, the surface water ranged between 71 to 72 degrees. The wind was from the northeast and there were whitecaps on the lake, varying in size according to how hard the gusts of wind were at any given time. The north side of the lake was easily manageable, I'm not sure how the middle of the lake looked, I never felt 100% about going out there to explore it.
Whatever "pre-trip intel" we had before our trip suggested that trolling was working on Upper Red. We saw evidence that supported the notion, most of the anglers we saw were trolling crankbaits, others were trolling with spinners. My plan was to troll spinners, so that's what we did, my speed ranged from 1.1 to 1.5 MPH. Water depth was shallow, I straddled the line between 4 and 5 feet of water, occasionally moving a little bit deeper.
Walleyes struck at random intervals, often enough to call the action good. The average size of the fish was small though, many of them were shorter than 12 inches, but there just barely enough "keepers", 14-1/2-to-16-inch fish to keep it interesting.
My crew was large enough to require the helping arm of fellow guide, Justin Wiese. When I checked in with him, the report was good, "we're getting into them pretty good now" he said, and it sounded like they were catching some larger fish than we were. So, I made my way over to the area where they were fishing. When we arrived, I noticed that Justin was trolling a lot slower than me, and thinking the speed was making a difference, I slowed down to match his speed. Now moving at .7 to .9 MPH, we were catching fish, but they were mostly still small ones.
The next time our paths crossed, I mentioned to Justin that I was still frustrated by the small size of most fish we were catching. He told me that he had his crew fishing with jigs and minnows instead of spinners. Maybe that was making a difference? I rigged my crew with jigs, tipped them with minnows and started a drift down the shallow breakline. I can say that we caught fish at a faster rate than we had been. But I can't say that many of them were much larger in size than we had previously observed. We'd hook a 9-inch walleye, then a couple of 12-inch fish, and then, a single keeper; the pattern repeated for the rest of the afternoon.
When we were done, we did have our limit and 2/3 of the fish were solid keepers, 8 of them in the 16-inch range and 2 of them were over 17, but not by much. The remaining `1/3 of the fish were smaller, 14-1/2 to 15 inches in length.
As you can see in the accompanying image, we caught a few bonus crappies too. They came at random intervals, out of the scattered patches of pondweed that grows along the north shore. Jig and minnows caught 2 of them and the spinners caught 1 of them. If there's a way to target crappies specifically, I still don't know about it. In fact, Justin stopped walleye fishing and attempted to single out the crappies, but it didn't work. I guess that we just need to be happy when we catch one and call it a bonus.
All things considered, I'd suggest making the trip to Upper Red, especially if you're on a "walleyes, or die" fishing trip. We compared notes with some of the other anglers at the cleaning station at the Big Bog State Campground. Everyone there had enough fish to make them happy and the average size was plenty good, 14-1/2 to 16 inches, just like ours. Just don't be disappointed when the crop of little fish dominates the catch, keep on fishing and weed through them and eventually, your creel will look pretty good.
— Jeff Sundin 218-245-9858 or EMAIL
---
Wired2Fish "Comparing LakeMaster, Navionics and C-Map" June 26, 2023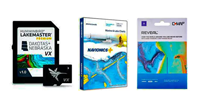 "Having good mapping is essential for being efficient on the water. This is especially true during the summer months when the majority of fish are located offshore. Having an accurate map helps with not only safely navigating your waterway, but it also allows you to have a better understanding of your lakes contours and underwater structures. This understanding directly relates to making you a more efficient and successful angler.
Each map can have varying contours and preloaded structure depending on how recent your map is. There are numerous different mapping companies available who all offer a different variety of maps, each of which has their own benefits. Some of the most popular companies include C-Map, Navionics and LakeMaster. This feature will cover some of the most important aspects of choosing and utilizing the best map for you to ..."Learn More >> Comparing LakeMaster, Navionics and C-Map
---
Jeff Sundin June 11, 2023 "Upper Red Lake Fishing Report"
I am often tickled when I hear folks talking about the decline in America's work ethic. That's because for me, working is more often easier than having time off the lake.
Dry docked on Saturday, I used my "free time" to great effect. Cleaned out the boat first, finished most of the garden planting next, then made a trip into Ray's, then picked up some new fishing gear to replace my first round of broken stuff, then changed the outboard oil, then helped work on the Hippie Chick's garden planting projects, then preapared and mailed our estimated taxes, followed by a drive to the bank and then, made time for an early lunch date with Susan. We needed nourishment so we could get back home to start on the afternoon shift; I won't bore you with that.
Before all that fun on Saturday, was a boring old work day on Friday. That day, I fished on Upper Red Lake with my friend and customer Eldon Skoglund. A long time ago, Eldon started a family tradition of taking his boys, John, and Jason fishing on, or close to Father's Day. Usually, we fish "in the neighborhood", but with sunshine and calms seas forecast, I opted to make the long drive to Upper Red Lake on Friday.
We launched the boat at Roger's Campground, where the boat ramp and parking lot were vastly improved. On my last visit, about 3 weeks ago, the lot and grounds were soaking wet, muddy, and rutted. Conditions then reminded me of what you'd expect to see after a flood, but they were not caused by rain or high water. It was because of intense traffic, crowds larger than I've seen and folks draining live wells, bilge water and the like. But after what I'm sure was extensive work, hauling in gravel and crushed rock, they have the parking lot dried, and ruts filled.
After seeing temps in the high 70s, even low 80s in my home area, I anticipated Red Lake to be at least that warm, maybe warmer. But on Red Lake, surface water temperatures were much cooler than I expected, 67 to 68 degrees. Since I haven't been there for a while, I can't say why temperatures were that cool, so I can't speculate. Besides, the cooler temperatures are not bad at all, in fact this could serve to extend "the bite" for a while.
Personally, I prefer fishing on the south end of the lake, the breakline is more pronounced, and there's a wide variety of small rock spines and reefs. If I'd trolled long enough, I'm sure that we'd have found a school of fish to pick on at the south side. But I'd already talked with friends who'd given me great reports from the north side, so tolerance for experimentation was lower than usual. So after trolling for a half hour produced only 1 keeper walleye, I decided to head north instead.
The trip across the lake turned out to be a good idea, fishing was steady, albeit never fast or furious. We trolled spinners tipped with fathead minnows in water depths of 8 to 10 feet and encountered small schools of fish scattered along the drop off. We'd fish 10 to 15 minutes with minimal action, then have a spurt, catching maybe 3 to 6 walleyes, and then experience another quiet period.
Walleye sizes were all over the map, we caught fish from 8 inches up to 20 inches, all at random intervals. Upper Red Lake has a unique walleye regulation, anglers may possess 5 walleyes and there is no protected slot per say. Instead, anglers are allowed to possess 1 walleye over 17 inches and all the rest must be below 17 inches.
I wrote last Thursday about numerous walleyes coming extremely close to their respective "protected size ranges" in my region. Upper Red Lake is no exception, the number of fish that almost touch the 17-inch mark is amazing. On Friday, we released at least a dozen that were "too close to call", 16.80 to 16.95 inches for example. In fact, 1 of our allowable "overs" was a fish that just barely touched 17.0 inches, but it did touch. I'm typically careful, but on Friday, we were so careful that we actually left the lake when we were 1 fish short of the limit. The boys already had their 3 oversize fish, and even though we could have counted 1 on my limit, I didn't want to do that.
I am not the game warden, and I can't tell you what to do. But keeping fish that come so close to the line is a ticking time-bomb. Like I wrote last Thursday, I'm sticking with a ½ inch margin, just to be safe.
I mentioned that we trolled spinners on Friday, and it worked very well. But we also saw anglers catching fish using jigs and minnows too. So, if you like that presentation better, you could probably do just as well fishing that way. Trolling crankbaits is usually a popular alternative on Red Lake too. On Friday though, we watched 1 boat of 4 men trolling cranks for about ½ hour before they hit the spot-lock and began fan casting jigs. They never went back to trolling, so I surmised that for them, jigging worked better than crankbaits.
Summing it up, I would not say that the action was at its peak, but it is still good. For me, another day with calm seas and sunshine in the forecast would be enough to warrant another trip to Red Lake. If you go, bring your bug spray, the horse flies were out, and they were ferocious.
— Jeff Sundin 218-245-9858 or EMAIL
---
You Are Invited To Become A Duly Deputized Fishrapper Cub Reporter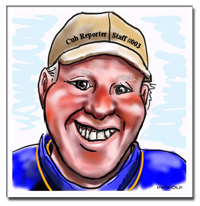 If you've been waiting for a gold engraved invitation to participate in the daily reports, then stop waiting and consider this your own personal invitation.
Helping your fellow fishermen and women stay abreast of fishing conditions in your area is good for everybody and it's easier than you think! You don't have to write a book, you don't have to share your secret fishing spots and you don't even have to mention your lake. But even a few words about general trends, seasonal patterns and local weather conditions can really help.
Be like me, become a duly deputized "Cub Reporter", it's good for fishing! Contact Us or if you prefer to be "social", Fishing Reports Minnesota, the Facebook counterpart to this page is open to the public, so you can post your own fishing update or just share a photo of a nice catch.
---
Jeff Sundin May 22, 2023 "Upper Red Lake Fishing Update"
The fishing report from Upper Red Lake is short, but that's all it needs to be. Walleye fishing is very good right now and everybody knows it. Traffic at Upper Red Lake was super-heavy on Saturday and again Sunday, but the crowds were manageable. Despite the full parking lot at Rogers, anglers were efficient, and we were on the water quickly.
On the lake, water temperatures had risen since last week. I saw the surface water cross the 60-degree mark at mid-morning. The surface was calm, so the warmup continued, peaking at about 62 degrees during the early afternoon.
The fishing action was good, not just for my crew, but for everybody. There are still enough walleyes located on the shallow breakline to afford anglers plenty of space to spread out. Most folks troll, or drift until they locate a pack of fish and then work that same area repeatedly. That system works fine but I don't think getting hung up on any particular spot is necessary. I think someone could pick a random starting point, position their boat on the shallow breakline and just keep on trolling. It won't be long between encounters with scattered small schools of fish.
Jig and minnow combinations are still the dominate presentation, and it's how we fished. We were using 1/8-ounce jigs tipped with small to medium size rainbows. But we saw numerous fish caught by folks who were trolling with crankbaits. Some folks were anchored, either fishing with bobbers and live bait, or fan casting jigs and minnows, and they were catching fish too.
I was mostly interested in conserving bait when I put a pink-white ripple shad on my jig. But when I caught a crappie on my first cast, I got excited. I hoped that maybe I was on to something but for me, that was the only crappie caught. One of the boys, Zachary I think, caught another crappie on a jig and minnow. My buddy Reed Ylitalo was on the lake, so was Vern Valiant, another top tier guide and each of them reported catching a crappie or two as well. I honestly don't know if there are enough crappies to make targeting them possible, but it makes me wonder.
If you're not a fishing guide, then you might not relate to my next point, then again, you might. I saw something yesterday that I've literally never seen in the past season; 2 young, "Gen Z" men who never touched their cell phones. Seriously, Zachary and Jacob Krug spent the day in my boat ACTUALLY FISHING!
Hearing me mention my observation to Travis, their dad, grandpa Virgil chimed in with a story about my first fishing trip with the Krug's. Virgil reminded me that after our first outing, about 10 years ago, I wrote about those boys and the impression they made on me. I'm paraphrasing, but I mentioned that those boys, after fishing all day long with me, were still anxious to get back to the resort so they could get out on the lake in time for the evening crappie bite. I loved seeing teens that were so committed to being outdoors, instead of hanging out in the "game room".
Virgil said he printed that report and keeps it on his desk next to the computer. Now here we are 10 years later, and those men are still impressing me. After our trip yesterday, they weren't in a hurry to get on the lake for crappies; they were hot to trot, headed for the Blueberry golf course in Deer River. Still committed to being outside, enjoying Mother Nature's own version of "Virtual Reality".
Not long after telling Virgil how lucky he was to have grandsons like Zachary and Jacob, we were heading back into the boat landing. We passed a man, grandpa I think, with a little girl, maybe about 3 years old, on his lap pretending to be driving the boat. I called over, "look who's driving the boat." She looked over through her big white sunglasses, gave us the thumbs up and shouted "YEAH!" I told the boys that I am only about one year away from being "that grandpa". I recapped the story last night for the Hippie Chick; it made me cry.
— Jeff Sundin 218-245-9858 or EMAIL
---
Jeff Sundin May 18, 2023 "Upper Red Lake Walleye Report"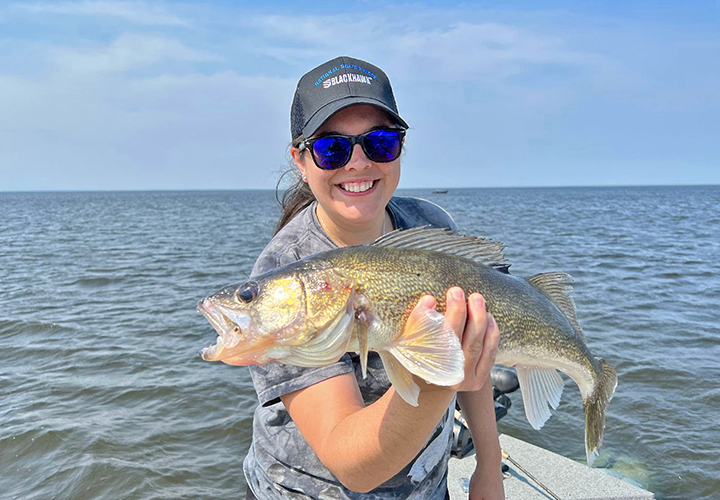 In my opinion, a trip to Upper Red Lake during the first week of the walleye season is as close to a promise of "guaranteed results" as any fishing guide could offer their customers. So, that's why I keep it in my back pocket as a hedge for those occasions when the weather, or poor fishing conditions forces me to avoid working within the inner ring of my home territory. On Wednesday, I played the Upper Red Lake trump card, and it paid off.
When strong south winds force folks into launching their boats on the south end, Rogers Resort tends to be the focal point. On Wednesday, the operation was running smoothly despite the place being packed, and the muddy parking lot. Folks were efficient at the ramp and the wait time getting in and out wasn't bad.
The ramp fee this year is $20, which is becoming the standard for most resorts in the north central region. For me, that's money well spent because for it, we get a decent parking spot, shorter wait times at the ramp, and access to their fish cleaning station. OH, and even more importantly, a short, smooth ride to great fishing spots on the south shore.
On Wednesday, the words short and smooth were an understatement, we literally idled out of the river, stopped the outboard and started fishing. Within 5 to 10 minutes, we'd put our first "keeper" in the livewell, released another, and missed a couple more. For the rest of the day, we stayed within ½ mile of the mouth of Shotley Brook, the river mouth at Rogers. The only time my Alaskan was ever on plane was the ride back to the ramp at the end or our trip.
The water temperature was 54.5 degrees when we arrived, and never warmed up much from then on. I could see one of the Shiner Trappers working along the shoreline, but he didn't stay in one place very long. So, I didn't get the sense that there was any strong run of shiners going on at that moment. The shiners must have been close to the shoreline though, because there were lots of walleyes spread across the shallow flats, and in a variety of depths.
Typically, I find that there's a sweet spot, one magic depth that seems to be best and for me, it often centers on the shallow break from 4 to 6 feet of water. On this trip, there were fish on that shallow break, but it was not the only sweet spot. There were folks catching good numbers of fish in water depths ranging anywhere from 4 to 10 feet. Everybody appeared to be focused on their own favorite depth. That was nice because the effect was to spread the crowd more evenly and it gave folks much more room to operate.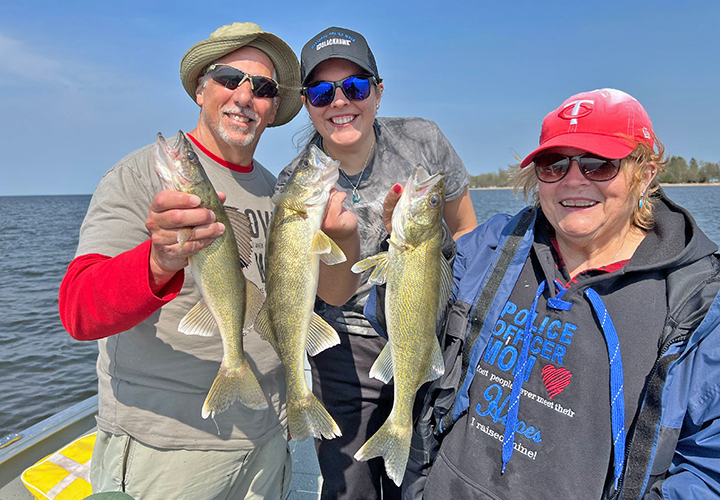 Jigs and minnows were the only presentation we used and that was true of most folks out there. But there were a few boats trolling, using crankbaits and we saw them catching plenty of fish too. I disappointed myself by not remembering to bring my box of soft plastics. I think we could have caught plenty of fish using them instead of minnows. The next time I go up there, I will remember to bring them.
As you likely already know, the walleye big limit changed this year. The 2023 regulation, 5 walleye in possession, with 1 over 17 inches is very workable. But the size of the fish and the protected slot was a factor for us yesterday. There were a lot of very close calls, walleyes that at first glance, appeared to be legal. But when I gave them the full DNR tail pinch, I could get them to stretch right up to the 17-inch mark, touching it, but just barely.
This, combined with the ease of catching fish that were well over the 17-inch threshold, it could be really easy to violate the 1 over 17-inch rule. I would recommend being extremely cautious when measuring fish and if it looks really close to 17 inches play it safe and release it.
We controlled the size of our keepers by being very selective as we caught them. At times, the judgment to release certain fish can be tricky, but right now, there are more than enough fish to afford a highly selective size range. In fact, at 3:45 PM yesterday, we were 1 walleye short of our limit when Phil, Kelly and Joyce all hooked fish at the same time. We had 3 fish to choose from, all ideal "keepers.," so we picked Joyce's 16-1/2-inch fish to close out the day.
If you're thinking of a trip up to Red Lake, plan it with confidence becasue at least for the moment, your prospects are very good.
— Jeff Sundin 218-245-9858 or EMAIL
---
---