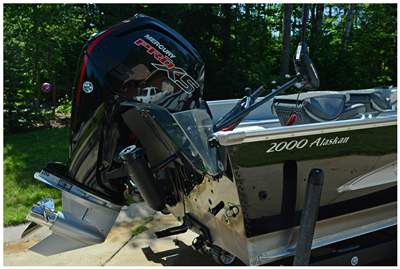 On January 11, 2020 Shannon Poppinga Wrote; "I live in South Dakota and fish the river and many NE lakes. We cast most of the spring and summer for walleye in some high wind days.
Currently, the boat that I have is a Ranger 618 tiller and my current engine is a Yamaha 90 HP with the variable RPM button to help get the proper power I need. 
I am interested in a larger 20 foot tiller boat but I am concerned about not being able to use a larger motor on a 20 ft tiller to put the butt of the boat into the waves, be able to idle down slow enough so I can sit in one place and cast.  
I was looking on the net to see if I could find any info on this and stumbled onto one of your reviews of Lund Tiller Boats.
I'm more interested in knowing if you feel I would be able to get a larger Mercury tiller motor to do what I need?"
A) Shannon, my history with 20-foot tiller boats goes back a long time, I've owned about 25 of them. These days, I have both a Lund 208 Pro V GL and a 20-foot Lund Alaskan that I purchased in 2019. They are both powered with Mercury tiller engines.
Over the years I've used a lot of different engines and most of them have been good, some have even been great. But of all the engines I've ever used, the Mercury Pro XS 115 Big Tiller with Integrated ZTF Tiller Valve is the first one that I've ever called "PERFECT".
Horsepower wise, the high-end performance is a good match for the Alaskan and will push it along at about 40 MPH. The low-end performance is awesome, using the RPM adjustments allow me to troll down as slow or as fast as I want. It is not uncommon for me to back troll at speeds in the .3 to .5 MPH range.
The Integrated ZTF Tiller Valve isn't a full scale "power steering system", but it works great. In fact, when I'm running this engine, I can't distinguish any difference in "the feel" between this and the full power steering system on my 200 Verado; they are that close.
The 115 is the first Pro XS engine that I've owned, so I don't have firsthand experience with larger tiller engines in the Pro XS lineup. But friends who have them have reported equally fabulous performance.
So if you're looking at higher horsepower ratings the 115, let me know and I'll get you hooked up with some friends who own them.
---
Jeff Sundin is a full time fishing guide, outdoor writer, photographer and developer of custom web content. Sundin currently serves as a volunteer on the Panfish Workgroup, an advisory committee of the Minnesota DNR. Learn about guided fishing trips and more, click here "About Jeff Sundin".
The Fishrapper, Fishing Blue Books, LLC • 715 Byington Ave • La Prairie, MN 55744 • 218-245-9858
copyright©2020 Fishing Blue Books, LLC All Rights Reserved - last revised 1-12-2020
---