Jeff Sundin February 18, 2021 Walleye Bag Limits "Following The Follow-Able"
Follow up on yesterday's report about the legislative proposal to reduce Minnesota's walleye bag limit is going to take a little while. That's because somewhere in my piles of saved stocking reports, DNR meeting agendas and notebooks filled with jotted notes, are some facts. Facts, in this case, facts about average walleye angler catch rates in Minnesota. I know they're out there though because I've seen them with my own eyes. I just can't put my fingers on them and I don't want to start spewing information, relying only on my memory.
The reason I am searching high and low for facts about walleye catch rates, is because nobody else is doing it. Advocates for walleye bag limit reductions cite plenty of "social reasons" for making the change. But statistical information and biological facts are harder to come by than an autographed Virgil Ward fishing pole.
Frankly, I'm surprised that the discussion about walleye bag limits is even still alive. A month ago, according to everything I had read, passage of S.F. 12 "should have been" a foregone conclusion. The Walleye Alliance supports it, MN-Fish supports it, the DNR supports it, heck, even my own State Senator is a co-sponsor. It seems like the reader comment on the "social" page sums up the spirit of support for the measure, "if it's good enough for Al, it's good enough for me.
Okay, I get it, anglers who fish a lot, especially those who catch a lot, support reducing the walleye bag limit. It would be easy for me to jump on the band wagon too, I catch enough fish to be happy and I'd be fine with a 4 fish limit. But that doesn't mean that this is the RIGHT thing to do.
The reason that the discussion began heating up is that certain people began inquiring as to the facts. How do we know that reducing the bag limit will help? Further, how do we know that it won't make matters even worse? Unexpected consequences, that is what I'm afraid of and I think, for good reason.
I have been around the block a few times and in the past, I have supported other "popular" regulation changes. 20 years ago, I was out front and center in support of "protected slot size limits" for walleyes. It seemed like a good idea at the time, protecting more female fish so that they could re-produce more and allow all of us to enjoy even better fishing than we already had, who wouldn't feel good about that?
While slot limits didn't turn out to be a total disaster, they did not create walleye fishing Nirvana either. Sometimes they made fishing harder, especially for folks who were eager to gather a few fish for a meal. Looking back, I think that on balance, I was wrong to support slot limits and would take it back if I could.
That's why I want to be more careful this time. Anyone can drum up anecdotal examples that support their singular point of view and we're seeing a lot of that going on now. But laying out facts isn't as easy, it takes time, but I'm working on it. Please check back tomorrow for a progress report.

— Jeff Sundin 218-245-9858 or EMAIL
---
Jeff Sundin February 17, 2021 Walleye Bag Limit Reduction "A Lively Discussion"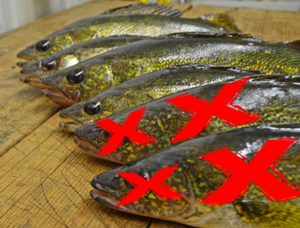 Recently I wrote about the legislative bill S.F. 12 which proposes to reduce Minnesota's statewide walleye bag limits. See report February 11, 2021. At the time, I invited commentary about the proposal and did receive some mail, but there were fewer responses than you might expect. The good news is that folks who responded offered well thought out, insightful commentary, worth sharing here with you.
I fear that if I publish all of comments in their entirety, I'll lose a lot of you; there's simply so much reading that most folks won't finish it all. Still, I do want all the material to be available, so here are the highlights, along with links to full text versions for those of you who want to dig deeper.
It's worth noting that which side of the issue anglers argued, depended on which medium their comments came from. Virtually 100% of the commentary from those in favor of reducing Minnesota's walleye limit came via the "social" media page where I posted links to the original article. Conversely, 100% of the anglers in opposition to the regulation change are those who took the extra time to write their comments and send them via email.
I'll let you be the judge of what made that happen, but I think it's interesting. I'll have to think about it for a while and I'll let you know if I develop any solid theories.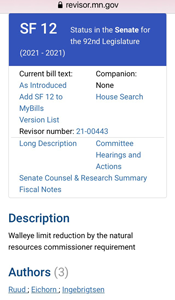 Of the social comments from folks in favor of limit reductions, the most credible, in my opinion, came from MN DNR Brainerd Area Fisheries Manager Marc Bacigalupi who wrote, "A minority (of anglers) disagree with a reduction in the limit. This is primarily a social regulation change requested BY ANGLERS, that will do no harm (and) in many parts of the state, in some cases, may help; especially in the long run. What a refreshing situation where the Senate, House and Executive branches all support the bill. Let's get on board this train."
Larry Brown, East Peoria, IL wrote, "You couldn't have said it better in your response to the proposed (walleye bag limit) reductions. Thank you for speaking on behalf of the out-of-state fishermen who have limited access to Walleye's for harvesting. There are a lot of good, honest families who vacation in Minnesota each year that only want a chance to harvest a limit of Walleyes to take home and savor until the next vacation rolls around."
Adam (last name withheld) wrote, "For me, I'm indifferent, simply due to my skill set because 90% of my walleye fishing isn't affected by a limit. If I were to vote, I'd vote to keep the (current) limit because I feel like the vast majority of walleye fisherman fall into my skill set and (share) my available timeframe to fish. I DO, however, ALWAYS keep a limit when I (visit) a fish factory. This is probably 1 to 3 times each year and usually, is a planned trip. I love eating fish and when I can provide a few meals I really appreciate the 6 fish for me and my family."
Dale Schroeder wrote, "First, I fish often and rarely, if ever, keep more than a meal of fish of any species. My point is that I don't see that lowering (or raising) the limit on walleye will make much difference to the average resident fisherman anyway. I think for most of us here, the main purpose of fishing is not to catch fish. We go fishing to spend time outdoors, connect with friends and family, and enjoy the resources we have here in Minnesota. And if we get to share a meal after the trip, that's a bonus.
Second, if we look at the non-resident who takes a fishing vacation in Minnesota, the idea of being able to keep a reasonable quantity fish to take home is indeed attractive and totally understandable. But beyond fishing, they also purchase lodging, groceries, gas, meals, accessories, licenses, tackle, bait, etc, and inject a considerable amount of money into our economy. Even if we assume that the average non-resident will keep a limit of walleye, that seems to be a reasonable tradeoff.
I agree with the point you made about looking at the conservation issue on a lake-by-lake basis. If we need to adjust limits to support a particular species in a particular lake, then do it. We have some rather good scientists around that I'm sure can figure out how to deal with those issues when they arise."
Retired MN DNR Bemidji Area Fisheries Manager Gary Barnard wrote, "Excellent article you wrote regarding the Walleye bag limit bill SF 12. It is worth noting that the UofM survey asked those questions without much context for anglers to provide an informed answer. It would be interesting to see the answers while providing the context that DNR data shows very little harvest reduction would result from the regulation change.
DNR predicts minimal harvest savings from the reduced bag limit, though there might be some effect on certain lakes during high catch rate periods. It's ironic that the regulation would reduce harvest opportunity on our very best, healthiest walleye populations that provide high catch rate walleye fisheries but would provide zero harvest reduction on mediocre and poor walleye fisheries.
Barnard offered testimony to legislators considering the bill, but it was not included. Barnard, "I provided written testimony (attached) prior to the Senate hearing yesterday but somehow it was not included. I am aware of other letters of opposition that did not make the hearing as well.
There is a lot of pressure on angling groups to support this bill as a conservation measure. I have been in contact with MOHA and Anglers for Habitat. I think both were leaning toward support until they received just a summary of the biological implications (attached).
Again, great to see some folks taking a closer look at this feel-good regulation proposal. " — Gary Barnard
Barnard granted permission to share his work publicly and I would encourage you to read it. For those of you interested in the deep dive, sharing the information with your legislators may also be helpful. Here is a link to the downloadable, un-edited and complete testimony that would have been provided by Barnard. >> 02.09.2021-Gary-Barnard-Walleye-bag-limit-recommendations.
Discussion about reducing Minnesota's walleye bag limit is not new, news. In fact, I googled my own website and found an article about Minnesota's effort to ration walleyes from way back in July 2017. You can read the entire article here >> Jeff Sundin Fishing Report July 14, 2017, but here are the bullet points.
During the 4 years that's past, one thing has not changed, most anglers who fish Minnesota lakes do not catch their limit of walleye. Not only do they not catch 6, but most anglers don't catch 4 walleyes either. In fact, the average walleye harvest per angler in Minnesota is below 2 fish, at least that was the average when I was on the "Walleye Advisory Committee" and had ready access to the statistical information.
Fishing supports businesses whose interests lay far beyond the obvious ones. Of course, resorts, bait shops and fishing guides benefit from good angler success. But revenue from fishing reaches into the bank accounts of folks who probably don't even realize that it is fishing that helps them feed their own families.
Recently for example, we traveled to the Mayo Clinic for a week. I am fairly sure that the staff at our hotel had no idea that fishing paid for our room there, but it did. Multiply that effect by adding that to all of the other stops and appointments throughout the week and you may start to see my point.
Decisions taken about fishing by the MN DNR and the MN Legislature are not only of critical importance to folks who depend directly on fishing tourism for their livelihood. These decisions affect all Minnesotans, even ones who have never even picked up a fishing rod.
We all share concerns about how many fish leave our lakes vs. how many are left for seed. We all want anglers who visit Minnesota's lakes to enjoy good fishing and we'd love to see them come back, over and over again.
So, why approach every fishing issue from the point of view that rationing is the only solution to every problem? In my view, we should look at fish as what they really are, a renewable resource, a commodity.
From my report July 14, 2017, "Let's say that that Roy Anderson's family has been driving all the way from Utah to Minnesota for 25 years. It's expensive, they can barely afford it, but they love it here and they would never dream of going anywhere else.
One of the reasons that they come here, is because if they could catch them, they would be allowed to take home 6 Walleyes. Even though their vacation costs thousands of dollars, the promise of catching 6 measly fish makes them happy and they're willing to come back every year, based solely on the promise that they may potentially bag a half dozen fish.
From my point of view, we should be bending over backward to assure folks like Roy and their families that the odds of catching fish are good and if they keep coming, they can continue to enjoy a couple of family fish fries each year."
Statically, a Walleye bag limit of 4 fish will not significantly impact the overall walleye harvest in Minnesota. Fisheries staff and angling insiders know this, but they want to feel good about showing us that they are "doing something." That is fine, but if something really does need to be done, then I'd prefer to get it right the first time. My suggestion is that we base our decision on science, let's apply real data to the situation and make choices that benefit everybody; then we won't have to come back to "fix" the problem again later.
Of course, that's just my opinion, I could be wrong.

— Jeff Sundin 218-245-9858 or EMAIL
---
In recent years, support for reducing Minnesota's walleye bag limit has grown among Minnesota anglers. In fact, results of an informal FishRapper poll conducted last year, indicated that anglers in favor of reducing Minnesota's walleye possession limit could be upward of 75%.
This year, supporters of a bag limit reduction could be in luck, because Minnesota Senate Bill SF 12 would do just that. If passed, the bill will mandate the MN DNR to reduce the statewide walleye possession from 6, down to 4 walleyes.
The bill's author, MN Senator Carrie Ruud spoke with me about the proposal. "In the past, discussions about reducing walleye limits have centered more around the social aspects of the issue rather than statistical ones." Ruud said. Anglers who have a high conservation ethic would naturally be supportive simply because they want to see populations of our state fish flourish."
But these days, the Covid pandemic, among other things, have heightened interest in outdoor activities. Fishing license sales are at record levels and Minnesota's lakes filling up with eager anglers. Today's bill, in Ruud's view is a protective one, a way to help preserve walleye populations in times of increasing demand on the resource.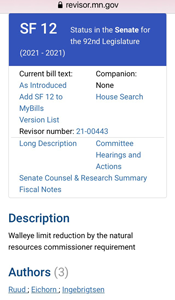 Senator Ruud introduced a similar bill in 2020. "The first bill was an uphill battle, Ruud said, without a co-author or a companion bill in the House of Representatives, I was on my own. So, we didn't get much traction and discussions about the bill didn't last long. This time, I think it will be different, support for the bill is broader. Senators Einhorn and Ingebrigtsen have both signed on and soon, there will be a companion bill introduced by Representative Rob Ecklund in the house."
I spoke with representative Ecklund about the bill too. Ecklund's preferred destination for walleye fishing is Rainy Lake, and that is where he spends most of his hours in a fishing boat.
Ecklund; "Rainy Lake has already had a 4 fish limit for a long time and the lake is more popular than ever. Minnesota's statewide limit of 6 walleyes has been on the books since the 1950's, well before advances in electronics have made catching fish so much easier than it was then and I think it's time to address that", Ecklund said.
Support from anglers and guide groups has been high according to Ecklund who fishes a lot but doesn't feel the need to harvest a lot of walleyes.
Ecklund; "Some days we really get into the fish, but once we've got enough for a meal, I'm happy. So, even on good days when we could keep more fish, we seldom do. I have a hard time understanding anglers who feel the need to catch their limit every time they go out. But if that is what they need to do, then a reduction in the bag limit will help preserve at least a portion of the population." Ecklund added that support from anglers and guide groups that he's spoken with has been high.
The bill will apparently be supported by the MN DNR as well. In a note to members of the MN DNR Walleye Work Group, Minnesota's DNR Fisheries Section Chief Brad Parsons wrote, "As you know, there has been a great deal of discussion over the last several years regarding the switch of the statewide walleye bag from 6 to 4.  Senator Carrie Ruud and Representative Rob Ecklund will be introducing a bill to that effect this session, and the Department intends to support it and work with the legislators moving forward."
Whether or not reducing the walleye possession limit to 4 fish is "the best way" to preserve the resource is debatable. But with broad support, the road to passage of this legislation appears to be a smooth one. Unlike regulation changes initiated by the DNR, there is no public comment period for those passed through legislation. So, if SF12 is successful, the new regulation could become effective quickly.
Updates will be provided as they become available. —

— Jeff Sundin 218-245-9858 or EMAIL
---