In recent years, support for reducing Minnesota's walleye bag limit has grown among Minnesota anglers. In fact, results of an informal FishRapper poll conducted last year, indicated that anglers in favor of reducing Minnesota's walleye possession limit could be upward of 75%.
This year, supporters of a bag limit reduction could be in luck, because Minnesota Senate Bill SF 12 would do just that. If passed, the bill will mandate the MN DNR to reduce the statewide walleye possession from 6, down to 4 walleyes.
The bill's author, MN Senator Carrie Ruud spoke with me about the proposal. "In the past, discussions about reducing walleye limits have centered more around the social aspects of the issue rather than statistical ones." Ruud said. Anglers who have a high conservation ethic would naturally be supportive simply because they want to see populations of our state fish flourish."
But these days, the Covid pandemic, among other things, have heightened interest in outdoor activities. Fishing license sales are at record levels and Minnesota's lakes filling up with eager anglers. Today's bill, in Ruud's view is a protective one, a way to help preserve walleye populations in times of increasing demand on the resource.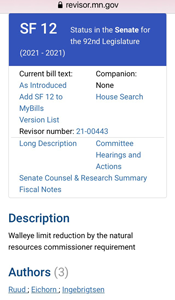 Senator Ruud introduced a similar bill in 2020. "The first bill was an uphill battle, Ruud said, without a co-author or a companion bill in the House of Representatives, I was on my own. So, we didn't get much traction and discussions about the bill didn't last long. This time, I think it will be different, support for the bill is broader. Senators Einhorn and Ingebrigtsen have both signed on and soon, there will be a companion bill introduced by Representative Rob Ecklund in the house."
I spoke with representative Ecklund about the bill too. Ecklund's preferred destination for walleye fishing is Rainy Lake, and that is where he spends most of his hours in a fishing boat.
Ecklund; "Rainy Lake has already had a 4 fish limit for a long time and the lake is more popular than ever. Minnesota's statewide limit of 6 walleyes has been on the books since the 1950's, well before advances in electronics have made catching fish so much easier than it was then and I think it's time to address that", Ecklund said.
Support from anglers and guide groups has been high according to Ecklund who fishes a lot but doesn't feel the need to harvest a lot of walleyes.
Ecklund; "Some days we really get into the fish, but once we've got enough for a meal, I'm happy. So, even on good days when we could keep more fish, we seldom do. I have a hard time understanding anglers who feel the need to catch their limit every time they go out. But if that is what they need to do, then a reduction in the bag limit will help preserve at least a portion of the population." Ecklund added that support from anglers and guide groups that he's spoken with has been high.
The bill will apparently be supported by the MN DNR as well. In a note to members of the MN DNR Walleye Work Group, Minnesota's DNR Fisheries Section Chief Brad Parsons wrote, "As you know, there has been a great deal of discussion over the last several years regarding the switch of the statewide walleye bag from 6 to 4.  Senator Carrie Ruud and Representative Rob Ecklund will be introducing a bill to that effect this session, and the Department intends to support it and work with the legislators moving forward."
Whether or not reducing the walleye possession limit to 4 fish is "the best way" to preserve the resource is debatable. But with broad support, the road to passage of this legislation appears to be a smooth one. Unlike regulation changes initiated by the DNR, there is no public comment period for those passed through legislation. So, if SF12 is successful, the new regulation could become effective quickly.
Updates will be provided as they become available. —

— Jeff Sundin 218-245-9858 or EMAIL
---