---
---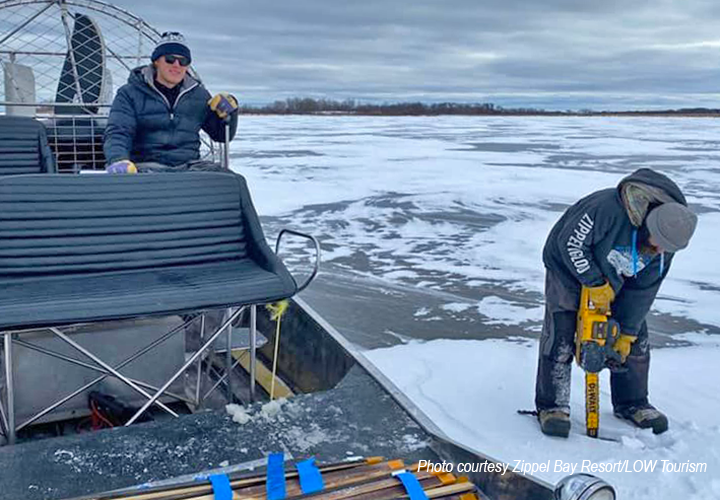 "On the heels of a strong fall for walleye fishing, anticipation is high that walleye and sauger will remain in traditional winter areas along the south shore. Any continuation of the fishing we experienced a few weeks ago would mean a strong start to the 2033 ice fishing season.
Ice is forming on the south end of Lake of the Woods, but other than some access to back bays, is not ready for travel in any form currently.  Mother Nature appears to be on track for an "average" ice opener.  Some resorts are making the prediction of December 10th for day houses being out, give or take, but at this point, this isn't set in stone and time will tell.  There are cold temps in the forecast and things look optimistic.
Many resorts and outfitters have been checking ice conditions.  When the time is right, resorts and outfitters will slowly and safely begin marking and grooming trails for ice travel.  
Please remember, ice conditions vary greatly in different parts of the lake.  One ice road can have good ice that has been checked and marked while down the shoreline there may be ice not suitable for travel yet.  Work through resorts and outfitters on the ice and stay on the marked trails for safety.
Much of the Rainy River is frozen up and things are progressing, but it certainly needs more cold weather and more time before travel will be feasible. Ice conditions vary and on the river, there is current, so much like the lake, we encourage visitors to work through a resort or outfitter for safety. 
Ice is forming nicely up at the Northwest Angle too and is right on track for this year's ice fishing season.  There has been no ice fishing yet as resorts are simply monitoring ice conditions currently, waiting until the ice is thicker before marking trails and getting fish houses out.
Fall fishing was excellent with walleyes in good numbers along with some monster pike being caught.  All indications point to good fishing when the ice is ready as the fish are there.
Driving through Canada to reach the Angle no longer requires COVID vaccinations or the use of the ArriveCan App (which is optional). For those looking to access the Angle while avoiding customs, there are few options. 
When ice conditions allow, the snowmobile trail will be groomed and staked from the south shore up to the Angle.
The Lake of the Woods Passenger service provides round trip bombardier service across the lake.
Lake Country Air provides air service to both the south end and NW Angle."

—

Lake of the Woods Tourism, (800) 382-FISH
---
"Lackluster Red Lake Report" — November 30, 2022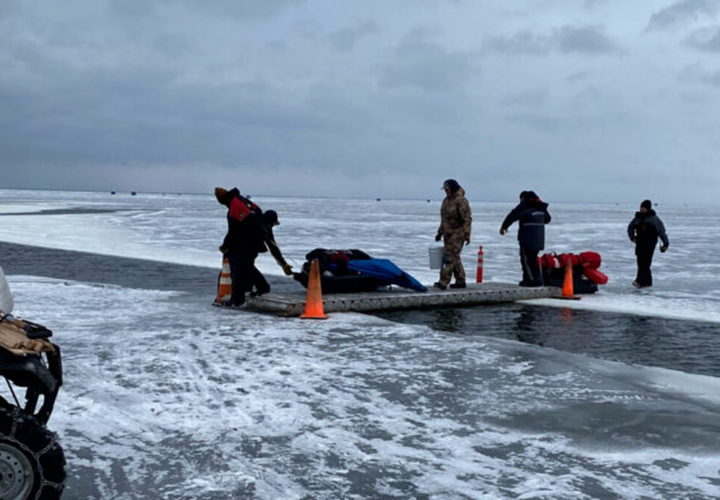 Tim Franklin wrote, "So, Jeff, I was curious about your tepid approach to the Upper Red Lake report the other day. I thought that maybe you'd be more excited about the start of the walleye fishing season on ice. Then later, I heard about the group of fishermen who got stuck on the ice when it broke away from shore.
Q) I guess you can never be too careful about getting folks "fired up" before the time is right?"
A) Tim, it's ironic that you emailed this morning because just last night, I and the Hippie Chick were talking about that group of stranded ice anglers. "Are you upset about the kids being out on the lake that day?" I asked her. I would usually expect her to have been more alarmed, but she actually surprised me by not overreacting to the situation.
Her measured response might have been tempered by the fact that this scenario plays out every winter. First, a small group of "hard-core" ice anglers figure out that they can get far enough out on the ice to catch some fish. Then, because they are part of the early wave, they catch a lot of fish, ones that haven't yet been pressured by any crowds. Next, the clamor to post stories and pictures of heroic catches sets in. And then FOMO takes effect, and the rush begins, anglers in a hurry to get up there before it's too late, line up at every access point.
There's nobody to blame, it's just a bunch of people who have been chomping at the bit to start the ice season and that lake is famous among lakes that provide the earliest possible opportunity, especially for walleyes.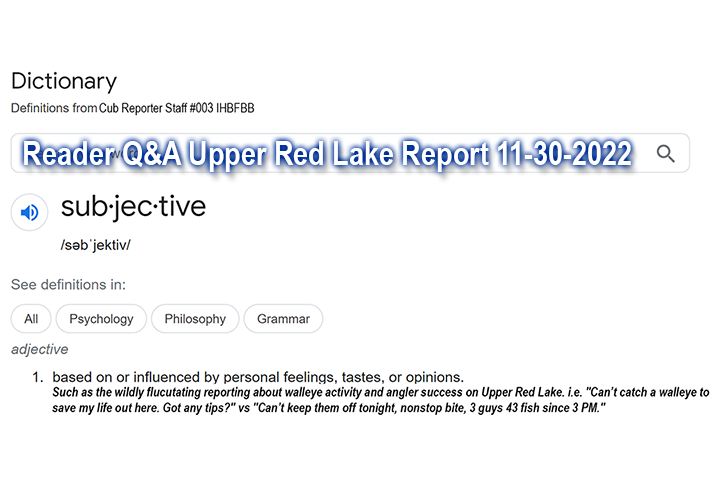 The thing to remember, and the reason you sensed me holding back in that report, is that SUBJECTIVITY in reporting is the rule, not the exception, when it comes to fishing on Upper Red. For every person who says they caught 50 fish, there's another one who reports catching nothing. Most folks, like I said in the report, catch some, but rarely get in on one of those hot bites that we hear so much about. In fact, my personal experiences bear that out. We almost always catch some fish when we visit the big lake, but almost never catch them hand over fist.
A typical fishing trip to Upper Red Lake, in my opinion, features a run of action in the early morning, and another one at sunset. During the day, we see fish on the electronics, but many of them look at our lures without striking. When they're ready, they start biting and the feeding seems to last about an hour, depending on the day. We hook however many we can during that time, usually 6 to 10 fish, give or take.
The way I look at it, somebody who loves to fish does it for fun and the experience, not necessarily for the total number of fish they catch. Our daughter Joelle and her fiancé' Patrick fall into that category. They've spent many a day having fun on the ice without having to fill a barrel with the fish they catch. Last Saturday fell in between, they were happy with what they caught, but by some folk's standards, it wasn't that many fish.
Summing it up, I wouldn't say that my subdued approach to reporting about fishing on Red Lake is based on caution about ice conditions. I wouldn't say that it's because I doubt the validity of reports from anglers who hit the motherlode either; I know that it happens. Realistic is more the word I'd use to describe my reporting style. Personally, under-promising and over-delivering has been a business style that's served me well. I guess that philosophy sort of drifted over into my writing style too.

— Office Cell Call or Text 218-245-9858 or EMAIL
---
Wired2Fish "Ice Fishing Lures for Walleyes | 6 Favorites Underwater" November 30, 2022

"With the ice fishing season upon us, Wired2fish's Nick Dumke shares his top 6 favorite ice fishing lures for walleyes and when he uses each. Dumke presents each from most to least aggressive, which is how he fishes these baits when arriving at a new body of water. As he explains, this approach maximizes efficiency by first allowing you to capitalize on the most aggressive fish. Dumke's commentary is matched with underwater video of each presentation to clearly show what each looks like and how they perform from a walleye's vantage point.
A rattling lipless crankbait gives off the most sound and vibration of any lure from the list. Lipless crankbaits come in various sizes and colors and are also offered in non-rattling varieties. Their bigger profile, coupled with flash, sound, and vibration, often triggers a bigger class of walleyes on many lakes but is often too aggressive for neutral to negative fish. Walleyes are also prone to get conditioned to the lure quickly on pressured lakes.

Gliding or swimming jigs such as the ..." View Video and Learn More >> Ice Fishing Lures for Walleyes | 6 Favorites Underwater
---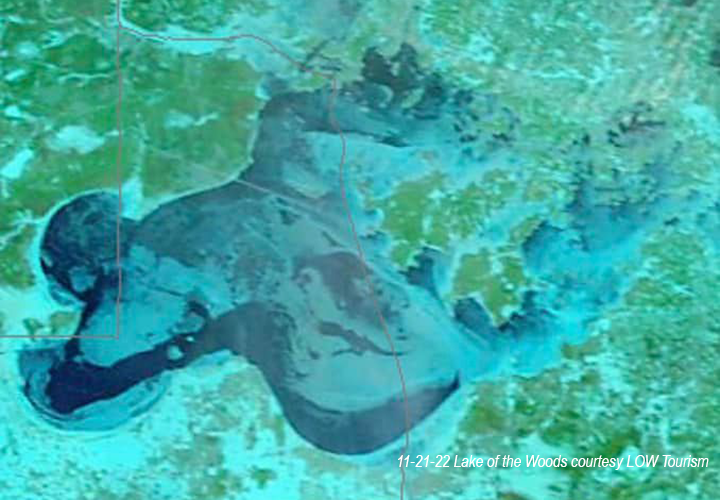 "The wait for thickening ice is upon us at Lake of the Woods. This week, cold temps added to ice formation on back bays and on much of the big lake. The ice still needs time to thicken, but is making progress. When the time is right, resorts and outfitters will slowly and safely begin marking and grooming trails for ice travel.

First activity on the ice will be northern pike angling and spearing in the shallow bays. From there, things will progress as the ice begins to form on the lake. Resorts will communicate about ice conditions on the ice roads and trails they are monitoring and grooming. We are not there yet.
As a general rule, day houses are set by resorts mid December. Sleeper fish houses get placed when ice thickens further. Mother Nature combined with ice conditions in that given area of LOW will dictate what weight limits each individual ice outfitter gives the green light to. Safety first.
Walleyes and saugers are in good numbers for ice anglers when the time comes.
With colder weather, much of the Rainy River is frozen up with areas of open water scattered throughout. Things are progressing but it certainly needs cold weather and some time. Just like the lake, we encourage visitors to work through a resort or outfitter for safety.
Up at the Northwest Angle, bays and much of the lake are frozen up throughout the Angle. Ice is forming nicely and is right on track for this year's ice fishing season. Throughout the fall, walleyes were in good numbers and all indications point to good fishing when the ice is ready." — Lake of the Woods Tourism, (800) 382-FISH
---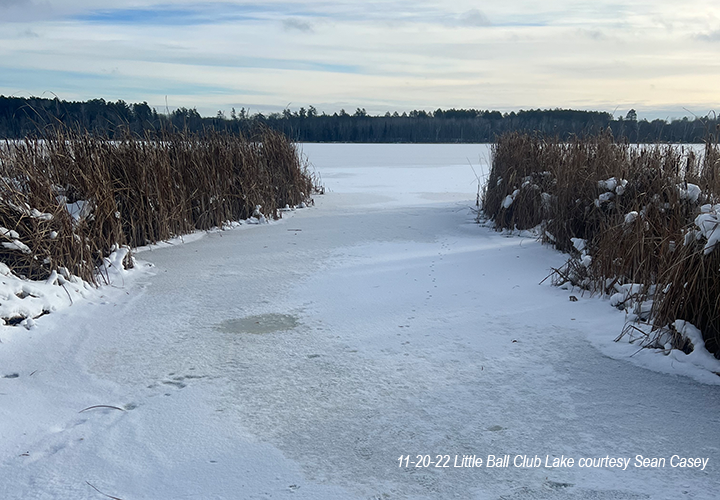 If you were thinking about getting in on the earliest wave to Upper Red Lake, but didn't already do it, then I'm afraid it's too late. In fact, yesterday I noticed some folks already grousing about "the crowds", though it was unclear if these are groups of anglers already there, or simply anticipated.
So far, the folks who are fishing out there have been walking out from shore. Likely, foot travel will remain the primary metyhod through next weekend. The weather forecast for this week looks good for making ice again, so it wouldn't be too far-fetched an idea to expect to see some ATV's sneaking around out there by then too.
Images supplied yesterday by Sean Casey reveal that some north central Minnesota lakes aren't that far behind either. In his tour of the northwest Deer River region, small and shallow lakes were freezing over already and even the larger, deeper ones have large swaths of frozen shorelines. "Ice was 3 inches thick at landing on Little Ball Club (image above left), but it was white ice, so I stopped there." Casey wrote.
More images give a rough idea about thicknesses of ice at Little Cutfoot, where according to Casey, it was 2 inches thick at the dock. At Round Lake, there was ice, but not enough for a test walk and at Winnibigoshish, there was ice along the east shoreline, but still, plenty of open water in sight.
Following the weather pattern this fall has been the complete opposite of following the pattern last summer. Instead of sensing seasonal patterns that ran consistently behind schedule, I now get the impression that they caught up, then normalized and are now starting to run ahead of the normal trajectory.
I know what you're thinking, there were anglers on Red Lake last year by this time too, but that lake is always ahead of the rest. What I'm talking about is how fast conditions are changing in the rest of the Itasca Region. It seems to me that there's more ice in a wider variety of localities than what we usually see. In the "old days". I'd be getting ready for the St. Paul Ice Fishing Show and wondering whether anybody at that show would mention being out on fresh ice. We'll see how the trajectory plays out, but that show is still almost 2 weeks away and it's completely possible that folks will be ice fishing everywhere before that show opens on December 2nd.
Thanks again to Sean Casey for providing the icer updates and the photos! I, along with your fellow anglers appreciate the up-to-date information and hope you'll continue reporting whenever it works into your schedule.

— Office Cell Call or Text 218-245-9858 or EMAIL
---
You Are Invited To Become A Duly Deputized Fishrapper Cub Reporter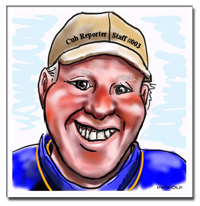 If you've been waiting for a gold engraved invitation to participate in the daily reports, then stop waiting and consider this your own personal invitation.
Helping your fellow fishermen and women stay abreast of fishing conditions in your area is good for everybody and it's easier than you think! You don't have to write a book, you don't have to share your secret fishing spots and you don't even have to mention your lake. But even a few words about general trends, seasonal patterns and local weather conditions can really help.
Be like me, become a duly deputized "Cub Reporter", it's good for fishing! Contact Us or if you prefer to be "social", Fishing Reports Minnesota, the Facebook counterpart to this page is open to the public, so you can post your own fishing update or just share a photo of a nice catch.
---
Jeff Sundin November 15, 2022 "Countdown to the Ice Fishing Season"
It looks a lot like the ice fishing season is on track to arrive soon. In fact, I will not be surprised if there are pictures of folks holding walleyes caught on Upper Red Lake this weekend. Late last week, there were already signals that shallow water was beginning to freeze. This week the calm, cold, forecast looks very favorable for more ice to form quickly.
Personally, I'd been hoping to get some hunting out of my system before the ice season got going full swing. But it looks like I'll be coming out of hiding sooner than I expected.
For the past 2 days, snow has been falling steadily in the Grand Rapids area. This morning, there were 2 to 3 inches of it on the ground at my house and Susan returned home after attempting her commute, citing slippery conditions and a near miss with the ditch on US Hwy 2. So, I'll likely wait until the roads clear a little bit, then I'll take a drive around the region to see what conditions look like. In the meantime, I guess I'll start gathering the ice gear and be ready for whatever comes next.

— Jeff Sundin 218-245-9858 or EMAIL
---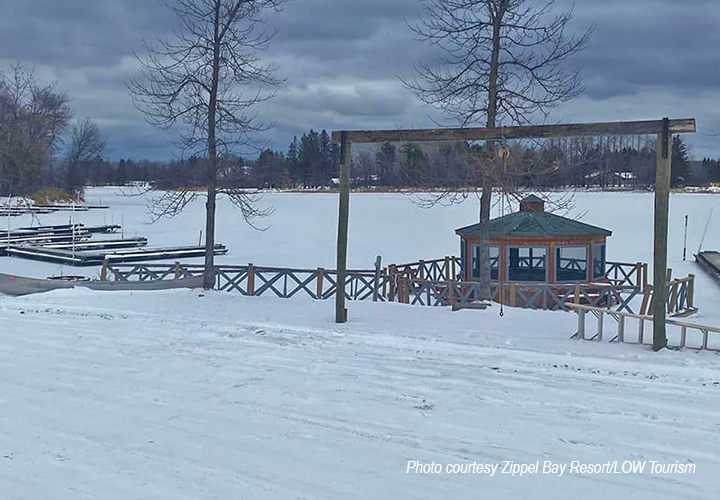 "Most anglers have pulled the plug and have finished the open water fishing the south basin of Lake of the Woods. Resorts, rental operators and anglers now have their sights set on ice fishing.
This week, temps plunged creating ice on back bays. Some reports of a few inches as of mid week last week in some areas. When they think the time is right, resorts and outfitters will slowly and safely begin marking a trail for ice travel.
The first anglers out will work through resorts using the marked trails to tip up fish or spear for pike in the shallow bays. From there, things will progress as the ice begins to form on the lake. Resorts will communicate what form of travel is allowed. Initially, foot travel only. As ice thickens, it goes to ATVs and snowmobiles. Eventually side by sides and up from there.
Every year is different, but normally day houses will be set up for customers early to mid December. Sleeper fish houses a couple of weeks after that. Mother Nature is in charge and areas of the lake freeze differently, hence, it is vital to work through the pros working the ice.
During early ice, most resorts / outfitters will transport you out to heated fish houses for safety and convenience. Those fishing on their own will pull their collapsible fish houses out staying on marked trails on the ice.
Walleyes and saugers have been setting up nicely in their late fall spots along the south shore for ice anglers when the time comes.
On the Rainy River... With colder weather, some snow, and deer hunting still going on in northern Minnesota, most anglers have pulled the plug on fishing. A few that ventured out reported some nice fish. With snowy boat ramps and spots with shoreline ice, anglers need to exercise great caution if they plan on dropping their boat in before the river freezes up.
Up at the NW Angle, walleye fishing reports were excellent until bays started freezing. Mother Nature has kicked in and ice is beginning to form. Most have pulled their boats trying to beat the ice up. Everything is in place for an excellent ice fishing season." — Lake of the Woods Tourism, (800) 382-FISH
---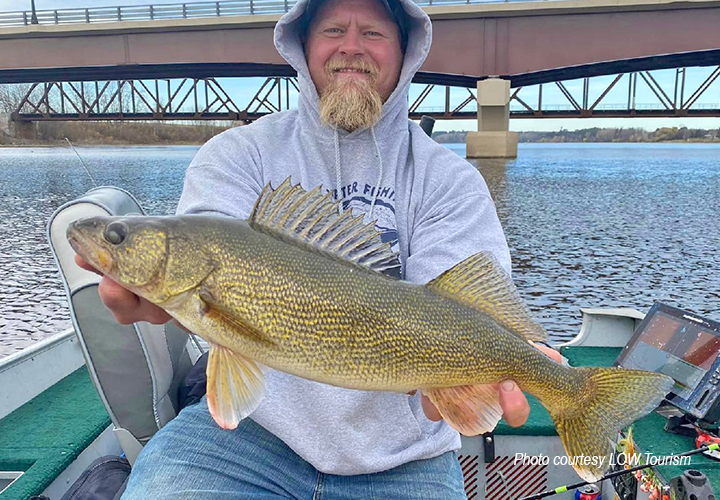 "Anglers continue to experience some great fall fishing on the south end of Lake the Woods. Targeting the mud and sand at key fall locations along the south shore is working for many, but there are successful anglers fishing structures like reefs and shoreline related points or breaklines too.
Rocky Point, Long Point area, Zippel Bay, Morris Point and Lighthouse Gap areas all producing. Once you find the walleyes, they have normally been cooperative, and folks are catching good numbers of fish along these south shore areas.
Anglers report strong success by focusing on water depths between 15 to 25 feet. Most are jigging now, using emerald shiners or fatheads for bait. Key jig colors have been gold, orange, chartreuse, pink and glow or a combo of these colors.  Hooking the minnow through the mouth and out the gill and sliding it up to the jig head and hooking it about halfway back on the minnow will hook more fish.
Another great thing about fall is the mixed bag of fish that the lake offers. Walleyes, saugers, pike, jumbo perch and an occasional crappie or sturgeon can all wind up in the mix.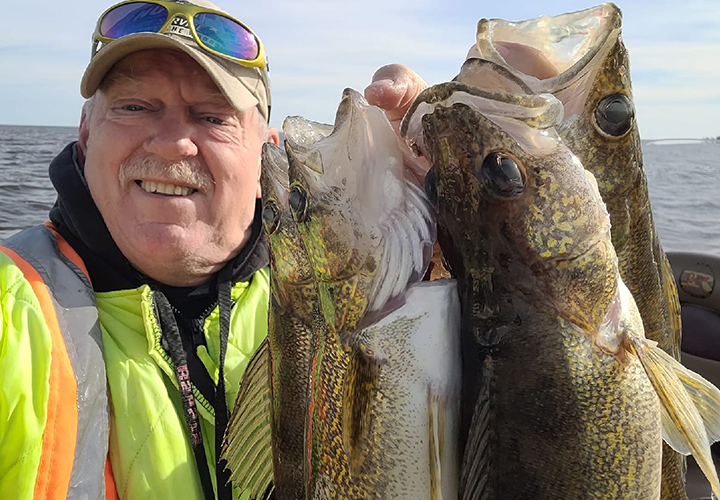 Many of these fish are staged for the winter season and that means ice fishing.  Mother Nature always dictates, but as a rule, resorts get day houses out around December 10th with spearing for pike on back bays taking place even earlier.  Resorts and outfitters will communicate ice conditions when the time comes.
Remember the combined walleye and sauger limit on Lake of the Woods is a combination of 6 fish, with up to 4 of those fish being able to be walleyes.  All 4 walleyes may measure under 19-1/2 inches, or angers may legally possess 1 walleye over 28 inches. All walleyes between 19.5 and 28.0 inches must be immediately released.
It's been a great week of fall walleye fishing on the Rainy River too.  There were some big walleyes were caught this week, which is traditional for this time of fall on the river. 
Boat ramps are open everywhere from Wheeler's Point to Baudette and east to Birchdale. Good fish were caught in most locations up and down the river, but there are a lot of good reports coming from the stretch of river around Baudette. Jigging with frozen shiners has been producing nicely.  Some anglers are still trolling crankbaits, another staple presentation which is producing nice fish.  
Up at the Northwest Angle, walleye fishing continues to be very consistent.  Jigging with a minnow has been the go-to method.  Fish continue to show up in good numbers for anglers fishing on both sides of the border. Traditional structure such as points, rock islands, sunken islands, and neck down areas holding nice walleyes.
Big muskies are being caught and released by fall muskie anglers.  In addition to working key structure, this is the time of the year trolling shoreline structure produces nicely. Resorts are preparing for the ice fishing season, which based on walleye and sauger populations, is looking positive." — Lake of the Woods Tourism, (800) 382-FISH
---
"Reader Comments, Questions and Concerns" — November 1, 2022
Gary Klatt, somewhere in the Brainerd region, messaging via text shared his observations about some of the lakes in his region. Reporting about 3 of his favorite fall crappie fishing lakes, Klatt mentioned that he and his fishing partners searched for crappies over the typical deep-water holes where they find fish during the fall.
Klatt, "This year, in all 3 cases, we finally found them located in 10 to 15 feet of water, over rocky bars, with short weeds. Along with sunfish, they were still there yesterday (October 30, 2022)."
Observed also by Klatt, was that Walleyes in those lakes would normally drop down into 20 to 40 feet of water this time of year. "With water temperatures in the 49-to-51-degree range, most of the walleyes remain shallow too, it's been a different year." Klatt concluded.
Chris Andresen, somewhere near Mankato, also via text message wrote, "With the first cold front that came though, I have seen quite a few 24-to-29-inch walleyes in water depths of 20 to 25 feet. Andresen asks, "Do you notice a pattern of larger fish going deep earlier than smaller fish?"
"One more thing, when the lake turns over, bubbles are coming up from the bottom and there are clumps of green goo floating everywhere in the water, stay away! I'm sure you've seen it before, but this was the first time I've seen it." Andresen ended his text with one last observation, "In the pea soup, you can see where all of the boats have been fishing too, the bubbles in their path of travel don't go away."
Chris, regarding the bubbles in the pea soup, I presume you mean that curious anglers can use the trails to locate fishing spots that others have already tried. Who knows, that might work sometimes? But if those other anglers are as sneaky as you are, and they made the same observation, they probably don't stop at many of their top-secret locations when there are other boats around; at least I wouldn't.
Your observation about larger walleyes grouping together in deeper water earlier than smaller fish fascinates me. Separated by 250 miles of varied terrain and aquatic habitats, the lakes we fish probably differ in many ways. So, without firsthand experience, the only things I can know about the lakes you fish are from the observations you share with the readers and me.

In this instance, your experiences are 180 degrees the opposite of mine. On many of the better walleye fishing lakes in my region, walleye from different year classes, and therefore sizes, do appear to group together by water depth. But my experiences indicate that the smaller fish hold in the deepest water, while larger fish roam the shallower water. Lakes like Cass, Winnibigoshish, Walker Bay and Ten Mile come to mind, but I'm sure there are many others, and the size-by-depth separation is not unique to the fall period. In fact, in recent seasons, friends have noted that the segregations occur during spring and late summer too.

I feel a serious period of research coming on and as soon as I can explain the phenomenon more fully I will. Until then, I can offer one educated guess that whatever drives the grouping of these fish by specific sizes is most likely 'food driven". Figuring out which food sources attract each size of fish to any given locale gets us close, comfort could enter the picture too, so water temperature and terrain must also be considered. Watch for more on this topic later.

Upper Red Lake made the news last week when the DNR announced the 3 fish walleye limit that begins today, November 1, 2022. The teaser posted on the Fishing Reports Minnesota Page on Facebook generated some commentary from readers who follow that page.
Gary Sobotta wrote; "Thanks Jeff, saw the announcement. Couple thoughts, questions.
Because of the insane amount of pressure, the lake gets now much concern is there for increased hooking mortality with this regulation?
Second will the reduced limit also reduce the economic benefits if people do not go because of gas costs and inflation? How much will it hurt the local economy and services like yours? Crazy idea but is it time to limit the fishing pressure by limiting how many are allowed on the lake per day? Know it is a far out idea but what else could we do to encourage sustainable angling and protect the fish population for future anglers?
Gary's questions triggered commentary from a few other readers as well and in my answer below, I'm paraphrasing the sentiments of their thoughts. If you're a facebook fan and prefer to read verbatim the entire string of comments from those who responded, follow this link >> Winter Walleye Regulation Upper Red Lake
Gary, your first question is straightforward and most easily answered by saying this; if there's any lake in Minnesota where hooking mortality is liable to be the least of our concerns, it would have to be Upper Red. Shallow water, combined with relatively small fish that are easily reeled in is the reason.
On any given day, the average water depth for fishing on the public side of the lake will range somewhere between 6 and 12 feet of water. Even if anglers were fish the deepest spot they can find, the water depth will be less than 16 feet. Catching fish in shallow water is much less destructive than hauling them out of the depths the way folks do on other large walleye factories, like Lake of the woods for instance.
The average size of the fish makes a huge difference in this equation because the time spent fighting a 15-to-18-inch walleye is much shorter than the time a larger walleye struggles against the fishing line. You get the idea, the longer the fight time, the more stress gets put on the fish. Any larger fish is at a disadvantage because it is their own strength and size that works against them. Granted, there are a few larger fish caught in Upper Red, but by comparison to other popular walleye lakes, the number is miniscule.
Finally, ice fishing, on any lake, is less damaging to fish than is summertime fishing. Colder water temperatures lower the fish metabolism and help mitigate some of the stresses undergone in warmer temperatures.
Last winter, the debate about Minnesota's possible walleye possession limit reduction led to an interview with Tony Kennedy, MN DNR's large lake specialist who among other responsibilities, keeps close tabs on anglers fishing habits, trends and catch rates for Upper Red. If you didn't read that article, review it now because it not only ties directly to your original questions, but relates in no small way to some of the subsequent commentary.
Gary Barnard, retired DNR Fisheries Supervisor from Bemidji spoke to the concern voiced by one reader of the thread generated by your comments; Michael Stahl wrote, "3,000 (anglers) per day? That could be 9,000 fish out of the lake per day."
Again, referring to the article, statistics show that nothing could be further from the truth. "For the 2020-2021 ice season, the average harvest rate for day trips on Upper Red Lake was .18 walleye per hour, per angler. On sleeper trips, the averages were much lower, working out to .02 walleye per hour, per angler. The previous year, 2019-2020, day trips on Upper Red Lake harvest rates averaged .23 walleye per hour, per angler for day trips and .05 walleye per hour, per angler on sleeper trips.
The math works out a lot better for the fish than for the anglers. At .05 walleye per hour, an angler needed to fish for an average of 60 hours to harvest 3 walleyes on a sleeper trip in 2020. And in 2021, would have needed to fish for 150 hours to harvest the same 3 walleyes. Day Trippers catch their fish faster, at .23 walleye per hour, could have gotten 3 walleyes in just 13 hours during the 2020 season. At .18 walleye per hour, the same 3 fish average would have required a commitment of over 16 hours during the 2021 ice fishing season."
All things considered; Upper Red Lake Walleyes have a lot of advantages over their cousins living in other lakes around the Midwest. In my view, if there's any concern at all, I wonder why the DNR chose the 3-walleye limit instead of leaving it at 4 fish? I thought that the socially based, 4 walleye possession limit was being touted as the cure for all ailments walleyes?
All things considered; Upper Red Lake Walleyes have a lot of advantages over their cousins living in other lakes around the Midwest. In my view, if there's any concern at all, I wonder why the DNR chose the 3-walleye limit instead of leaving it at 4 fish? I thought that the socially based, 4 walleye possession limit was being touted as the cure for all ailments walleyes.
That said, we do know for a fact that Upper Red Lake Walleyes can be overharvested, it has happened before, and the results were devastating! So, the reader comment from DeAnna Helget needs to be put under the microscope too. Helget, "I think (the solution lies in) educating people. Sounds easy to say, but it's a big task. With more technology and social media and fishing apps you can easily find a hot lake, pretty much the exact spot and the bait used."
We simply cannot regulate conservation and the ethic to preserve fishing opportunities for the future. Education, in my opinion, is the only choice we have. As we develop, perfect and distribute the tools, knowledge, and free time to not only pursue, but actually catch as many fish as we want, we must choose how those fish may, or may not be protected and preserved. Helget is correct, this will be a big task, but one that must be undertaken.

— Office Cell Call or Text 218-245-9858 or EMAIL
---