Minnesota's Quality Bluegill Initiative Updates and Progress Reports October 2019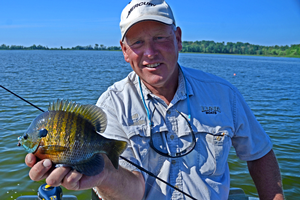 I love fishing for sunfish, I could do it every day and never miss fishing for any other species. You may not be that passionate about them, but whether you spend a lot of time fishing for sunfish, or rarely do it at all, I'll bet we still have something in common. Whenever either one of us does fish for sunfish, we'd like them to be big ones!
Minnesota's Quality Bluegill Initiative probably hasn't been on your mind lately, in fact you may not have even known that there was one. But it's been on mine and I was just beginning to wonder when I'd hear some fresh news about how it's progressing.
Just yesterday, I received an email update from Jeff Reed, co-chair of the MN DNR "Panfish Workgroup." In it, Reed mentions that an overview of the program was introduced to area supervisors in September 2019 and that it was well received.
There are already well over 100 lakes proposed to be included in the first round. There may still be more, staff has a few more weeks to deliver proposals to their respective regions. Reed also reported that comments from the public have been overwhelmingly positive.
Since I already know that there will be updates coming soon and again in the future, I decided to set up this page as a permanent home for fishRapper readers.
In the meantime, I figured that this would be a great opportunity to be sure that you've all been formerly introduced to the Quality Bluegill Initiative. So for those of you who don't already know, here's a quick history lesson about how the Quality Bluegill Initiative came about.
Panfish advocates had once hoped to establish a statewide regulation that could work biologically and still be palatable to the public. After assessing the results of public opinion surveys; it was clear to DNR fisheries officials that the vast majority of anglers opposed change. While they almost universally agreed that the size quality of sunfish in the state has declined, they still wanted no part of any bag limit reductions across the state.
Accepting that the original goals were maybe too lofty, fisheries officials decided to scrap any plan to establish statewide regulations aimed at improving sunfish size structure. It was that decision that gave birth to the "Quality Bluegill Initiative". The new plan is to seek out lakes that offer sunfish the chance to grow big. Lakes that qualify offer good forage, excellent habitat and either already have large sunfish or where they have existed historically.
Originally, I sat down to write this as a fresh, in-depth report about the Bluegill initiative. But when I began researching, I discovered that there's already so much good stuff out there that it would be nearly impossible for me to improve on it.
So here's what I want to do instead, let me give you these links to existing material now and after you've consumed all of that, I'll go ahead and add fresh news and updates about QBI as they become available.
In July 2019, Scott Hall presented a fabulous radio report on KAXE/KBXE about the Quality Bluegill Initiative. This is by far one of the best reports I've heard and I believe that after you listen, you will easily agree.

It begins with ... "The number of sunfish in MN waters is going up, but the size has been declining for decades.   To reverse this trend DNR fish biologists like Dave Weitzel are encouraging anglers to …" Follow Link To Hear Full Radio Report >> Bringing Back Big Sunfish: A Conversation with DNR Fisheries Biologist, Dave Weitzel
In the May/June edition of Minnesota Conservation Volunteer, Scott Mackenthun wrote; "While walleyes are Minnesota's state fish, sunfish take the prize for being the most widely distributed sport fish across the state, as well as the most harvested fish.
Fisheries managers and anglers alike once believed you could never overfish sunfish. Today, we know that's a myth. Minnesota sunfish abundance is as good as or higher than historical levels, but fish size has declined. In many places, years of keeping large fish and releasing little ones to grow up has …" Read Full Article >> The Sunfish Myth June 2019
In December 2018, I wrote; "Sunfish, Minnesota's most heavily harvested species won't be getting much protection, at least not over the short term. That's the upshot of the December 2018 session with the MN DNR and its panfish workgroup.
The workgroup, volunteers who collaborate with the MN DNR to discuss issues affecting panfish in Minnesota, meet with DNR fisheries staff regularly. The DNR provides technical support to assist group members in learning more about what makes panfish tick.
The evidence they've provided is clear; Minnesota's average size bluegill continues to …" Read Full Article >> The Quest for Quality Sunfish; An Uphill Battle December 2018
---