White bass fans look forward to massive spring spawning runs in rivers that connect to the large natural lakes and reservoirs the fish call home during the rest of the year. But after the run, most anglers set their sights on other species.

So why are they summer's Rodney Dangerfield, earning such little respect?

It can't be their unwillingness to whack a vibrating or flashing lure. The fact is, white bass have voracious appetites, and once schools are located, the catching comes quite easy.

It's certainly not what they lack during battle. White bass zig-zag and power-dive straight for the fathoms. And, by far, it's not their poor table fare. On the contrary, white bass make for good eats if you ice 'em right away or keep them in a well-aerated livewell – and then remove all the red-colored flesh when filleted.

More than likely, it's simply because they aren't easy to find come summertime. Just like their saltwater cousins, the striped bass, white bass turn pelagic. They don't dwell near bottom or hug shoreline structure, making them more difficult to find. Instead, white bass rove high in the water column and create havoc with pods of nomadic baitfish.

Or maybe they're simply not trendy enough to target. But that's about to change.

When the lovin' is over
Enter ardent angler Jim Edlund, who is far from troubled to speak in favor of targeting white bass. The Minnesota-based outdoor writer says he fishes white bass every chance he gets, and now coaches his daughters on how to catch them year-round; even well after the massive spawning migrations have ended.

"Springtime is primetime, typically when water temps are in that 50 to 60 degree range. Fish a day or two before, on, or immediate after a full moon and you're really rocking. That's when the spawn is in full-swing. It's the perfect bite to get kids really excited about fishing. Not surprising, my kids are big fans of white bass," says Edlund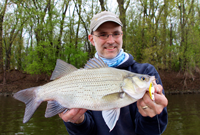 Jason Halfen with a chunky and spunky white bass snared on a Fin-Wing.

Fluttered deep or burned across the surface, the Fin-Wing is a nemesis to white bass