---
---
"Upper Red Lake is getting close to being open without limits but patience will be needed - especially with the storm coming this week. On our most recent trip, we found 12 inches of ice in most spots and resorts were allowing wheel houses towed out by side by sides. With that being said, at least one resort on the east side had problems crossing a bridge over an ice heave and had to stop letting wheel houses out.
The best idea when going out on Red is to go through a resort and listen to their advice. The resort we went out of advised us of the problem with the bridge and also notified us of a large area of thin ice that was only 4 inches thick. Definitely not an area you want to run your wheeler though.
As for fishing, for us it was ok. We marked a lot of fish on the graph. Not a strong bite - lots of lookers and very spooky that day. The dead sticks were never touched and any quick jigging would result in the fish taking off in the opposite direction. After lots of trial and error, we found that a leisurely rise of the jig would get the fish to slowly chase the bait and strike.
Other groups of people appeared to have about the same success. Most groups had fish, but I don't think it was fast and furious for anyone. People were consistently marking fish in 7 to 12 FOW. We were hoping for a good early evening bite in the full moon. Unfortunately, the fish got tighter to the bottom and wouldn't cooperate. Can't complain though when you're fishing in in 30-degree weather and light winds. Life is good!
The owner of the resort informed us of a new program that has been implemented at the larger resorts on Upper Red Lake. They have red Bio-bags available for your bathroom needs while on the ice. They even have dedicated dumpsters for these bags when you leave. He said last year they had over 120,000 people that were on the ice and the shoreline was a terrible mess this spring. As a curtesy to our Upper Red Lake hosts and residents, please keep the ice clean.
In regards to this week, a major winter storm is expected with 12 inches (or more) of snow. Wednesday and Thursday are supposed to be blizzard like conditions. Check with the resorts before venturing out on the ice to see what the lake is like. Heavy snow on 12 inches of ice may cause issues. Stay safe & God Bless those about to fish!" Dave Buxengard
---
Wired2Fish "How to Find Walleyes on Big Lakes | Ice Fishing" December 13, 2022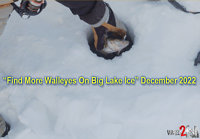 "Many of the best walleye lakes across the ice belt are expansive bodies of water, making them intimidating to the naked eye. Fortunately, modern ice anglers have sophisticated tools that make finding walleyes on big lakes quick and easy. Avid ice angler and long-time ice fishing guide Brian Brosdahl shows the simplicity of quickly breaking down large bodies of water with modern-day technology.
Brosdahl uses detailed digital mapping to find key walleye-holding structures. Digital maps have become essential ice fishing gear and allow anglers to interact and manipulate the map. Maps that offer custom depth-highlighting and 1-foot contour intervals make this process a breeze, as offshore points and humps stick out like a sore thumb.
Once he chooses a spot, Brosdahl uses 360-degree sonar to ..." View Video and Learn More >> Find Walleyes on Big Lakes | Ice Fishing
>> How to Find Walleyes on Big Lakes | Ice Fishing
---
Jeff Sundin November 28, 2022 "Upper Red Lake Report"
A report about fishing, or any other thing for that matter, can't really be useful unless it's instructive. If the audience can't glean a bit of helpful information from your story, then why bother telling it? I can answer that question, at least partially, but I'm not gonna, at least not here and not now.
I'm tempted not to say anything about the ice fishing on Upper Red Lake because I haven't been there myself yet. But the kids, Joelle, and Patrick, along with a couple of friends were there this weekend and did provide some rudimentary information that might be helpful.
Walking out from one of the private accesses in the southeast corner, they said that 6 inches of ice was the average thickness in the area where they decided to set up for fishing. They arrived early and were set up on the ice well before sunrise. From the looks of their photos, that sunrise was the highlight of the earliest part of their trip. Because when Jo texted us the picture of her first walleye, the sun was already up and shining.
They settled on a fishing depth of 11 feet, fairly deep for this early in the winter. But if you're hoofing it and not headed to a particular structure, it might make sense. Eavesdropping on reports from some of the other anglers who were there, fishing deeper water was a common thread of advice. Anglers targeting structure fished shallower, 7 to 9 feet off the edges of breaklines, reefs and the like.
The lure that worked best on Saturday was a Glow(white)/Pink Rattl'n Quiver Spoon. "The walleyes seemed to like that one", Jo says. She didn't mention if they tipped them with minnow heads or not, but I assume that they did. I'll update that later if they didn't.
By the time they finished their trip, Jo and Pat had 3 keeper walleyes and might have released a couple of smaller ones. Their friends had a couple of keepers too, and definitely released a few small ones too.
Further west, along that same southern shore, there were reports of ice that was somewhat thicker, up to 8 inches in select areas. But there were also reports about the quality of the ice deteriorating. Warm weather had turned the surface soft and slushy, someone was too anxious, tried to go out on an ATV and wound up breaking through the ice with it. If there were other folks travelling any other way than on foot, it is not yet widespread. None of the rental operators are allowing any sort of vehicle travel on their so-called roads. More on that later.
Four people fishing all day long and leaving Upper Red Lake with a half dozen walleyes might not sound great to you. But in my estimation, theirs was a very typical day for most ice fishing trips on Upper Red. In fact, if I was headed there myself, that's about what I would have 'expected" to catch. Except for the relatively small group of anglers who manage to rack up big numbers by getting there for the super-early, early-ice bite, us average anglers usually settle for more average catches; like this one.
I see colder weather in the forecast this week, that should add enough ice to make ATV travel possible by next weekend. It should also serve to provide additional opportunity on more lakes in a wider variety of locations.

— Jeff Sundin 218-245-9858 or EMAIL
---
"Upper Red Lake 2023 Winter Walleye Limit Reduced: 3 Fish Limit Starts 11-01-2022"
News Release October 26, 2022: "Upper Red Lake walleye regulations change for winter season".

"Anglers fishing during the winter season on Upper Red Lake in northern Minnesota will have a three-walleye bag limit, with only one walleye longer than 17 inches allowed in possession. The new regulation becomes effective Tuesday, Nov. 1, 2022.
The fall fisheries assessment on the Red Lakes found the walleye population to be at a healthy, sustainable level with a wide range of sizes. This winter's walleye regulation on Upper Red Lake is based on the abundance of mature female walleye, or spawning stock, in "optimal" condition. The fall numbers indicated that a regulation that allows a moderate amount of harvest is most appropriate to maintain spawning stock at a level that is both sustainable and promotes the consistent success of new year classes.
Last winter, the bag limit was four fish in an effort to reduce "surplus" spawning stock to a level that is more likely to encourage success of young fish and relive some pressure off the walleye population's primary forage, yellow perch.
"We are actively managing for optimal spawning stock to maximize the likelihood of strong year classes, which bodes well for future fishing," said Edie Evarts, Bemidji area fisheries supervisor with the Minnesota Department of Natural Resources. "Our fall survey indicated that the walleye population is healthy and there should be an abundance of harvestable fish just under 17 inches, and always an opportunity to catch a larger fish."
The Red Lake Nation and the DNR manage the walleye harvest on Red Lake under a joint harvest plan that the Red Lakes Fisheries Technical Committee revised in 2015.
The DNR will determine next year's open water harvest regulations after the winter fishing season. An Upper Red Lake Citizen Advisory Committee reviews walleye harvest totals and regulation options and provides recommendations for regulations for the state waters of Upper Red Lake.
Upper Red Lake fishing regulations are available at the DNR website (mndnr.gov/fishing/upper-red-lake-regulations.html)."
---
Jeff Sundin "Upper Red Lake Report" July 20, 2022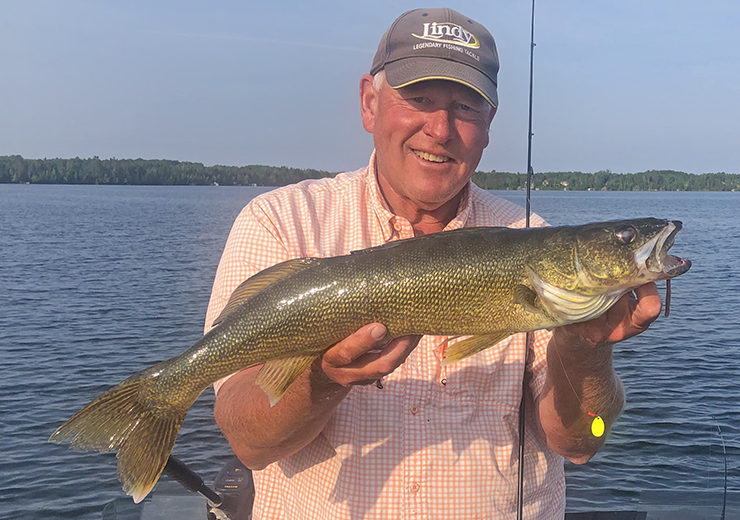 The consensus among anglers fishing Upper Red Lake has generally been that there was a larger average size walleye were being caught on the north side, than there were on the south shoreline. But after fishing on the south end this week, I think there might be a better way to express it. While it may be true that a higher percentage of the walleye caught up north are "keepers", south side anglers are getting plenty of good size fish too. To do that, they just catch 5 times as many fish to sort out the good ones.
Surface water temperatures are warming, but with water levels remaining high, it's taken longer to warm up than usual. Now in the 76-to-78-degree range, there's a healthy algae bloom in the water and there are more fish lingering along the shoreline, and less fish moving toward deeper water. Center Bar for example, continually disappoints folks who try fishing out there.  "It just doesn't seem like they've moved out here yet," said one local expert who asked to remain anonymous. "You're better off fishing in 4 feet of water than you are in 10 feet this summer," he added.
I can't say that we caught many if 4 feet of water this week, but the 5-to-7-foot depth range produced lots of fish. The only times we experienced really slow action was when I settled on any single depth and stuck with it. For me, the fish seemed flighty, and zigzagging up and down the breakline, we'd find them shallower for a while, then deeper, then shallower again.
We only ever fished with spinners tipped with minnows, and they worked great, so naturally I'll say that was the best presentation. But having not tried anything else, I don't if there was a better way to catch walleyes or not. One anecdotal report about some fishermen trolling crankbaits was that they caught more Sheepshead than the rest of us. That might have been depth or structure based more than presentation though. Usually, moving deeper, especially over rocky terrain produces a higher proportion of drum, I assume that might have happened to that group.
Crappies, someplace along the line, produced a fresh year class in Upper Red. Almost everybody I talk with is catching a few while they pursue walleyes. The best report I've heard recently was a group that bagged 7 of them, but most groups catch 1 to 3 on any given day. These are not the famous hubcap size crappies of yesteryear, but they are keepers, ranging in size from 10 to 11 inches. There may be a way to target them specifically and caught more, but like I said, most are being harvested as a by-product of walleye fishing.
I mentioned earlier that fishing the south end requires sorting through more fish to harvest keepers and it's true. There are a lot of small, 10-to-11-inch fish, quite a few 13-inch fish, and an occasional 15 to 20 inch one. Last Sunday, I was being stubborn and trying to harvest only fish in the 15 inch plus size range. That worked for 8 out of 10 fish, but being pressed for time, I relaxed the standard to 14 inches to get the final 4 fish for my crew during our final hour of fishing. We boated a lot of little ones to get there, but for folks who like action, that's not the worst problem in the world.
I don't think that there's any single "magic spot" on the south side. Folks trolling along the south shore found pods of fish scattered everywhere from the reservation line to the corner south of Westwind. If you troll the breakline, zigzagging between 4 to 7 feet of water, you will eventually encounter a school of fish.
Fishing on the north side may be different though. Up there, weed beds have developed along the shallow side of the breakline in 4 to 6 feet of water. Most of the fish seem to be relating to those stands of vegetation, so once you locate a school, try to stay closer to them. Rocks, commonly popular with the north siders are producing more sheepshead than walleyes, at least for now. Like I said earlier, you'll catch less fish up north, but the payoff is that they will be better quality on average. If you only catch 4 fish, odds are that they will all be "keepers".
Influenced by the high price of fuel, along with good fishing closer to home, this was actually only my 3rd trip to Red Lake this summer and I think it was actually better this week than it was earlier, at least for me. I can't recall the last time walleyes stayed on the shoreline all summer long, but it's starting to look like this year, they might do that. I'm not sure if I'll be back up there or when my next visit might be, but as always, whenever it is, you will be the first to know.

— Jeff Sundin 218-245-9858 or EMAIL
---
Jeff Sundin "Upper Red Lake Fishing Report" June 29, 2022
"Water levels are still high on Upper Red Lake, I think about 2 feet above what I'd typically observe at this time of year. The surface temperature remains cool too, on Tuesday, they ranged between 66.5 and 67.5 degrees most everywhere we stopped.
The cool water temperatures heightened what I'll call the "late-day walleye bite effect". At least for me, this pattern of starting slow and building to a crescendo is perfectly normal on Red Lake and occurs almost every time I go up there. For the first couple of hours yesterday, there wasn't a lot happening, but as the sun warmed things up, the walleyes began to move. By about noon, the action was good and would have gotten better if the wind hadn't gone so topsy-turvy.
I'd been staying in contact with my friend Justin Wiese, he was lending a hand with "Carl's Cronies", a 6-man group that requires a second guide boat. It was ironic that at one time, I called while he was busy converting his crew from spinners, over to jigs and minnows. At the same exact time, I was in the middle of converting my crew from jigs and minnows over to spinners. Great minds think alike I guess, he'd reasoned that the slow morning action was because the spinners weren't producing. My reasoning was that the jigs weren't working. Soon though, we'd learn that both presentations worked just fine, the fish simply had slept in later than usual.
For an hour or two, the winds were calm and keeping a consistent trolling speed was easy. We were on a roll with the Little Joe Spinners, fishing to me, seemed to be getting easy. Then the wind unexpectedly turned direction, blowing into the north shore from the southwest. The whitecaps forced us to abandon trolling the spinners and begin drift fishing with jigs and minnows instead. This was working fine too and after a short period of adjusting to the new conditions, the fishing seemed to be getting easier again.
The next thing that happened was another wind switch, this time it blew from the north, making ours the calm side of the lake. So, after a decent drift or two, we found ourselves sitting in flat seas, looking for a new game plan again. Somehow, that final wind switch did the action in for us and that was the only reason we were a couple of fish short of our limits when we left the lake. I think that if we'd stayed longer, we'd have gotten another chance, but with a long drive and another fishing day ahead of us, we opted to get off the lake instead.
The key depth range for us was about 5 feet of water and right now on the north shore, that occurs right up against the bulrush patches. Most years, those bulrushes are in much shallower water, so fishing in and around them isn't really "a thing". This year though, they are holding fish and if you recall, I mentioned catching pike in them a few weeks ago. There were still pike in the area yesterday and Justin bagged a crappie there too. Some perch, not too big, were drifting around in the area as well. Sheepshead, to my surprise, were practically non-existent, we only caught 1 of them, Justin reported catching 4 or 5 throughout the day.
I've been following some conversations about the size of walleyes folks are catching on Red Lake this summer. The trend has been larger numbers of lower quality fish are found on the south and east shorelines. Lower numbers of higher quality fish are located up north. So, if you're willing to trade grinding away at a slower pace to harvest some larger fish, fishing the north side might be a good idea. If you want to stay busier, fish the south and or east sides.
Obviously, the wind dictates part of your decision too and yesterday, it did mine. I'd hoped to look at some "fresh territory", but those whitecaps I mentioned slowed me down in that regard.
A few weeks back, I called Red Lake "good enough to be called good" and I still see it that way today. The action will keep you interested, but likely will not be intense. If you work at it, there will be some very nice size fish in your larder too. By days end, we managed to harvest 14 walleyes, most of them ranging in size from 15 to 18 inches. There was a 1 21-inch fish, along with 1`14-inch fish in our bag too. Spinners vs jigs was a 50/50 split, use whichever presentation you love the most. Crankbaits, if you love those, will probably work too, but we didn't see any evidence of that yesterday."

— Jeff Sundin 218-245-9858 or EMAIL
---
Jeff Sundin "Good Enough to Call Good — Upper Red Lake Report" June 10, 2022
We'd all heard that fishing on the big lake was good, but windy, unpredictable weather had kept me away this spring. That finally changed yesterday when Bill and Roger hopped in the truck and said, "let's go to Red". I checked the weather forecast, which appeared to be decent enough to take a chance. Cautiously, I gave my nod of approval, and we were on our way to Washkish.
We couldn't help but to be optimistic about fishing on Upper Red Lake because as soon as we launched the boat, we'd already seen people catching fish. That's right, fishing right there in the Tamarack River, from shore, the young man you see pictured at left was already close to his walleye limit before we ever pulled our rods out of the locker.
Whenever possible, I fish the south and east sides of Upper Red, I just like it on that side. But yesterday, there was a wind predicted, Northwest at 10 MPH, with possible stronger gusts and that influenced my thinking. So, I drove up the north shore to add a measure of protection from potentially rough seas. At our first stop, I noted the surface water temperature, 65 degrees and that reading remained fairly consistent from spot-to-spot.
Water levels, like most everywhere in north central Minnesota, are high at Red Lake. The breakline which typically occurs between 3 and 5 feet on the north side was deeper yesterday, 5 to 7 feet at the drop off. The extra water levels were confirmed when I explored shallower water. In the 4-foot range, I found myself motoring into the submerged bulrushes which would typically occur in the 1-1/2 to 2-1/2-foot range. There was no sign of that vegetation above the surface and no sign that any bulrush plants beginning to turn green. I moved back out of the bulrushes, stopped at 6 feet of water, and began back-trolling.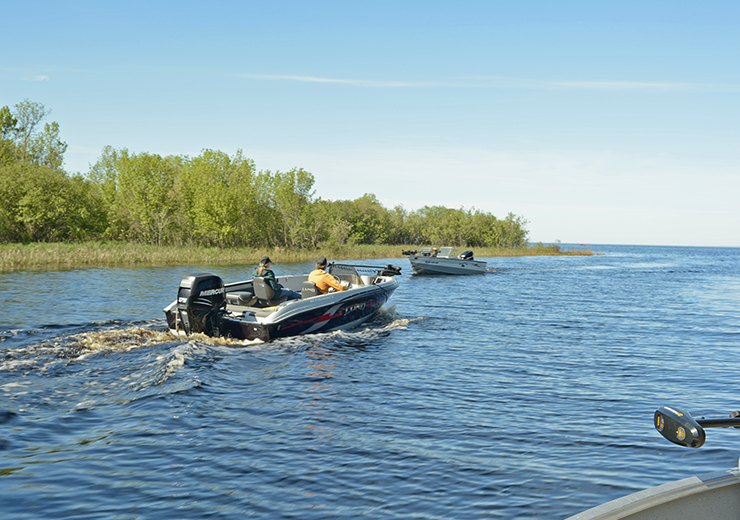 Zig-zagging the sandy breakline between 5 and 7 feet of water, we picked up a fish or two. I decided to look for a better school of fish, tried another sand break and picked up another fish or two, but never found the motherlode. I drove out to one of the rocky bars and found somewhat better action. Bill picked up a 19-inch walleye, then a 16 incher and then Roger hooked a sheepshead and then another sheepshead and then a rock, and then another rock and … so on.
We'd only been on the lake an hour and we'd already caught our limit of rocks. So. Despite believing that there were more fish on that rock pile, I moved back to the shoreline. Not long after that, a brisk wind developed, and it lasted long enough to drift about a half mile. That drift was our most productive in terms of combined action and average size.
Maybe drifting simply allowed us to cast away from the boat to explore a broader range of depths. Or it could be because I never nailed the best trolling depth, or boat speed, or whatever? But the fish, in my mind, really showed a preference for jigs and minnows presented by drifting instead of back-trolling.
That theory appeared to be proven when the wind died, the north side of the lake went flat and I was forced to begin trolling again; the action slowed way down up north. The breeze was manageable, so I motored back to the east side, where there was still a little chop on the water. We began a controlled drift there and began catching fish again.
The action was better, but the problem we found on the east side was that most of the fish were small. We caught numerous 10-to-12-inch fish, but only hooked a couple of better size ones and when we did, they got off the line. We were still hoping to harvest 3 more walleyes, but at that point, the time deadline was looming; "4:00 PM and we're done, no matter what." Bill had already told me.
One last stop, not far from the river mouth, at 3:30 PM yielded the final 3 fish we wanted. The clock said 3:57 PM and we packed up our gear and headed for the landing.
My post game wrap up is that I think the action was good enough to call good but fell short of the great action that can often occur at this time of the season. Walleye patterns on Red Lake appeared to mirror what I've seen on the other lakes I've fished, "scattered but biting."
Lindy Live Bait Jigs, 1/8 ounce tipped with either fatheads or shiners was the only presentation we used yesterday. But I saw some fish caught by folks trolling too, so I wouldn't rule out using crankbaits or spinners to bag walleyes. The bulrushes up north that I mentioned earlier were holding some northern pike, so that might be something fun to test out too. We were bit off several times in that area, but a friend of mine reported catching a 31-inch fish close by. Maybe casting spinnerbaits or spoons would produce some good pike action.

— Jeff Sundin 218-245-9858 or EMAIL
---
---