---
---
Reader Comments January 18, 2022 "Lake Winnie Field Reports"
"Snow is stacking up; off-road travel is tricky and fishing traffic near the plowed roads has been heavy. The ability to be creative, travelling away from the crowds and into "fresh territory" is the difference between lack-luster vs good fishing.  So, typical of the mid-winter timeframe, folks who have snow machines and can travel off-road definitely have the upper hand on north central Minnesota lakes.
On Winnibigoshish for example, the sentiment among many is that fishing action has slowed down. Even some of the better anglers who were catching lots of fish a few weeks back are experiencing the slow down. On Saturday, Travis Verdegan wrote, "I was out yesterday (Friday 1-14-22) by 2 PM and left after 7PM, the light shows from all the wheelhouses was very impressive. That's as much traffic as I've ever seen out there.
Fishing was the slowest I've had out there yet, besides a couple decent pike I kept for blackened pike.  First of three times out that I didn't catch a keeper walleye.  Perch were around on the camera during the day, but not a nibble out of them.  I was fishing 20 to 24 feet of water.
Compare that with what Mark Thompson told me yesterday, "Fishing was steady during the day with a mixed bag of perch, pike and walleye. Last couple hours of daylight were fast action, I couldn't hardly drop my jig without getting a strike. 95% of the walleyes I caught were between 12 13 inches. But I did get one over the slot, about 25 inches, along with a couple slot fish and 5 to 6 keeper size fish in the 15-to-17-inch range."
In a follow up phone call, Thompson added another detail. When he started fishing, he tied on a heavier jigging lure tipped with a minnow head. Later, he observed fish showing a certain reluctance to the fast dropping, aggressive jigging bait. When he switched to a slower falling lure, the 1/8-ounce Lindy Quiver Spoon, fish struck more aggressively. "It seemed like they really liked seeing the lure hovering longer, instead of dropping quickly," Thompson added.
While their fishing experiences differed, the anglers did agree about travel conditions. Verdegan, "I took the wheeler and flip over out of birches and was able to fish the spot I had planned and there had not been much for traffic besides mine from the last couple times I'd been out.  Snow is hard and drifted, so it kind of felt like riding waves once I got off the beaten track."
Thompson, "Travel off the roads would be nearly impossible without tracks. With tracks it was no picnic either because the hard drifts made it like running through moguls. Amazing I didn't break everything in my sled. Drifts were worse the farther north I went. No slush to speak of."
Neither angler reported much in the way of perch action. I recall that not long ago, there was another report that indicated the better perch action was occurring in shallower water. So, one possible explanation is that perch may be still holding on the shallow flats, rather than out on mid lake structures.
Theorizing about why he was having better action than some of his friends who were fishing other spots at the same time, Thompson's anecdotal observation took water depth into account. Fishing a hump that topped of at 24 feet, the action was fast and furious. But those who were fishing shallower did not share the experience. Maybe, finding structures that top off deeper is something to be considered, it's an idea worth checking out."
---
Jeff Sundin January 13, 2022 "Lake Winnie Updates"
"Last year at about this time, there was a certain amount of "hand ringing" going on about the big crowds of anglers on Lake Winnie. While there are still a healthy number of ice shelters out there now, the scene up there this year is much more subdued.
Causing the diminished population of anglers on the ice is likely a combination of factors including tougher travel conditions, angler's availability of free time and reports of "slower fishing action" on the big lake.
Snow cover, while not exactly the major issue, is deeper than it was last year, and fewer anglers are able to travel off-road. In most areas of the lake, 10 to 12 inches of snow is the norm, there are large stretches of broken, rough ice too and that dampens enthusiasm for exploration; at least it dampens mine.
Fewer folks are off work this year, and the availability of "free money" is drying up. So, the "covid affect" is less noticeable than it was in 2021. The reduction in traffic is not unique to Winnie by the way, I've seen smaller crowds on many of the region's popular ice fishing lakes.
Fishing action is not shut down by any means but absent in 2022 are the reports about "hot bites on the big lake." Persistent walleye anglers are catching fish during early morning and late evening. Key structures are shoreline breaks that lead into deep water, along with bars and humps located near shore. So far, there are more reports about folks catching fish in the protected slot, 18 to 23 inches, than there are about catching hordes of small, 2018- or 2019-year class fish. There are also a healthy smattering of reports about people catching fish over the protected slot, 23 inches or larger.
Something missing this year, at least apparently, are schools of hungry perch. Typically, anglers would be kept busy during midday by perch and that "busy-ness" would keep them interested at times when the walleyes were not on the move. The folks who are catching perch have found them in shallower water, 5 to 8 feet over the weedy flats adjacent to shore. If that trend toward segregated populations is widespread, then it could be a while before there is a healthy "mixed bag bite" out there.
On my afternoon tour yesterday (Jan.12, 2022), there was traffic moving both on and off the lake, but the pace was slow and lazy. The roads leading onto Tamarack Bay from The Pines Resort were in good shape as they have been for several weeks.
At Highbanks Resort, the main road was in excellent condition, and crews were on the ice, plowing new spurs and opening parking/fishing spots for anglers who were towing large wheelhouses. The photo reveals one or the plow trucks that was clearing a spot at the time.
Typical of most ice fishing seasons, resorts are full and their staff, if they have any, are stressed out. So, updates and response time to questions is delayed. We keep plugging away though and provide updates as they become available.
Always remember, we never turn away field reports from the lake. OH and by the way, nobody expects you to share your secrets, your prized fishing spots are safe, but often, it is the smallest observation that becomes most helpful to your fellow anglers. Don't wait for a gold engraved invitation, shoot us an email or leave a text message with a few words about your experience on the ice.
And remember too, general information about lake accesses and fishing conditions are updated on the Lake Winnibigoshish Access Map as they become available."

— Jeff Sundin 218-245-9858 or EMAIL
---
"Learn How To "Talk to the Walleyes" Fish Ed" New Video January 11, 2022
If you were to visit a foreign country, knowing a little bit about the language would come in handy. When you think of it, knowing how to "Speak Walleye" could also come in real handy on your next trip to the walleye hole.
Using an expressive ice fishing lure like the Wally Talker can help because it allows you to "speak the walleye's language" in more ways than one. A finesse bait, combined with an agressive bait, combined with an attracting bait, combined with a triggering bit. You get the idea, it's a lure that allows you to "talk" the walleyes right onto your hook.
Join Jon Thelen as he shares his knowledge about how to "talk to the Walleyes". View Video and Learn More >> Talk To The Walleye January 11, 2022
---
Reader Comments January 2, 2022 "Lake Winnie Field Updates"
"The New Years Weekend was a big one on Lake Winnie. Access roads around the lake opened up for vehicle traffic and the lake began filling up with eager ice anglers. Here are some updates about Lake Winnie Ice Accesses and travel conditions along with a few fishing updates as of January 2, 2022.
The accompanying map with numbered descriptions identifies the access points around the lake and provides the most up do date information available at the time. Please note the dates for each of the individual access point and ..." Read >> Lake Winnie Ice Conditions and Fishing Updates January 2, 2022
---
Jeff Sundin January 2, 2022 "NEW Winnie-Cutfoot Sioux 2022 Archive Page Open"
"With dual goals of both keeping our fishing updates current, but also providing historical information about past fishing seasons, we occasionally need to add additional space, allowing us to stay up-to-date. At the beginning of every year, we open up fresh annual archive pages for the most popular lakes, regions and topics.
January 1, 2022 marks the opening of a new 2022 Lake Winnibigoshish, Cutfoot Sioux and connected waters page for all fishing articles, reports and updates for the calendar year. Bookmark the new page .. 2022 Lake Winnie Archives or follow links below to research fishing reports and articles from past fishing seasons."

— Jeff Sundin 218-245-9858 or EMAIL
---
Lake Winnibigoshish The Pines Resort December 30, 2021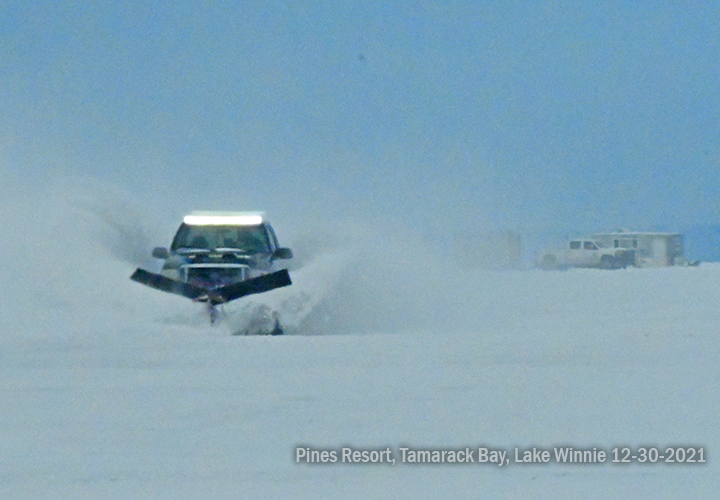 We are bracing for a BUSY weekend at The Pines! Elsewhere around the lake, access via plowed roads is still a big question mark. But thanks to good ice conditions in Tamarack Bay, fluffy snow and good plow trucks, our roads are in great condition. The ice is good, with 18 inches being the most common measurement. We are currently allowing all pickup trucks towing manageable size ice fishing shelters out of our ramp. For folks with larger wheelhouses, like big tandem axle models, the landing at Tamarack Lodge is also available and open.
Anglers have been showing up steadily all day long, so expect to find robust traffic on the lake. But if history is any indication, fish should remain cooperative throughout the weekend.
So far this season, perch have been the most reliable species available during the daytime. Walleye action has been centered around early morning and late evening, but darker conditions resulting from the heavy snow cover could lead to an improved daytime bite. Panfish have been nomadic, but when you're in the right place at the right time, can be cooperative too.
Walleye anglers are doing their best work using jigging spoons in water depths of 12 to 16 feet. You'll find a mix of fish sizes, most ranging in size from 13 to 16 inches, but there are also a significant number of slot fish in the 19 to 22 inch range and to date, most anglers have also had the opportunity to harvest one over 23 inches, if they choose to do that.
Perch can be found in a variety of depths, but many have been shallower, being caught in water depths as shallow as 6 feet deep. Folks have also caught some nice crappies, sunfish and even some largemouth bass in the shallow water too. Look for them on top of the flats adjacent to the deeper weed patches.
Like walleyes, panfish have been most eager to bite during the low light periods. Use small blade baits and tungsten jigs tipped with wax worms, they will attract a wider variety of fish species.
Pike have been on again off again, when they move, action has been good and there are some nice size fish. A good approach for pike is to set tip ups rigged with lively minnows and move them frequently.
 Often, our guests like to make side trips in Cutfoot Sioux, but as of today, that will be better accomplished using snowmobiles. A trip up to the landing at William's Narrows Campground revealed an access road covered with deep snow. The photo shows a few ruts where folks have attempted to get out onto the lake, but so far, there have not been many people out there.
In past seasons, this much snow usually means that there will be slush on the ice, but we don't know that yet. We'll provide an update as soon as we can. — Chad & Melissa Mertz The Pines Resort 218-246-8546 or 1-800-342-1552
---