Beginning in spring, nothing could be simpler than laying out a lake map and red X'ing vast portions of water in the main lake, particularly water deeper than about 10 feet. Usually, what you're left with is 5-percent of the lake's area—the good stuff near shore that always hold panfish.
Searching for Sunfish
Best known for his success in bigwater bass tournaments, Joe Balog is also a confirmed panfish sneak, hunting shallow habitats from ice-out in March all the way through summer. A resident of Michigan's Lake St. Clair—which lies between lakes Erie and Huron and encompasses 430 square miles—Balog loves chasing springtime pumpkinseeds. An intriguing, exotically beautiful member of the sunfish clan, 'seeds, says Balog, are a bigtime mussel eater that spawn on hard bottom, often near mussel beds.
"Pumpkinseeds possess unique grinders in their throat that give them the ability to dine effortlessly on zebra mussels, crayfish and other invertebrates," he says. "What's neat is that on a lake like St. Clair, you've got real confined shallow bays that possess both hard-bottom and pondweed (cabbage). So I can take a giant lake and quickly narrow it down to just a few dozen acres—spots easily discerned on a LakeMaster digital map. The fish will often linger in these zones, spring through summer.
"Some of my favorite spring fishing occurs on warm, mostly calm days when you can get out and sunglass the water while cruising around with the Minn Kota. Because the fish often bunch into little areas like a 6-foot by 6-foot patch of cabbage, it's real easy to miss 'em. So it's probably some of the most weather-dependent fishing I do all year. Certainly, you can get out on cloudy or windy days, and search. But then, it's a matter of using my Humminbird Side Imaging to canvas these flats and look for both weed patches and small pods of panfish on screen. Once spawning begins, I can even spot the beds right on my Onix unit, which is a huge advantage."
On his favorite warm spring days, Balog relishes pitching small 1/32-ounce tube jigs and Beetle Spins into pockets in the vegetation, or along subtle transitions, such as a 3 to 5 foot break where mussels and crayfish often cluster together between the weeds and hard bottom, right on that little edge. The Beetle Spin, Balog says, shines as a search tool.
Once fish reveal themselves, working them over with tiny plastics, such as a Custom Jigs & Spins Finesse Plastic or Wedgee—either on a light jig or beneath a slip float—yields fast action. Balog wields an ultralight 6-foot Daiwa Presso rod with 4-pound test mono for most of his 'seed fishing. Likewise, St. Croix's Panfish Series rods have also proven themselves as "new classic" sunfish sticks.

Mongo pumpkinseeds thrive in many big reservoirs, as well as the Great Lakes, where this resplendent species dines heavily on zebra mussels.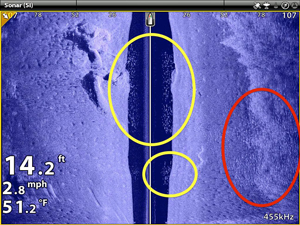 Side imaging makes quick work of big shallow bays, often even revealing bluegill nests in amazing sharpness and clarity (note individual sunfish on nests, shown as white specks). Photo courtesy of Humminbird