Lake Mille Lacs Ice Access Locations Updated January 14, 2022 — Comments from resorts, outfitters and guests.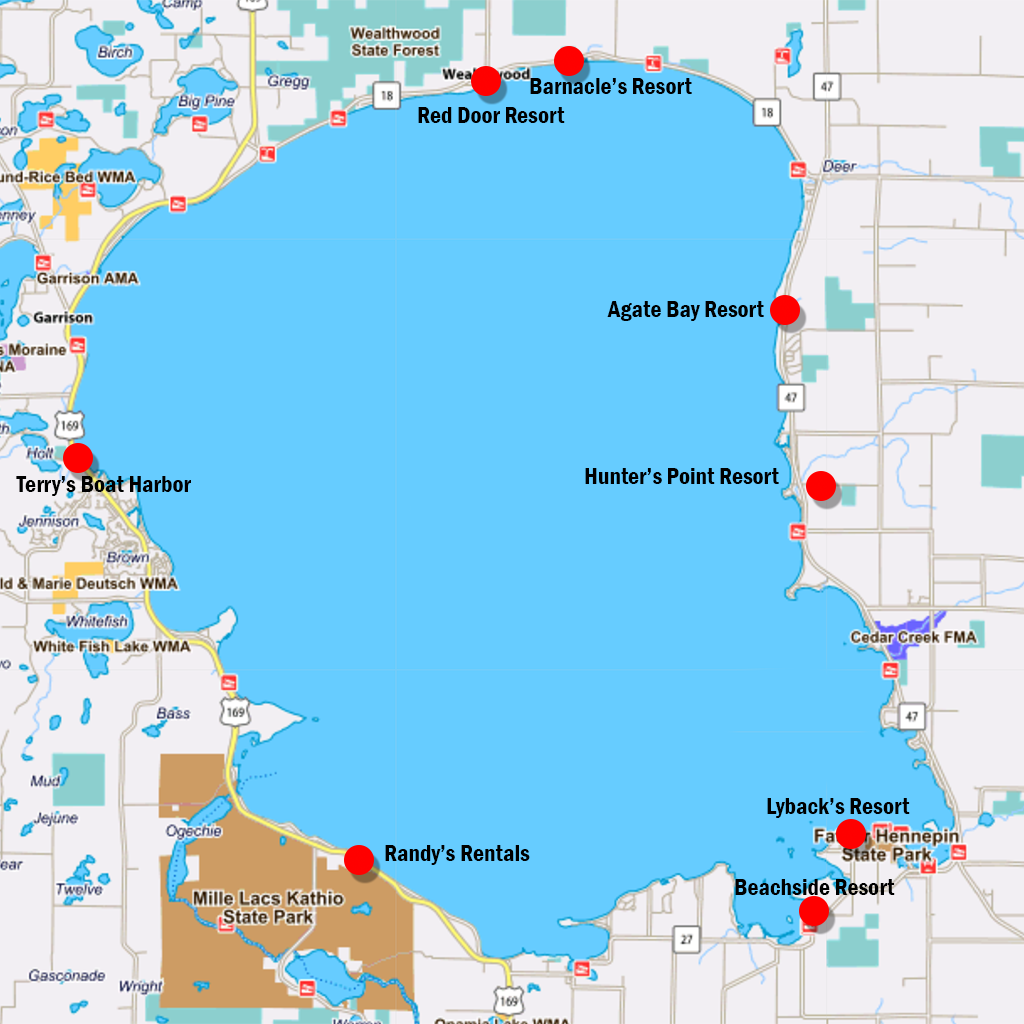 The ice on Lake Mille Lacs now trranges in thickness between 13 and 15 inches. Many of the resorts and shelter rental operators have roads plowed and are phasing in their openings. The map is a work in progress as we get updates from operators on the lake. These folks are busy though and don't always get back to us right away, so if you know about a great spot to gain access to the ice, let us know so we can add it to the map.
The accompanying map, along with descriptions, identifies some of the more popular access points around the lake and provides the most up do date information available at the time. Please note the dates for each of the individual access point and use the phone contacts to get up to the minute reports when needed.
Red Door Resort (Social Commentary) January 13, 2022; "OPEN TO WHEELHOUSE TRAFFIC STARTING FRIDAY (January 14, 2022). GOOD ACCESS TO THE MUD FLATS
The Red Door Resort will open this Friday, January 14, 2022 to vehicle and wheelhouse traffic. The access will be open to all traffic except for diesel trucks and large wheelhouses. If there is a question if your vehicle or wheelhouse will be allowed out, please call our office to discuss. No trucks with a plow will be allowed out.
The first and second break roads were in place prior to last weekend and were utilized by our seasonal members, season pass holders and rentals. This week the Ice Team opened up roads to the mud flats. Members and guests will be able to access Weimer, Bomback, Pantry and Resort Flat through our road system.
The ice is still new. It will be critically important to drive slow, 10 mph or less on the roads. Any guest caught speeding will be escorted off the lake. Please also remember that the lake has received 20 plus inches of snow so far this season; this snow is heavy and can cause flooding. Be sure to block your fish house up high. Because of the snow, a plowed slot will be required. Some slots will be pre-plowed and plow drivers will be on the lake until at least 7pm on Friday to assist." Red Door Resort, 218-678-3686

Barnacles Resort and Campground, (social commentary) 1-12-22; "Ice Update: As of today, we have roads to the sands, rockpile, bumps and east side of east flats. As of Monday, mostly 10" of ice on east flats where we measured but the area is limited with decent ice for houses. The roads have yet to be staked since we have been having to re-route them it seems on a continual basis. The weather has not been our friend with all the blowing snow due to wind. For this weekend, we again have to limit traffic. Our rentals and seasonal customers (including wheel houses) are good to go. Public traffic is limited to 4 wheelers, UTVs, snowmobiles and vehicles but no wheelhouses yet. If the situation changes, we will post a report sometime today, Friday January 14, 2022." Barnacles Resort and Campground (218) 678-3122

Agate Bay Resort January 13, 2022; "It did not get too cold last night so the cracks by the pressure ridge did not freeze the best last night. We stuck with our restrictions on trucks and wheelhouses today and we will look at the area tomorrow (1-14-22) morning.
We are hoping to open it up for 3/4 ton trucks and wheelhouses up to 24 feet long by tomorrow sometime. But we will make that decision tomorrow morning. We probably won't be allowing diesels this weekend.
We did go out and plow many open driveways to choose from for wheelhouses. You should have your choice in many areas and depths. We will update the allowable equipment here when we decide.
Remember ice conditions can change from when you call to when you arrive. We have no control over Mother Nature. We apologize for any inconvenience this may cause you. Our main concern is your safety." Agate Bay Resort, (320) 684-2233
Nitti's Hunter's Point Resort, January 13, 2022 Announced that despite weather related complications, have their interior road system cleaned up and ready for use this weekend. In addition, they've opened up roads into some fresh territory including to the boot, and no name flats. On Thursday, they were planning on adding a spur, adding a loop out over the mud. Nitti's Hunter's Point Resort (320) 676-3227
Lyback's Resort
Randy's Rentals
This page is a work in progress and I am certain that there are gaps in this information and that we've missed some important details. I am equally sure that your fellow anglers can count on you to let them know about them. As always, up-to-date field reports from anglers on the ice are always welcome. Let us know what you've seen on the lake so we can add the information and help our fellow anglers have a safe, fun ice fishing trip!

>> Contact Jeff Sundin
---
Lake Winnibigoshish The Pines Resort New Years Eve 2021
We are bracing for a BUSY weekend at The Pines! Elsewhere around the lake, access via plowed roads is still a big question mark. But thanks to good ice conditions in Tamarack Bay, fluffy snow and good plow trucks, our roads are in great condition.
The ice is good, with 18 inches being the most common measurement. We are currently allowing all pickup trucks towing manageable size ice fishing shelters out of our ramp. For folks with larger wheelhouses, like big tandem axle models, the landing at Tamarack Lodge is also available and open. Anglers have been showing up steadily all day long, so expect to find robust traffic on the lake. But if history is any indication, fish should remain cooperative throughout the weekend.
Walleye anglers are doing their best work using ..." Read >> Lake Winnie Ice Fishing Update 12-31-2021
---