---
---
April 9, 2021 — "Walleye Spawning — Winnie Water Levels High Enough?"
On 4-7-2021, Ryan Fox wrote, "Good afternoon! Several questions that are on my mind and I'm sure many others in the Lake Winnie area too.
Q) Why is the water level so low and why did the Corp keep the Dam wide open all winter? (The last two winters!)
Why the last two springs has the water level been so low? Was there not an agreement between the Fisheries and Corp to maintain a higher water level in the "spawning" season?
Two and a half years ago our fisheries department determined that higher water levels in the spring translates to stronger year classes of Walleye. The next two springs in a row, low water. This Spring lower than I've personally ever seen the lake in August!  With Winnie finally recovering after 8-9 (pretty) poor years, one would think everyone could get on the same page.
Thought maybe you could provide some insight on this. Thanks Jeff have a great day!
A) Ryan, you're right, a few years back, Grand Rapids DNR Fisheries staff did discover what appeared to be a correlation between high water levels and stronger than average walleye year class success on Lake Winnibigoshish.
Like you, I was under the impression that at the time, Grand Rapids DNR Fisheries and the US Army Corps of Engineers (ACE) had consulted and subsequently reached an agreement. The agreement, according to DNR Fisheries would have been aimed at maintaining higher water levels during the spring walleye spawning season. Grand Rapids Fisheries Manager, Dave Weitzel was under the same impression, he confirmed that to me in an email on Thursday.
I checked in with Megan Severson at the Corps of Engineers office at the Pokegama Dam and by her account, if there was an agreement, it was an arm's length understanding at best. There is not, nor has there ever been any formal understanding between ACE and DNR regarding maintaining any water levels on Winnie. Severson, "We are not required to consult with DNR about regulating the water levels anywhere in the region. Our management practices are dictated by standing legislation passed many years ago."
Originally, according to Severson, controlling the inflow and outflow at dams along the Mississippi River was intended to maintain pre-determined water levels in river channels located closer to the Twin Cities. "Today, the emphasis is more on recreational usage, rather than industrial concerns", Severson added.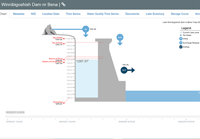 Whether or not there is, or was any "formal agreement" may be moot. That is because ACE's pre-determined target water levels already align with the DNR's preferred water elevation range for good walleye reproduction. Weitzel, "We (DNR) target 1298 feet and rising during the spawn. Water level is currently (4-9-2021) good at 1297.7 and I think this rain will get us close to ideal conditions by the time the fish really get going."
At ACE, Severson confirmed that their target elevation is 1298.19 feet, smack dab in the middle of the range that DNR fisheries staff would like to see. Severson agrees that water levels are low right now but speculates that they aren't likely to stay that way for very long.
Reasons for the current levels include lower than average snowfall this winter, an extremely early ice-out and then there's the human element of having to "guess" what the weather will do in the future. Secerson, "We try to anticipate what water levels will do based on a typical season. But getting it right isn't always that easy and we have to make adjustments."
The accompanying dam profile chart (*see note below) shows that the elevation on April 8, 2021 at 1297.7, is indeed, slightly below the ACE target.
But look at the "Annual Variability Chart 1", comparing today's water level to the same date, April 8, but in 2019 shows that they are almost identical and that, by the way, was the best walleye year class ever, according to DNR fisheries.
Now take a look at the water levels for April 26, 2019 Annual Variability Chart 2, when the walleye spawning run really started heating up. By then, water levels had risen to 198.76, higher than target levels, partly because of ACE controlling the Winnie Dam, but due also in part to above average spring runoff and rainfall.
I mentioned that chart to Severson and she confirmed my own observation that this is the week historically, when they begin bringing water levels up into the desired range. Severson, "We try not to make sudden changes, raising (or lowering) the water levels at a steady, gradual pace until they reach the desired elevation."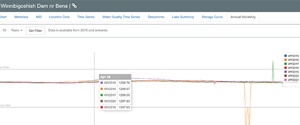 This year, concerns about water levels are likely heightened because of the super-early ice out. Casual observers like me, are used to seeing everything appear to happen all at once. By the time walleye move toward spawning areas, sometimes almost immediately after ice out, most of the changes to water levels have already occurred. But this year, the ice left the lakes so early that we have to watch it all happen in slow motion.
Over the next several weeks, as walleye eggs begin maturing and the fish make their move, water levels should have already risen. So in a couple weeks, the situation should look a lot better to those of us cheering for another strong walleye spawning season.
Summing it up, everyone does appear to be on the same page, sort of. Even though there's no mandate, target elevations for water levels on Winnie do favor decent walleye spawning conditions in a "typical" season.
If, by some fluke, water levels were to raise above target levels and enter into "flood stage" territory like they did in 2019, that could produce another "bumper crop" and we might be even happier. But that would be a bonus and to happen, boils down to Mother Nature's timing. She still holds all the trump cards, so despite our planning, plotting and speculating, she can still change the whole scenario with few extra sunny days or another string of rainy ones; that's up to her.
Like I said yesterday, it would appear that all we can do now is hurry up and wait. Whatever will happen will happen when it happens.

— Jeff Sundin 218-245-9858 or EMAIL
---
Wired2Fish April 8, 2021 "B&W Tow and Stow Giveaway"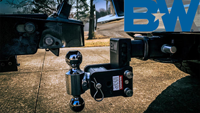 "For the last couple of years, the team at Wired2fish and thousands of other anglers nationwide have seen the value of the B&W Tow and Stow trailer hitch. Not only is it built with the best materials and workmanship, made right here in the USA, but after years of heavy use, they still look like new on our tow vehicles.
No clanking and clunking while towing and having the option of multiple ball sizes and ease of switching them you can pull your boat or use it on other trailers too. The versatility of these hitches is unmatched and when not in use they store easily under the bumper. No more banged shins or knees when they are not in use. B&W is the rock star of all things towing.
For our next giveaway, we are going to ..." Learn More and Enter >> B&W Tow and Stow Giveaway
---
More Recent Fishing Articles and Information
Wabana Area Walleye Lakes • Lake of the Woods 4-6 • New MN Sunfish Regs •

Follow Facebook
---
Lake Winnibiogoshish Ice Access Locations Updated March 8, 2021 — Jeff Sundin
After contacting several resort and shelter rental operators on Sunday, it's evident that access to Lake Winnie will be restricted for the remainder of this year's ice fishing season. Here are updates about Lake Winnie Ice Accesses and travel conditions as of March 8, 2021.
Almost all of the lake's accesses remained open through Sunday March 7, 2021, but some of them were closed at the end of business Sunday. With air temperatures in the mid-50s and full sunshine, snow cover over the ice was practically fully melted and there was standing water everywhere.
Access ramps were heavily stressed by the meltdown, forcing resorts that remain open to limit the size and number of vehicles using their ramps. A few contoinue to provide limited access for travel by ATV or foot traffic and a couple still allow pickup trucks, but only for guests staying at their resorts.
Anglers using ATVs and light vehicles can still move around on the lake, but use caution. Snowmobiles are not recommended, but could be used in a pinch if necessary. Click on the accompanying map which identifies the access points around the lake and provides updates about their current condition.
---
Jeff Sundin March 7, 2021 "It Ain't Over, 'Till It's Over"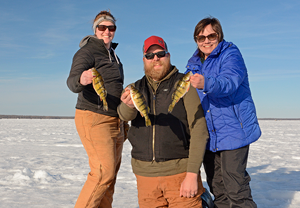 It sure was fun while it lasted! I think the winter of 2020-2021 offered folks more fishing opportunity than any of us have experienced in a long time. Lake access were great, on-ice detours, like pressure ridges and slushy spots were minimal and for the most part, fish were biting.
There is still a good 20 inches of solid ice on most north central Minnesota lakes, more than enough for driving vehicles. But I think for many, ice fishing season will be over after this weekend. Despite more than adequate ice thicknesses on the lakes, conditions at the accesses will be greatly diminished after today. So, while I agree with folks when they say, "It Ain't Over, 'Till It's Over", folks depending on travel by pickup truck will need in-depth, advance planning.
On Lake Winnie for example, we drove freely around the lake on Saturday; so did everybody else. But when it was time to leave, the access ramp, while still open, was getting sloppy. Deep ruts, some potholes and plenty of standing water made me wonder if that access would hold up to the off-loading of vehicles and fishing shelters throughout the day today.
Looking around the lake, it was obvious that there are a lot of others who share my concern. Wheelhouses and permanent rentals were everywhere a couple of weeks ago, but 95% of them were already gone yesterday. Even with a week remaining before the shelter removal deadline, there were very few willing to risk getting their gear off the lake if they'd waited.
From here on out, anglers using ATVs will still find reasonably good conditions at many ramps, and anglers who don't mind hoofing it to their favorite panfish spots have plenty of time left too. That's probably what I'll do, walk out to a few of my favorite sunfish and crappie holes.
Luckily, it matters not how much ice time I have left, because first, I got to spend the past few days on the lake with some of my favorite people. Then, my daughter Annalee and son-in-law, Austin Jones were able to stick around to join I and Susan for the world famous Gosh Dam Places' bring in your own fish, fish fry. So last night, I rested well knowing that my ice fishing season is now complete.
The Hippie Chick and me are not planning to let the nice weather go to waste today, we'll be outside doing something. Even if we don't fish, I'll make point of checking some of the more popular accesses and let you know how they look for the upcoming week.

— Jeff Sundin 218-245-9858 or EMAIL
---
Jeff Sundin March 6, 2021 "A Quick, Lake Winnie Update"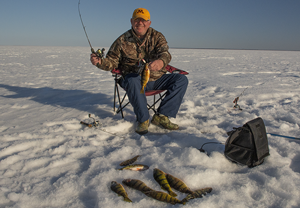 On Friday, I mentioned that I was headed for Lake Winnibigoshish and promised an update this morning, so here's what I've got.
Travel conditions are excellent. The network of plowed roads is in excellent shape, high, dry and wide. Off road snow cover is 2 to 4 inches over the top of a solid, 20 inches of clear ice. There are scattered snowbanks in areas that were plowed for parking wheelhouses throughout the winter, but these are easily avoidable. Anglers on the lake were were traveling by pickup truck, freely, to and from any spots they wanted to fish; that's the good news.
The bad news is that we had to take full advantage of all that easy travel. Beginning our day at the McArdle's and Becker's road on the west side, we moved spot to spot all the way the west shore. After making a dozen or so stops, I wound up at Mallard Point before catching my first keeper perch. That led to a catch of about 15 nice size fish. Yes, that's a lot of driving and a lot of drilling to find one school of perch, but that's the way it worked out.
It's possible that Arne and I were too dependent on "insider" information that we received before we started fishing. Word on the lake was that perch were being caught in water depths of 12 to 16 feet. But the fish I located were deeper, 18 to 24 feet on the breakline into a deep hole, adjacent to a large mid-depth, 14 to 18 foot flat.
For me, stopping at that deeper hole was one of those "what have I got to lose"? moments. In fact, by then it was about 3:00 PM and I figured it would be my last stop before heading home. We had never tried much deeper water along the trip north, so for all I know, we drove past several other good spots before "figuring it out".
Once we knew where there were some fish, they were fairly willing to strike. They travelled in small packs, often appearing on the Humminbird in 2s or 3s at a time. Some fish were better than others, the largest keepers were about 11 inches, the smaller end of keeper range was in the 9-1/2-inch neighborhood.
A 1/8-ounce Pink/Glow Lindy Quiver Spoon tipped with a minnow head worked for me, so did a Red/Glow Frostee Jig tipped with a whole, live minnow. I tried waxworms too, but the minnows were clearly working better, at least on this day.
We had traveled so far up the lake that by the time we were ready to leave, Highbanks road was closer than the road we started on. So we drove over there and left the lake using their access on the east shoreline. The landing was still okay, but runoff from the parking lot and vehicle traffic was causing deterioration. I wouldn't be surprised if continued warm weather forces them to close that landing after this weekend, so, I would call ahead before driving over there.
Today, my family is hoping that I learned enough yesterday to get them in on some action today. I hope so too, but either way, I'll let you know how it goes in the next day or two.
If you're headed out today, enjoy the nice weather!

— Jeff Sundin 218-245-9858 or EMAIL
---
Lake Winnibigoshish The Pines Resort January 15, 2021
They say that time flies when you're having fun and so far, time is flying by this winter! It's hard to believe that we've already been ice fishing in the bay for 6 weeks, maybe more.
Snow and slush have not been much of factor on the bay this winter, but just in case, we were braced for complications from yesterday's snowfall. It didn't turn out to be much of a problem and the few inches of snow that did fall, are already cleaned off of our roads.
Our guests continue to report good fishing in Tamarack Bay. Walleye and perch are roaming the edges of large flats using a soft breakline at about 14 feet of water. Because of the lack of pin-pointed, well defined structures, they are not always easy to pin down. But folks who keep their lines in the water catch fish as the schools pass through the area.
Wonder Bread color lures are producing both perch and walleyes in the bay, experiment with shapes and sizes.
Traffic on the lake has been heavier than usual this winter, so creativity is becoming an important part of every fishing trip. If you're mobile, then this is a good time to venture away from areas with established crowds. Snowmobiles and track machines can help you get out and away from the heavily populated areas. There is a lot of "fresh territory" at mid-lake right now and fish populations have been building on the sunken bars and humps.
Until recently, some of them were accessible by pickup trucks, but they're predicting more wind today, and drifting snow could make off-road travel a little dicey, we'll keep an eye on that for you.
Populations of pike, tullibee and eelpout are building on mid-lake structure too. Mid-winter is the time to straddle the steep breaklines using tip ups and large minnows for pike. Set a tip up in water depths of 12 to 18 feet along the edge of prominent structure. While you watch your tip up, fish deeper water ranging from 28 to 35 feet deep, tullibees move a lot, often suspending several feet about the bottom, so good electronics are extremely helpful.
To help get their attention, rig up a large, flashy spoon like a gold or silver ¼ ounce Quiver Spoon. Random jigging use long sweeping strokes and allow the spoon to flutter back down on a slack line. Once you see fish on your flasher, switch over to using small jigs tipped with wax worms to trigger strikes. — Chad & Melissa Mertz The Pines Resort 218-246-8546 or 1-800-342-1552
---
Fish ED Video January 2021 "Find and Catch More Mid-Winter Walleye – Fish Ed TV"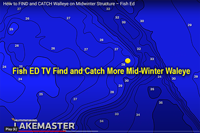 Wondering where all the walleyes went? First ice is an exceptional time to target big and large numbers of walleyes, but we all know that the early season walleye bite doesn't last forever.
When it starts to feel like you're stuck in a rut, subtle changes in location, technique and fishing style can add up to big differences in your daily catch.
Follow Jon Thelen as he explains some key tips on finding and catching walleyes as they move to midwinter structure.
View Video and Learn More >> Find and Catch More Mid-Winter Walleye
---
Lake Winnibiogoshish Ice Access Locations Updated January 7, 2021 — Jeff Sundin
Here are some updates about lake accesses and travel conditions on Lake Winnie as of January 7, 2021.
After talking with several resort and rental owners, it's evident that access to Lake Winnie will continue to be restricted for a short time. But as rental operators prepare to open plowed roads, options for anglers are beginning to improve.
Almost all of the lake's accesses have been opened, but only provide limited access to the better fishing areas. Snowmobiles, ATVs and light vehicles can move around on the lake, but use caution, there are areas of rough, broken ice that may be difficult to spot under the light blanket of snow.
The accompanying map with numbered descriptions identifies the access points around the lake.
#1 Dixon Lake Resort, Open, most recent update 1-14-2021. Access to the lake provided by a plowed road to ..." Read >> Lake Winnie Access Map
---
Lake Winnibigoshish The Pines Resort January 5, 2021
To say that it was a crazy weekend on Winnie, could be the fishing world's understatement of 2021! At one point, we had ice fishing rigs lined up from our ramp, all the way out onto County Road 9 waiting for their turn to get on to the lake.
On Tamarack Bay, the scene, according to lifelong residents was reminiscent of the crowds of perch anglers from the 1970s and 1980s.
Some of the folks were here because they had heard the fishing is good in our bay. Others were here because our plowed roads are in excellent shape and afforded this season's earliest access to Winnie via pickup trucks at a time when they could not drive out on many other area lakes. Still more anglers showed up midway into the weekend because they felt the action was too slow on the lake(s) where they began their New Year Weekend fishing trips last Thursday afternoon.
No matter the reason, all the conditions, including the weather, combined to create one of the busiest ice fishing weekends that the Deer River area has experienced in recent history.
On the lake, most folks reported good action, and agreed that the "hot bite" bite, wasn't necessarily for any one species. Some of our guests and rental shelter customers caught good numbers of perch. Others caught more walleyes than perch, including one angler who iced one that was 28-1/2 inches long this weekend. When Chad checked up on one crew, they even had a pail filled with crappies. Pike were active too and this weekend, there were quite a few eelpout caught as well.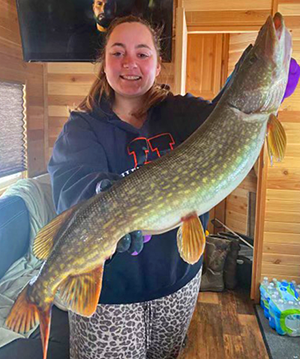 Locating structure was not crucial for success and that's why so many anglers did so well. For whatever reason, fish of all species roamed the flats instead of holding tight to any cover.
Key water depths ranged from 12 to 16 feet and for the most part, sand flats containing sparse, low lying vegetation were the most productive. It's hard to say for sure, but it wouldn't be surprising to learn that insect larvae, developing in marl, areas with a soft clay-mud mixture are causing the big attraction.
Presentations varied, so a good planner would have a supply of jigging spoons in the 1/8 to 1/4 ounce sizes, use these for vertical jigging active fish. Experiment too with some of the hybrid jigging baits, glow spoons and glow streaks for example.
Have some single hook blade baits like Frostee Spoons for "dead-sticking" or slower jigging using whole minnows to trigger neutral fish. Bring along some small tungsten jigs for perch and crappie, sometimes the tungsten, tipped with wax worms will trigger more fish when they are focused on insect larvae. For larger walleye and pike, it's always a good idea to have a few larger minnows to fish on set lines or tip-ups.
Productive colors for walleye are red-glow, pink-glow, blue-glow, gold and orange. Perch are cannibalistic, so along with other the color choices, using lures with natural perch patterns can be super-effective for "Jumbos".
Our plowed roads are in excellent condition and we have most of Tamarack Bay opened up, so finding a fishing spot won't be difficult. Access to the lake at our landing is good for pickups or vehicles towing smaller, single axle fishing shelters. If you have a larger wheelhouse, call us and we'll help you with an alternative landing more suitable for big rigs.
With all the hubbub on the lake, our short-range bookings are getting close to filled up. But we do still have a handful of rentals available for folks who want to fish this weekend.  Give us a call for updates, or if you're already in the area, stop by for up to the minute updates about the fishing action and conditions on the lake. — Chad & Melissa Mertz The Pines Resort 218-246-8546 or 1-800-342-1552
---