---
---
Lake Winnibigoshish The Pines Resort January 15, 2021
They say that time flies when you're having fun and so far, time is flying by this winter! It's hard to believe that we've already been ice fishing in the bay for 6 weeks, maybe more.
Snow and slush have not been much of factor on the bay this winter, but just in case, we were braced for complications from yesterday's snowfall. It didn't turn out to be much of a problem and the few inches of snow that did fall, are already cleaned off of our roads.
Our guests continue to report good fishing in Tamarack Bay. Walleye and perch are roaming the edges of large flats using a soft breakline at about 14 feet of water. Because of the lack of pin-pointed, well defined structures, they are not always easy to pin down. But folks who keep their lines in the water catch fish as the schools pass through the area.
Wonder Bread color lures are producing both perch and walleyes in the bay, experiment with shapes and sizes.
Traffic on the lake has been heavier than usual this winter, so creativity is becoming an important part of every fishing trip. If you're mobile, then this is a good time to venture away from areas with established crowds. Snowmobiles and track machines can help you get out and away from the heavily populated areas. There is a lot of "fresh territory" at mid-lake right now and fish populations have been building on the sunken bars and humps.
Until recently, some of them were accessible by pickup trucks, but they're predicting more wind today, and drifting snow could make off-road travel a little dicey, we'll keep an eye on that for you.
Populations of pike, tullibee and eelpout are building on mid-lake structure too. Mid-winter is the time to straddle the steep breaklines using tip ups and large minnows for pike. Set a tip up in water depths of 12 to 18 feet along the edge of prominent structure. While you watch your tip up, fish deeper water ranging from 28 to 35 feet deep, tullibees move a lot, often suspending several feet about the bottom, so good electronics are extremely helpful.
To help get their attention, rig up a large, flashy spoon like a gold or silver ¼ ounce Quiver Spoon. Random jigging use long sweeping strokes and allow the spoon to flutter back down on a slack line. Once you see fish on your flasher, switch over to using small jigs tipped with wax worms to trigger strikes. — Chad & Melissa Mertz The Pines Resort 218-246-8546 or 1-800-342-1552
---
More Recent Fishing Articles and Information
Leech Lake Area 1-15 • Winnie Updates 1-14 • Central MN 1-13 • Kabetogama 1-13 • ELY Area 1-13 • Lake of the Woods 1-13 •

Follow Facebook
---
Fish ED Video January 2021 "Find and Catch More Mid-Winter Walleye – Fish Ed TV"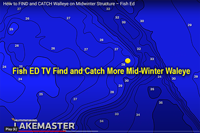 Wondering where all the walleyes went? First ice is an exceptional time to target big and large numbers of walleyes, but we all know that the early season walleye bite doesn't last forever.
When it starts to feel like you're stuck in a rut, subtle changes in location, technique and fishing style can add up to big differences in your daily catch.
Follow Jon Thelen as he explains some key tips on finding and catching walleyes as they move to midwinter structure.
View Video and Learn More >> Find and Catch More Mid-Winter Walleye
---
Lake Winnibiogoshish Ice Access Locations Updated January 7, 2021 — Jeff Sundin
Here are some updates about lake accesses and travel conditions on Lake Winnie as of January 7, 2021.
After talking with several resort and rental owners, it's evident that access to Lake Winnie will continue to be restricted for a short time. But as rental operators prepare to open plowed roads, options for anglers are beginning to improve.
Almost all of the lake's accesses have been opened, but only provide limited access to the better fishing areas. Snowmobiles, ATVs and light vehicles can move around on the lake, but use caution, there are areas of rough, broken ice that may be difficult to spot under the light blanket of snow.
The accompanying map with numbered descriptions identifies the access points around the lake.
#1 Dixon Lake Resort, Open, most recent update 1-14-2021. Access to the lake provided by a plowed road to ..." Read >> Lake Winnie Access Map
---
Lake Winnibigoshish The Pines Resort January 5, 2021
To say that it was a crazy weekend on Winnie, could be the fishing world's understatement of 2021! At one point, we had ice fishing rigs lined up from our ramp, all the way out onto County Road 9 waiting for their turn to get on to the lake.
On Tamarack Bay, the scene, according to lifelong residents was reminiscent of the crowds of perch anglers from the 1970s and 1980s.
Some of the folks were here because they had heard the fishing is good in our bay. Others were here because our plowed roads are in excellent shape and afforded this season's earliest access to Winnie via pickup trucks at a time when they could not drive out on many other area lakes. Still more anglers showed up midway into the weekend because they felt the action was too slow on the lake(s) where they began their New Year Weekend fishing trips last Thursday afternoon.
No matter the reason, all the conditions, including the weather, combined to create one of the busiest ice fishing weekends that the Deer River area has experienced in recent history.
On the lake, most folks reported good action, and agreed that the "hot bite" bite, wasn't necessarily for any one species. Some of our guests and rental shelter customers caught good numbers of perch. Others caught more walleyes than perch, including one angler who iced one that was 28-1/2 inches long this weekend. When Chad checked up on one crew, they even had a pail filled with crappies. Pike were active too and this weekend, there were quite a few eelpout caught as well.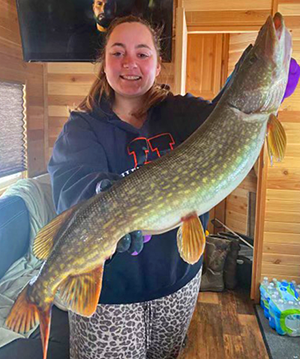 Locating structure was not crucial for success and that's why so many anglers did so well. For whatever reason, fish of all species roamed the flats instead of holding tight to any cover.
Key water depths ranged from 12 to 16 feet and for the most part, sand flats containing sparse, low lying vegetation were the most productive. It's hard to say for sure, but it wouldn't be surprising to learn that insect larvae, developing in marl, areas with a soft clay-mud mixture are causing the big attraction.
Presentations varied, so a good planner would have a supply of jigging spoons in the 1/8 to 1/4 ounce sizes, use these for vertical jigging active fish. Experiment too with some of the hybrid jigging baits, glow spoons and glow streaks for example.
Have some single hook blade baits like Frostee Spoons for "dead-sticking" or slower jigging using whole minnows to trigger neutral fish. Bring along some small tungsten jigs for perch and crappie, sometimes the tungsten, tipped with wax worms will trigger more fish when they are focused on insect larvae. For larger walleye and pike, it's always a good idea to have a few larger minnows to fish on set lines or tip-ups.
Productive colors for walleye are red-glow, pink-glow, blue-glow, gold and orange. Perch are cannibalistic, so along with other the color choices, using lures with natural perch patterns can be super-effective for "Jumbos".
Our plowed roads are in excellent condition and we have most of Tamarack Bay opened up, so finding a fishing spot won't be difficult. Access to the lake at our landing is good for pickups or vehicles towing smaller, single axle fishing shelters. If you have a larger wheelhouse, call us and we'll help you with an alternative landing more suitable for big rigs.
With all the hubbub on the lake, our short-range bookings are getting close to filled up. But we do still have a handful of rentals available for folks who want to fish this weekend.  Give us a call for updates, or if you're already in the area, stop by for up to the minute updates about the fishing action and conditions on the lake. — Chad & Melissa Mertz The Pines Resort 218-246-8546 or 1-800-342-1552
---