Lake Winnibiogoshish Ice Access Locations Updated December 17, 2022 — Comments from resorts, outfitters and guests.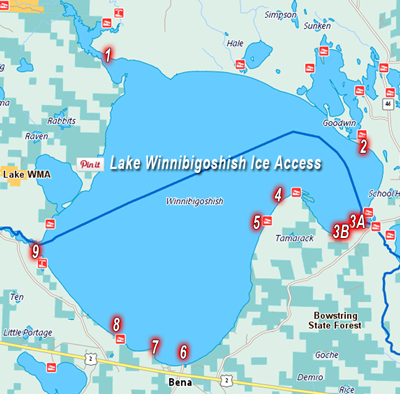 The most recent reports coming in from Lake Winnie area resorts and ice anglers offer encouragement. Some resorts have been open to ice fishing for a while already, others will be very soon, and all of them have high hopes that their guests will enjoy an ice fishing season equal to the 2022 open water fishing season.
By now, you've likely become accustomed to seeing the accompanying map with numbered descriptions. It identifies the access points around the lake and lets you know where and when you can gain access to ice fishing on the big lake. These will be updated as new information becomes available. If you're on the move and desperately need up-to-the-minute information, then use the phone contacts, but keep in mind that these folks are swamped with inquiries. Please be respectful of their time.
#1 Dixon Lake Resort access at the Third River landing is open. Water in the lowage is clear this winter and the ice thickness on the Third River ranges from 11 to 13 inches thick.
Access from this landing is typically limited to waters within the Third River Flowage and following the north shore toward the "clay banks" near Farley Creek. Ice ridges frequently crop up from near Stony Point and run across the lake westward toward Mallard Point. The ridges, when they occur, will block travel onto the main lake.
Note: When the access does open to the public, there is a drop box provided for folks who are willing to make a free will donation. I'd suggest $12.00 which is at the low end of rates offered at most other resorts on the lake. >> Dixon Lake Resort 218-659-4612

#2 The Poacher's Landing at Bowen's Flats (Click Here For Image) is a user developed site which allows access to the lake's north side and is most commonly used by ice fishermen who want to fish along Bowen's Flats. This landing is usually suitable for snowmobiles and ATV's. At times, the access is good enough for pickup trucks too, but is rarely suitable for vehicles towing large shelters. As of Monday December 5, 2022, there are a few anglers using ATVs access to access Tamarack Bay, where ice conditions are good. Ice thickness beyond the confines of Tamarack Bay itself have not been tested and should be avoided until more information is available.
#3A The Pines Resort and Campground As of 12-17-2022 access is open to ATVs, Snow Machines and Light Pickup Trucks
Chad Mertz, owner, reported about their assessment and cleanup of snow accumulated during the snowstorm. Mertz; "After spending some time on the lake yesterday (12-16-2022) plowing, this weekend we will be allowing access to atv, and half-ton trucks. We do have limited on shore camping, call ahead to be sure about availability. We will be starting on our main roads Monday."
Previously, the Pines landing had already opened to ATVs and side-by-sides towing smaller, single axle ice fishing shelters. The ice thickness in Tamarack Bay was about 13 inches and fairly uniform. Because the most recent update does not specifically mention towing shelters, it would be smart to call ahead regarding how large, if any, towable ice fishing shelters are allowable. Anglers are advised also that Tamarack Bay got a jump start this winter and ice conditions are better there than they they are elsewhere around the lake.
Remember too that they have undertaken considerable improvements at the landing. They made it wider, flatter and it will now accomodate larger rigs. Once the ramp is fully opened this winter, anglers towing wheelhouses of all sizes will be able to use this access and system of plowed roads.
The Pines Road provides access mainly to the northeastern section of the lake, through Tamarack Bay. Typically, this area is best known for good Perch and Pike fishing. But there are occasional spurts of good Walleye action too, especially along the steep Mississippi River Channel breakline.
The daily access fee is $20.00 and there is food, liquor and fishing supples availabe at the lodge. — Chad & Melissa Mertz The Pines Resort 218-246-8546 or 1-800-342-1552
#3B Tamarack Lodge Ice Access Open, Access Restrictions
"Due to the recent snowfall, we will have limited access for the upcoming weekend (12-16 through 12-18-2022). No ice castle access to the lake until further notice. On shore camping is available however. With 9" of new wet snow on the ice, half ton trucks will be allowed at your own risk. Beware of possible flooding! Unfortunately, the ice is still not safe for plow trucks. We will continue to monitor the situation and keep everyone updated here.

Tamarack Lodge also has their own, semi-private landing, the road fee is $25.00 per day. For anglers with large wheel houses, this may provide a more desirable location for driving on. Tamarack Lodge works in unison with The Pines Resort to maintain the plowed roads in Tamarack Bay. Whether you enter the lake though Tamarack Lodge or through The Pines Resort, you are essentially accessing the same road system.
Tamarack Lodge is open during winter and provides lodging for ice anglers. Contact >> Tamarack Lodge 218-246-8515
#4 High Banks Resort Ice Access Closed Through December 18, 2022
The snow and ice conditions at Highbanks are currently under review. As soon as an accurate safety assessment of ice and snow conditions becomes available, they'll provide notice about the schedule for re-opening their access.
Thursday December 8, 2022 at 7AM was the official opening day at Highbanks. On Shore Wheel House Camping With No Power: $30 per day, 2 night minimum. $20 for each additional day. Cabin rentals $70 per night, per person, 3 person and 2 night minimum.
Ramp Access by ATV, snowmobile or on Foot: $20 per day. Season Pass $400. All access to our fish cleaning shack & bathroom facilities! Highbanks provides one of the lake's most convenient drive on locations. For Lodging and shelter rental >> Highbanks Resort 218-246-2560
#5 The Birches Public Landing, just south of High Banks still has a large crack near shore and also an off-shore ice ridge. Along with plenty of nasty looking rough ice.
NOTE: A reader comment on 12-5-2022 offered this, "Bad crack about 1/4 mile out in front of the Birtches with a big area of open water. A guy went through last night with his wheeler." That report was later confirmed, and with snow componding the problem, the best advice is to steer cleer of this landing.
The public landing can be popular at times because it allows access to the lake's east and north sides along with access to most of the lakes mid-section. It is most commonly used by ice fishermen who want to fish "the humps" and mid lake bars, but don't want to pay a private road fee. So, it's possible that somebody will attempt to make improvements and if they do, I'll post an update later.
#6 Denny's Resort Open, As of 12-17-2022 access is open to ATVs, Snow Machines, and Side-By-Sides with portable ice shelters.
Beginning December 17, 2022, anglers with portable ice fishing shelters can acess the lake using ATVs, side-by-sides and snowmobiles. For this weekend, travel by pickups will remain prohibited and so will towing "wheelhouses" on to the lake.
Pat Rooney; "The storm brought rain and then snow, then ice and more heavy wet snow. We received a total of 11 to 12 inches. So we have our work cut out for us. The snow is super heavy and creates a challenge in moving it. We need to take our time to clean this up properly, as it is the base for the rest of the year. If we rush, we could mess up the rest of the season. We know everyone wants to get on the ice and make plans for over the holidays. Please be patient, we will keep you posted as things change. We are checking for flooding and ice thickness as well, as safety is priority #1."
Denny's will offer you a place to camp in your ice fishing shelter and plans to include the parking/camping spot in the $20.00 daily access pass fee. You'll be parked at the landing, so don't plan on being able to fish in, or near your shelter. But provided you buy the daily access pass, you won't be asked to pay extra for the camping spot.
Denny's typically has a very good network of plowed roads that provide coverage all over the south end, most of lakes mid-section, and along the southeast side of the lake. Daily ice access passes for anglers not towing ice shelters are $20.00 per day, or get the full season pass for $200.00. Trucks towing wheel houses are $30.00 and you can buy a season pass for $300.00. Denny's Resort also provides shelter rentals including both day houses and sleeper rentals. >> Denny's Resort, 218-665-2222
#7 Nodak Lodge ice access closed, opening December 28, 2022.
Nodak Lodge provides a system of plowed roads that provide access mainly to the south and southwest sides of the lake, along with access to some of the mid-lake bars and humps.
Lake Access Fees: Vehicles without towable shelters $15 Daily. Pickup truck towing wheelhouse $20 Daily. Wheelhouse Weekend Pass $50.00.
Nodak Lodge does not offer season passes because occasionally, based on local conditions, Nodak Lodge limits access to the public, allowing road use by guests and rental customers only. "We are always open to the public unless blizards, heavy snow or high winds force a shutdown." So, if the weather conditions are questionable, be sure to call first. Nodak Lodge 218-665-2226
#8 Richard's Townsite Public Landing was not accessible for ATVs or snowmobiles as of 12-2-2022. The access road, Richard's Drive Northeast #2074 was well travelled, and rutted but presented no challenges to vehicle access.
The Richards Townsite public landing is most commonly used by ice fishermen who want to fish along the southwest shoreline and the lake's southwestern mid-section. This landing is usually only suitable for snowmobiles and ATVs, but this winter, should be good enough for pickup trucks as well, at least based on conditions at the time of this writing.

#9 Trapper's Landing. Two Resorts, Becker's and McArdle's cooperate to maintain a system of plowed roads that provide access from the public landing located on the west side of the lake. Accessed via Trappers Drive, NW #2235 just south of McArdle's Resort, this is typiclly an excellent landing.
As of Friday 12-2-2022 the access was not open, but indications are that it will be soon. Updates will be provided as they are av available.
This access is open to the public, but there will be a drop box provided for folks who are willing to make a free will donation. I'd suggest $12.00 which is the low end rate at most other resorts on the lake. >> Becker's Resort 218-665-2268 or McArdle's Resort 218-665-2212
Did miss something? I'm sure that I can count on you to let me know so I can make corrections. And as always, up-to-date field reports from anglers on the ice are always welcome. Let us know what you've seen on the lake and help your fellow anglers have a safe, fun ice fishing trip!

>> Contact Jeff Sundin
---