---
---
Jeff Sundin Fishing Report July 13, 2020 "Upper Red Lake Fishing Reports"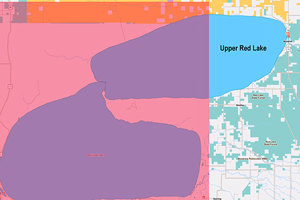 "Everybody that's returned to the dock have come in with their walleyes." So said one of the camping guests at Roger's Resort on Upper Red Lake on Sunday. His account of the fishing success on the giant lake may have been accurate, but not necessarily complete.
By all other accounts, including reports from some of the very best fishermen that I know, the fishing on Red Lake was slow, way slower than usual compared to recent years. Most everybody who was there this weekend did catch some fish, but reports of modest catches, i.e. 3 to 5 fish per boat were the rule and not the exception.
Still, I don't think that the camper was passing along bad information, I believe that he really did see lots of other guests at the campground bring in their fish. I think the difference between his report and others boiled down to timing. Folks who were camping at Roger's were able to get an early morning start, but anglers who drove up on Sunday morning didn't hit the water until 9:00 AM, maybe even later.
By the time travelers ever reached the lake, they had just enough time to get in on the tail end of "the morning bite." By then, campground residents already had a couple of hours head start to gather their 4 fish limits. When they returned to the dock, they really did have their fish.
Fishing the crepuscular periods is usually not as important to summer anglers on Red as they are to those fishing clear water lakes. But anybody who ice fishes there during the winter knows how important it can be to catch the early morning, late afternoon bite. Apparently, that situation is in play up there right now as well.
The largest crowds are gathered around the lakes limited mid-lake structures. There were 25 boats fishing circles around center bar on Sunday morning. Some of the smaller rock humps located along the south and east shorelines have fish on them too and there are still small groups of anglers focused on fishing shoreline breaks.
Most folks are using spinners tipped with live bait, some are trolling crankbaits, and a few are still fishing with jig and minnow combinations. Depths vary from structure to structure but focus on water depths of 10 to 12 feet and you'll see more fish on your electronics than you will in shallower water.
In the past, I've recommended fishing Upper Red for mid-summer anglers who needed to beat the heat on bright calm days. The recommendation still holds, but this season, I better add the caveat of getting an early morning start, if you can't do that, then plan of fishing the evening instead.

— Jeff Sundin 218-245-9858 or EMAIL
---
Wired2Fish July 13, 2020 Deep-Diving Crankbaits for Bass: How to Dissect Key Spots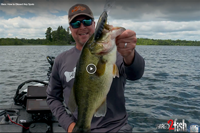 "Peak summertime water temps drive baitfish and bass to hard bottom deep water haunts on lakes, rivers, and reservoirs. Wired2Fish's Ryan DeChaine demonstrates how to methodically fish productive offshore structures with big deep-diving crankbaits, which consistently trigger the biggest and most aggressive bass in any given body of water.
DeChaine's system starts with having a detailed picture of the structure he's fishing. He uses side-imaging and mapping to find and waypoint offshore hard patches, then employs 360 Imaging for making methodical casts until he's thoroughly fished the structure.
The key to getting bit is making bottom contact with the crankbait -- DeChaine mixes in ultra deep-diving crankbaits to ensure consistent bottom contact throughout the cast. Realistic finishes are a plus in clear water. Lastly, he details his rod, reel, and line set up to make long casts into the wind, maintain adequate line pick, and ... " View Video and Learn More >> Deep-Diving Crankbaits for Bass: How to Dissect Key Spots

---
Join US On Facebook and Become A Duly Deputized Fishrapper Cub Reporter
Helping your fellow fishermen and women stay abreast of fishing conditions in your area is good for everybody and it's easier than you think!
You don't have to write a book, you don't have to share your secret fishing spots and you don't even have to mention your lake. But even a few words about general trends, seasonal patterns and local weather conditions can really help.
Fishing Reports Minnesota, the Facebook counterpart to this page is open to the public, so you can post your own fishing update or just share a photo of a nice catch. Be like me, become a duly deputized "Cub Reporter", it's good for fishing! Contact Us
---
Jeff Sundin Fishing Report June 4, 2020 "Red Lake Report"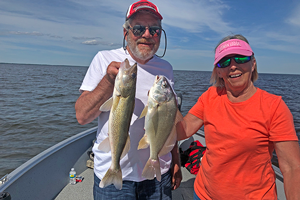 Over the years, folks have mentioned that they notice me dropping little clues about lakes where I fish and spots within them. Some like to read between the lines or examine the photos for hints about where to go.
Well, if you looked at the accompanying photo of Keith and Diane Eberhardt and didn't figure out where we were yesterday, call me; I will confess to you that we were on Upper Red Lake. I was there the day before too with my fiends Marty and Janet Christensen, but we didn't take many photos because we were too busy reeling in fish.
Surface water temperatures touched 70 degrees during the afternoon, but for most of the day registered between 66 and 68 degrees.
Sheepshead are in full-scale spawning mode and were present in large numbers both days, but there were still lots of walleyes on the shoreline as well. On Tuesday, the drum were most active in the morning and walleye action intensified during the afternoon. Wednesday, it was the complete opposite, first we bagged our walleyes and then we had fun with the drum.
Key depths ranged between 4 and 7 feet deep, but there were a few fish deeper too, 9 feet was a magic number in a couple of places.
Jig and minnow were still the most reliable presentation, but we caught some fish trolling spinners too. A couple of boats were trolling crankbaits and I observed several fish caught by them as well. In other words, I think you can go there and use your favorite presentation with the expectation of catching fish.
Like I said, there will be a lot of sheepsheads in the mix, but the walleyes are still on the shoreline in good numbers. The walleyes will show up eventually, even if the drum seem to dominate at times. Besides, weeding through a bunch of hard fighting fish can be really fun.
The only caveat about planning a trip to Red is to watch for a period of calm days. The windy start to our week spoiled the fun up there for a little while. When it calmed down, the recovery began and as usual, the more settled the lake became, the better the fishing action was. If the weather forecast calls for calm seas, head that way, but if it will be breezy, find smaller water and visit Red Lake later.

— Jeff Sundin 218-245-9858 or EMAIL
---
Jeff Sundin Fishing Report May 27, 2020 "Upper Red Lake Report"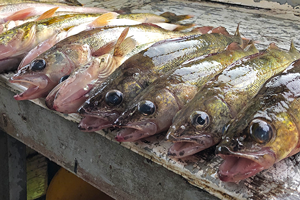 Upper Red Lake has gone through quite a transformation in the week that passed since my last visit. Surface water temperatures ranged between 64 and 66 degrees on Tuesday, about 12 degrees warmer since then.
Freshwater Drum, AKA Sheepshead, were thick along the south shoreline. In fact, on Tuesday we caught one drum after another without as much as a sniff from any walleye. That doesn't mean that the walleyes were gone from the shoreline, but the population of drum in that area was overwhelming. I did not want to wait around, feeding the sheepshead all our bait while I searched for a random pack of walleyes.
A move away from the shoreline and onto the flat improved our outlook. In about 8 feet of water, there was a small rise, a 20 to 30-yard stretch of gravel and mixed light rocks that topped out at 6 feet deep. On it, we found a decent school of Walleyes milling around along the soft breakline edges. That single school of fish kept up busy for a couple of hours, in fact I think we caught about 20 fish of varying sizes and managed to add 10 "keeper size" fish to our livewell before moving away from it.
Another stretch of rocks, this one larger than the first, also had a school of fish on it. This time there we enough fish to hold our attention for another couple of ours. The plan was to catch and release fish until we were ready to capture our final keeper and then go home. The way it turned out, the deciding factor in deciding when to leave would be when we ran out of bait. When we were down to our last few minnows, we bagged fish #12, giving us a 3 person limit and wrapped up the day.
There was some banter about which jigs and which colors to fish with. Obviously, I am always going to tell you to use the one I designed, the Lindy Live Bait Jig. I really like all of the "glow" colors and yesterday, the 1/8 ounce glow/perch version was very productive for I and Fritz.
Penny, on the other hand, did her best to convince me that she had a better option, a gold colored whatchamacallit. She caught the first few fish and was on the road toward proving her point when a little northern came along and bit off her lure. That gave me the chance to switch her over to one of my jigs, which she tolerated, providing that the color I tied on for her was GOLD.
Gold is her color and no matter how you look at it, that probably won't change. Luckily, the Live Bait Jig does come in gold, so I was able to accomodate her request and she caught fish; we were all happy. If you're interested in picking up some Lindy Live Bait Jigs, here is a reliable source >> Purchase Lindy Live Bait Jigs on Lurenet
There was more than one reliable presentation for us. We caught quite a few of our fish back-trolling and once I pinned down the best location, I turned on the "spot-lock" and we caught some more fish pitching and retrieving jigs from a fixed position. After the breeze picked up, we switched to drifting, using the bow mount to hold position along the breakline; that worked well too.
Trolling crankbaits worked well for friends who fished on Red Lake over the holiday weekend. So that presentation would be an option for those who prefer that style of fishing.
I've always thought that whenever the sheepshead move into the shallows on Upper Red, it gives the signal that walleyes would soon be moving out. If yesterday's trip is an indicator, then that may well be happening right now.
Today's weather forecast looks like the best one for fishing on Red Lake that I'll see this week. So, I am going back up to start a 3-day stint with Ken Seufert. Ken likes to explore and so do I, so we might try some offbeat locations and experiment more with presentation today and tomorrow, I will note the note-able."

— Jeff Sundin 218-245-9858 or EMAIL
---
Jeff Sundin Fishing Report May 20, 2020 "Upper Red Lake - Reliable Place To Gather Walleye Dinner"
Upper Red Lake shiners, according to my friend, professional shiner trapper, Chad Benson, began their full-scale spawning migration the day before yesterday, May 18, 2020. The accompanying photo of his shiner haul that afternoon was all it took to get me fired up about heading there for my first offical workday of the 2020 fishing season.
I hooked up with my crew at the Winnie Trading Post at 8:00, picked up some bait and they followed me to the landing at Washkish. By the time we arrived, about 9:15 AM, the parking lots on both sides of the bridge over the Tamarack River were filled. There was still room in the overload lot, the sand lot adjacent to the main landing, but that was filling too.
What we learned on the lake was that even if the bite wasn't "on fire", Upper Red Lake was at the very least, a reliable place to gather walleyes for a fish meal.
Surface water temperature in the Tamarack River was 58 degrees and by the time we floated into the main lake, decreased to 54 degrees. For the rest of the day, my Humminbird registered temperatures between 53 and 56 degrees. Any warm water temperatures were diluted by being blown out to sea by strong southeast winds.
The same winds encouraged us not to stray far from the southeast corner of the lake and most folks did the same thing. That meant finding places to fish "in private" wasn't easy. There were boats strung out all along the shoreline and as usual, concentrations of folks wherever and whenever anybody located a school of active fish. Still, there was room to move around, so it didn't take too long to locate a workable stretch of water.
For me, the secret to finding early season fish on Red Lake is usually to figure out where there are schools of shiners heading toward the shallow sand. On Tuesday though, there were minnows everywhere, in fact, I saw bait on my graph all day long. That made it tricky to decide when to stop the boat, so instead of searching for a spot-on-a-spot, I just started trolling, knowing that eventually I would stumble into a school of fish.
It took a little while, but within a reasonable time, we did encounter fish. Typical of early season fishing on Red, the bite was slower in the morning and better during the warm part of the day. We probably caught 10 fish before noon, had a flurry of fast action between noon and 2:00 PM. The lull in the action was probably only the result of fishing pressure and boat traffic because when I moved to fresh territory, the bite picked right back up again.
On a lot of days, locating fish and then anchoring the boat to fan cast a jig and minnow, or throw out live bait under a slip float is a great idea. On Tuesday though, I could never decide where I wanted to stop. The fish were more scattered than usual and I never felt like I had them pinned down.
That's probably because the water is high on Red Lake right now, it's at least a couple of feet higher than what I've been accustomed too. It's likely that the high water is a contributing factor to the shiners being so scattered along the shoreline. Since the shiners are scattered, there's no reason for walleyes to concentrate in any one spot over another. For me, that meant having a slower-but-steadier bite instead of an intense, localized one.
It should be noted too that for a long time, fish were located deeper than usual, 8 to 10 feet deep at the base of the breakline. Eventually they moved up, the breakline from 6 to 7 feet lit up during the afternoon. So don't get too hung up on any one depth, move up and down occasionally, just to be sure that the fish didn't shift position.
For me, there's no reason not to fish with anything except a jig and minnow. It is by far my favorite presentation. A 1/8-ounce Lindy Live Bait Jig tipped with shiners until we established that fatheads worked just as effectively. There are certain lakes where having shiners is a big advantage, but Red Lake is not one of them, good size fatheads, rainbows or most any other minnow are all effective on this lake.
I'd heard from some folks that getting "keeper size" walleyes was tricky this year. There definitely are more large fish than usual, but I didn't find it super difficult to get keepers in the mix. That said; there are a lot of 16-7/8 inch walleyes, just below the 17 inch threshold. That's important this season because we are only allowed one walleye over 17 inches and it would be easy to make a mistake.
So if you do head up there, just make sure all your ducks are in a row, DNR Enforcement is active on the lake and it is highly likely that you will be checked. Measure twice and be sure to pinch the tail to be sure that the CO can't make it stretch to 17 inches, that would result in an uncomfortable situation.
It might take a little longer to fill your creel, but like I said, Upper Red is a reliable place to gather walleyes for a fish meal. Besides, who doesn't love catching a big walleye occasionally?
Most everybody appears to already know that Red Lake is good right now and traffic on the lake is brisk. But don't that scare you away, folks know what they're doing these days and despite the robust crowd, loading and unloading boats went very smoothly. In fact, we were on the water just a few minutes after our pre-trip preparation was completed and getting off the lake was equally easy.

— Jeff Sundin 218-245-9858 or EMAIL
---
---