---
---
Cutfoot Sioux, Bowen Lodge Fishing Report May 21, 2020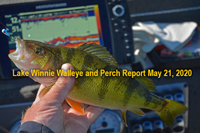 "We, along with our guests have watched Lake Winnie's response to changing conditions and can't help but to be amazed at the resiliency of this body of water. Despite changing conditions, she keeps kicking out impressive year classes of fish. The big year classes don't always come at the precise time we want them to, but they do come and we're watching one massive year class mature right now.
The walleye year class of 2018 is among the best ever for Winnibigoshish. Not only were there huge numbers of fish hatched, but they had both good survival and great growth rates during their first year. We're seeing anecdotal evidence that they must have also had a great survival rate over this past winter because anglers are catching them left and right this spring.
The '18s aren't ready for the creel yet, at an average length of around 11-12 inches, they'll for sure be eaters by next spring. Some of the really fast growers may even reach an acceptable size by ..." Read >> Bowen Lodge Fishing Report May 21, 2020
---

Lake Winnibigoshish

, Joe Thompson, May 18, 2019 Four Seasons Resort
"What a beautiful weekend to be in Northern Minnesota! It was nice because the Orioles were not here....
The fishing was great this weekend but the catching was kind of spotty. Walleyes continue to relate to the shoreline drops with the points on the west and north side seeing the most action.
The evening offers some opportunities to do a little casting into the very shallow water where the shiners are moving toward the shoreline.
The great year-classes that we have heard about for the last two years can be experienced. It is quite a challenge to hook a 6 inch or 11 inch walleye! But you can get a bite every cast, you just can't expect to hook them.
Perch fishing is still the way to deliver a fish fry. Most of the primary breaklines are holding schools of nice size perch. As you can see from my youngest grandson Jack's first fish, they are really nice. Jigs and fathead minnows fished slow is still the best way to catch 'em.
Northerns are spotty, but are being caught when fishing for perch or walleyes. The size varies, but they seem to be pretty chunky for this time of year. Most of the fish coming in are under the 22-26" slot.
Our dockboys are experts at removing the "Y" bones and deliver a boneless filet to your cabin.
We still have openings for the Holiday Weekend. If you are looking for a place to come and do some fishing, give us a call." — Joe Thompson, Four Seasons Resort 218-665-2231
---
Wired2Fish May 2020 "Sea Foam Marine PRO Giveaway"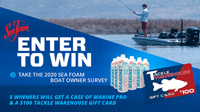 "Sea Foam is giving 5 Wired2Fish readers a chance to win a case of Sea Foam Marine PRO and a $100 Tackle Warehouse gift card.
Additionally, 100 anglers will be selected to participate in Sea Foam's product sampling program and will receive a FREE 20 ounce can of Marine PRO in exchange for honest feedback.
This giveaway is a little different in that we want to help Sea Foam gather some information in a survey. To qualify to win this giveaway, fill out the 2020 boat owner survey—it only takes a few minutes!" Take Survey and Enter >> Sea Foam Marine PRO Giveaway
---
Lake Winnibigoshish The Pines Resort May 15, 2020
After a busy and productive fishing opener, traffic on the lake got quiet during mid-week. Between cold, windy conditions and a little bit of rain, folks opted to hold off until better weather arrives.
The anticipated warmup did arrive on Thursday and sent outside air temperatures up into the high 60s. Surface water temperatures began rising too, strong afternoon winds churned the surface, bring water temps back down, but the trend will be upward over the next few days.
The reason we're monitoring water temperature is that shiner minnows are waiting for a warmup before they'll move away from the weedy flats and onto shallow water sand and gravel. The beginning of shiner spawning definitely allows bait trappers an opportunity to gather supplies of our favorite minnows. But for anglers, the shiner runs offer a chance to find hungry walleyes stuffed into well-defined and predictable locations.
Tamarack Bay, located just outside of our front door, is one of Winnie's most productive areas for minnows to spawn. Sprawling weed flats offer minnows protection in terms of both cover and their ability to spread out horizontally across the expanse of shallow water. To feed, walleyes have to roam constantly in search of scattered schools of bait. But when shiners begin spawning, they are for a short time, very vulnerable. They will all be crammed into shallow water and along breaklines where walleyes can find them.
Walleye anglers familiar with Winnibigoshish know that between now and Memorial Day, Tamarack Bay has the potential be one of the lake's most productive areas.
Key depths will vary with the weather, but anglers should focus on the 8 to 12 foot range most of the time. Well defined shoreline breaks will be the structure to look for. The shallow flats that lay along both sides the Mississippi River channel can be productive, so are the shallow breaklines that run all of the way from Plughat Point west to Bowens Flats. The large flat at Tamarack Point is also one of the preferred structures during the early season.
Most folks stick with jig and minnows during the early season, they are very reliable. Lindy Rigs tipped with minnows work too and occasionally, slip floats help our guests put fish in the boat too.
Expect to encounter schools of perch on the flats too. They are either about to spawn, or are already in the process and both Tamarack and the Dam Bays are mating destinations for them.
Looking at the weather forecast, we are chomping at the bit to get on the water. Temperatures in the 70s, lots of sunny days and moderate winds are forecast for the next full week. These conditions are going to trigger a lot of fish movement, so if you've been on the fence about making a trip, now is the time to call us; we may still have an opening for you.
This is also a good time to let you know that we do have a few openings for Memorial Day weekend, so be sure to inquire about our Memorial Day Special.
We're looking forward to a wonderful week of fishing and we'd love to hear from you. Let us know how you do on the lake and if you like, stop by for a visit.
When the sun comes out and the weather gets warm, we recall the old saying; "I scream, you scream, we all scream for ice cream." Check out this year's ice cream flavors! Waffle cones are available at the lodge, in addition to many other frozen treats, YUM! See You Soon — Chad & Melissa Mertz The Pines Resort 218-246-8546 or 1-800-342-1552
---
You Are Invited To Become A Duly Deputized Fishrapper Cub Reporter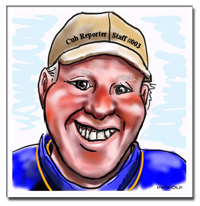 If you've been waiting for a gold engraved invitation to participate in the daily reports, then stop waiting and consider this your own personal invitation.
Helping your fellow fishermen and women stay abreast of fishing conditions in your area is good for everybody and it's easier than you think!
You don't have to write a book, you don't have to share your secret fishing spots and you don't even have to mention your lake. But even a few words about general trends, seasonal patterns and local weather conditions can really help.
Be like me, become a duly deputized "Cub Reporter", it's good for fishing! Contact Us or if you prefer to be "social", Fishing Reports Minnesota, the Facebook counterpart to this page is open to the public, so you can post your own fishing update or just share a photo of a nice catch.
---
Cutfoot Sioux, Bowen Lodge Fishing Report May 14, 2020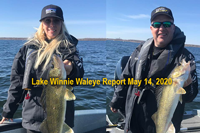 "Guests who fished during the opening week of walleye season found a classic post spawn, cold water pattern on Lake Winnie.
It's been a couple of weeks since spawning walleyes made their move through Little Cutfoot With the spawning run completed, female walleyes have already moved out and were found migrating away from Cutfoot and into the big lake. At this stage of the season, fishing can be a little "hit and miss" and that's what we've observed so far.
Because of the cold water temperatures, there was little incentive for most of the migrating fish to move shallow and feed. Instead, they closely followed traditional migration routes along shoreline breaks and along the river channels. Anglers who found and fished along those migration routes were rewarded with good catches.
Areas that produced well for our guests, included ..." Read >> Bowen Lodge Fishing Report May 14, 2020
---

Lake Winnibigoshish

, Joe Thompson, May 11, 2019 Four Seasons Resort
"Opening Day of Minnesota fishing finally came and went. One thing I noticed is that the fish didn't know about or care about Covid 19! Everyone who wet a line caught some fish.
The best reports for keeping fish were on the perch front. Lots of nice 10-12" perch were caught along the primary breaklines. Anglers reported fishing 15 to 20 feet deep seemed to be the best depths. Jigs and minnows worked very slow were the best presentation.
Walleyes were caught in good numbers, but the keepers were far between. Jigs and minnows were also the best bet here, but you needed to be working the bait to get them to bite. The fish were both shallow and deep. The west side points were the main areas where the fish were found.
Some northerns were caught among the walleyes. Most of these fish were in the protected slot, or the anglers chose not to keep them.
The weather was cold but we dodged the snow that other areas enjoyed. The wind was down which helped to make it bearable.
We have had some cancellations due to the virus. If you are interested in fishing Lake Winnie in the spring, give us a call. We are taking every precaution to not allow the spread of the disease at The Four Seasons. Look forward to seeing you." — Joe Thompson, Four Seasons Resort 218-665-2231
---
Lake Winnibigoshish The Pines Resort May 7, 2020 "Lake Winnie 2020 Fishing Opener Forecast"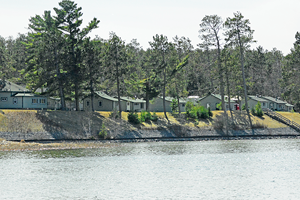 We have really been hustling to get the resort ready for this weekend and we did it. After a long winter, there was no amount of work that could discourage us. Seeing the open water, hearing sounds of spring and breathing the fresh air has us excited for the fishing opener.
Apparently, we're not the only ones who are enthused about getting out on the water, walleye anglers must be too because we have a full house for the weekend.
The monster size year class of walleyes that hatched in 2018 had already begun showing up late in the 2019 season. Over the winter, we heard numerous reports from guests and friends who fished the lake and caught lots of 11 to 12-inch walleyes. Granted, they were small then and still will be this spring, but as our summer progresses, we anticipate seeing those fish begin maturing, rapidly moving toward the keeper size range.
We know that the growth rate in Winnie is typically really great, but we're not making any assumptions. The current growth rate may be somewhat diminished by the larger size of that year class. That's okay with us because if it happens, that would probably help keep those fish in the keeper size range for a longer period of time.
In the meantime, these fish are likely to provide our guests with a lot of action this summer and for the next few seasons to come.
This spring, the ice was off Winnie a little earlier than average. Most, if not all the female walleyes have already completed their migration into spawning areas. But the water temperatures are still cold, and we think it's likely that many scattered groups of male fish will still be lingering near shallow gravel patches and current areas.
On opening morning, anglers looking for smaller fish to eat, are probably best off focusing on shallow spawning areas before fishing pressure forces those male fish to move. After that, you'll be better off searching for fish on the flats, wherever newly emerging weed stubble provides cover for minnows.
In Tamarack Bay, a key area for shiner trappers during spring, large expanses of these shallow weed stubble flats attract huge schools of minnows. Walleyes, eager to feed after the spawning season is complete, begin roaming the flats to feed.
Key water depths will depend on cloud and wind conditions. Typical fish depths during spring will range anywhere from 6 feet to about 12 feet. When fish are actively feeding, slow tapering drop-off areas will produce best. Fish in neutral or negative feeding patterns will gravitate toward steeper breaklines with access to deeper water.
Jig and minnow combinations are the long-time favorite presentation during the early season on Winnie. A supply of jigs in the 1/16, 1/8 and ¼ ounce sizes will cover every situation; 1/8 ounce are the most common weights.
We've learned that one key factor in angler success on Winnie has been water clarity. For us, it has appeared that the population of Zebra Mussels in Lake Winnibigoshish had leveled out. For some insight, we reached out to Grand Rapids Fishery Supervisor Dave Weitzel and he replied. "We think that zebra mussels have stabilized. It seems that once they fully infest a lake, the population will go through little ups and downs.  It seems that they may have been down a bit the last couple of years."
We know that the mussels will always be with us, but with populations not exploding the way they did a few years back. It is possible that the impact of their presence will be felt a little less dramatically as their population stabilizes. In 2018, we learned that when Zebra Mussel populations are down, water clarity diminishes, algae blooms come back, and fishing gets good.
We know that anglers figure out how to find and catch walleyes in other clear water lakes. Over time, adaptation has been the secret to consistent success on Winnie too. So when we combine that with what we know about how strong the walleye population is, and that conditions could stabilize, it is hard to be anything but positive about the upcoming season.
While we were in contact with Dave Weitzel, we cleared up a couple of other questions. We asked about whether anglers will be allowed to fish in Little Cutfoot for the opener. Weitzel; "Cut Foot and Little Cut Foot are both open for fishing. There is a nasty rumor going around that DNR closed it, but that is not true.  We only close it if we are taking eggs within a few days of opener and fish are artificially concentrated."
We asked too about water levels and water clarity and he said this; "I have not had reports about water clarity, but I have heard that water levels are low. I suspect that the lake was drawn down anticipating spring rains, but those rains never came. I know that the US Army Corps of Engineers held water back to alleviate flood concerns in Aitkin, but the lack of rain in April is contributing to low water."
Northern Pike will continue to provide good action and good eating for our guests this summer too. Pike populations remain high; in fact, recent statistics show 13-15 fish per test net now. That is roughly double the 6 fish per test net during the late 1990s and early 2000s.
The protected slot that requires releasing all pike from 22-26 inches took effect in 2018 and by all accounts, began doing its job. There were numerous reports from folks who released a lot of fish in that protected range.
Perch populations have declined over the past few years, but the reward for that has been more fish entering the "keeper" size range. Last winter, our guests experienced periods of fabulous perch fishing. There were some exceptionally nice fish too, even some 14 plus inches long. Fish over 9 inches are becoming more abundant and now make up 15% of the total perch population. There are fewer small fish and more desirable ones in the lake. Anglers should anticipate catching fewer fish overall, but when they find them, there will be a better chance at catching keepers."
Historically, panfish populations in Cutfoot, Little Cutfoot and Winnie have been cyclical. In 2018 we saw evidence of a new up and coming crop of sunfish. There were fish everywhere and they were aggressive, especially during the mid-summer period. They were, however, pretty small and it depends on each angler's individual threshold whether they will be of interest this summer or not.
Bass and Musky fishing will be on the agenda this summer too, but let's get the walleye season started before we focus any more on the warmer water species.
Last item for the report today concerns minnow supplies for opening day.
The word for us is that Spottail Shiners will be hard to come by and we do not anticipate having them on hand. We will have plenty of fatheads and Golden Shiners may inhabit our bait tanks this weekend too, at least that's what our bait supplier tells us. We won't eceive our bait delivery until late afternoon on Thursday, so we'll provide an update via Facebook for everyone who read this report in the morning. If you're not a social media person, check back here in the afternoon for the bait supply update.
We are 2 days away from opening weekend and we're chomping at the bit to get the season rolling. We will see you when you get here! — Chad & Melissa Mertz The Pines Resort 218-246-8546 or 1-800-342-1552
---
Fish ED Video April 2020 "Pre-Spawn Crappie Fishing During Early Spring"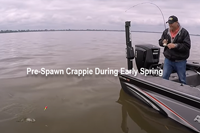 Early spring offers anglers a chance to get outside and go fishing. Crappies are one of the first fish available to most of us, but while pre-spawn crappie fishing can be a blast, there are times when they can be tricky to locate.
Jon Thelen shares a few tricks and tips that can help make finding them more consistent.
Join us on Fish Ed, and let host Jon Thelen show you a great way to target prespawn Crappie. Grab you panfish box, some Thill Crappie Corks and a bunch of minnows and get out on the water now!
Learn More >> View Video Pre-Spawn Crappie Fishing During Early Spring
---
MN-FISH Spring 2020 Newsletter
Opening words from Ron Schara, MNFish President; "A year ago, a new non-profit fishing organization called MN-FISH was launched for the purpose of "shortening-the-time-between-bites". Our goal was to give state anglers what we haven't had; greater representation in the Minnesota Legislature. We also intended to act as a watchdog and support DNR fish management decisions when appropriate.
During this startup period, we discovered MNFISH would face its own growing pains and hurdles; such as attracting and communication with
members, developing social media, news releases and the like.
As the MN-FISH president, I feel we have accomplished most of our year-one goals. However, I regret that we've failed to ..." Read >> MN Fish Newsletter April 2020
---