---
---
On Lake Kabetogama, KAB Outdoors January 24, 2020
Voyageurs Park staff made some headway on the ice road on Lake Kabetogama on Thursday.
There's about 2.5 miles of open road now. Because of wet spots and saturated snow, they were unable to make an additional plow pass heading back toward shore. So there's still no access for "wheel houses", but snowmobiles and tracked machines should be able to use access.
It will be interesting to see how the lake reacts to the warm weather heading our way.
For More Information >> Contact KAB OUTDOORS or Call 218.875.2281
---
On Lake Kabetogama, KAB Outdoors January 22, 2020
"Eight weeks ago, we were wringing our hands over buying the new SnoBear. We knew we loved it and we knew we wanted one, but naturally we were apprehensive about making the investment.
Looking back, the commitment to purchase it turns out to be one of the smartest decisions we've ever made. That's because while anglers all over the state struggle to get onto the ice, we've been moving our customers on and off Lake Kabetogama with ease.
To date, snowmobiles and lightweight snow machines with wide tracks are the only good way to move around on the lake. Last week, Voyageurs National Park staff attempted to plow open the ice road. They did get it partially opened but were forced to hold off when some wet areas developed.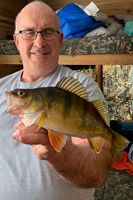 They're in the process of re-routing the road and it's almost completed. You'll be able to find the announcement at our facebook page, Kabetogama Outdoors when it's finished.
By the way, staying off the road and allowing those wet spots to freeze solid would be a great way to help speed the process. Those few random vehicles that have been out there are really disrupting the project.
Walleye action on Kabetogama has its ups and downs right now, there are periods of good movement during low light. But catching them during the daytime demands both patience and persistence.
For our guests, fishing for a mixed bag continues to be the best overall strategy. Catching perch, sauger and pike not only keeps them busy during the lulls, but also helps round out the protein plan at dinner time. The multi-species tactic has worked out well recently because we've been entertaining more families, and fewer die hard walleye anglers.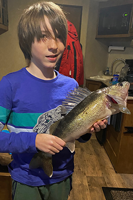 Fishing from our Ice Castles, or for that matter, any rental shelter offers anglers opportunity to develop specialized strategies. We suggest experimentation and advise our guests to offer an array of lures that cover gambit from attracting, to enticing to triggering.
Rig a couple of rods with large flashy lures to get the fish's attention, but always have a couple of rods set up with more subtle, lifelike baits too. When you see fish that don't strike the aggressive presentations, quickly offer them the more subtle ones.
For a family, this could be accomplished by taking turns at offering specialized presentations. Maybe mom could handle the jigging rod, using something like a Glow Streak, while dad watches the set line rigged with a large lively minnow as the kids present smaller blade style ice jigs tipped with smaller minnows or waxworms. Have fun mixing it up and forming your own "family plan".
When you discover one presentation that works best, then everybody can switch to the preferred bait of the day.
By the way, we can help with choosing those lures and selecting the right live bait for each of them. The shelves are stocked with everything you'll need to convince those fish to bite; so be sure to stop in and let us help." For More Information >> Contact KAB OUTDOORS or Call 218.875.2281
---
More Recent Ice Fishing Reports
---
On Lake Kabetogama, KAB Outdoors January 15, 2020
"Ice conditions on Lake Kabetogama remain largely unchanged since last week. Ice thickness remains stable, varying between 10 to 15 inches and there's just about the same amount of snow piled up on top of it. In most areas, snow depth is about 15 inches, but there are areas of deeper drifted snow as well.
There are still some new slush pockets forming around the lake. The slush has made travel by anything with wheels on the ice almost impossible. But travel by snowmobile and ATVs with tracks isn't too bad.
Last week we mentioned being overwhelmed with calls from folks asking about driving up with private wheelhouses. We regret that those requests cannot be accommodated, but for the moment, there is simply no way to drive a wheelhouse on the lake.
NOTE: At the time of this writing, January 15, 2020 10:30 AM, the Voyageur's National Park ice road is being plowed for the first time. So far, they're about one mile in and we'll let you know how much more progress they make throughout the day.
We're using our Sno Bear to transport most of our customers to and from our rental shelters. Those that are equipped with snow machines can use them to find fresh fishing territory if they choose.
Between the changing weather patterns and less than ideal ice conditions, dialing in a consistent bite hasn't been easy. But we've figured out that that downsizing our presentations have helped produce more reliable action, especially for walleyes.
Some of our customers did well using "crappie size lures" tipped with whole fatheads. Try using blade style baits like Lindy's Frostee and tipping them with a whole, live fathead. They can be fished below a float or on a dead stick setup using a slow action rod with a soft tip.
Allowing the lure to sit stationary gives the fish plenty of time to make a move on it and will help put a few more fish in your pail.
Downsizing your jigging baits isn't a bad idea either, smaller size Rattl'n Flyer Spoons tipped with a minnow head is always a good choice. So are lightweight lures that have super slow drop rates like Quiver Spoons.
Primary walleye location continues to be over areas that have a soft bottom. The outer edges of mid-lake reefs or points leading from shore toward deep water are good starting spots. Key fishing depths are from 26 to 32 feet during the daytime and 18 to 26 feet during the prime time, twilight feeding periods.
Perch fishing isn't usually the primary focus for anglers on Kabetogama. But periodically, our customers do catch perch while they're walleye fishing. As you can see by the accompanying photo, they catch some nice big ones too! Pike also come along at random intervals and like the perch, can help round out the larder.
All things considered; we'd say that folks have been happy over the past week. There have been just enough fish coming in to keep things interesting and the mix of sizes has allowed for both good photos and some good eating.
We'd like to remind you that ice fishing on Kabetogama is a unique experience. Because it's located in the national park, the atmosphere feels remote. There isn't a lot of traffic on the lake and the scenery is breathtaking!
If a little peace and quiet sounds good to you, then give us a call and ask about our rental packages. We have day houses, overnight sleepers and reliable transportation to get you to and from them.
The store shelves are stocked too, so be sure to stop by for live bait, fishing gear and for any of your last minute needs." For More Information >> Contact KAB OUTDOORS or Call 218.875.2281
---
On Lake Kabetogama, KAB Outdoors January 9, 2020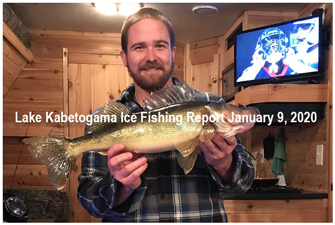 Traveling light is the key to success for ice fishing on Kabetogama this week. The snow piled up just deeply enough to produce shallow slush pockets in a wide variety of locations around the lake.
Most of the affected areas remain accessible by snowmobile, unless they're overloaded with too much gear. We observed one angler attempting to travel while towing 2 ice fishing shelters in tandem and that resulted in the sled getting bogged down and stuck. If you're planning to snowmobile on the ice, we'd suggest cutting back to the bare minimum amount of fishing gear.
We've been overwhelmed with calls from folks asking about driving up with private wheelhouses. We have unfortunately not been able to accomodate those requests.
The Voyageurs National Park ice road remains un-opened, so travel by pickup truck really IS NOT an option at all right now. In fact, we've already rescued several people who have attempted to get onto the ice and gotten stuck at the landing.
So please, if you've read this report, help us pass along the information to your friends; wheel houses are presently out of the question on Kabetogama.
Tracked ATV's are not created equal, so some of them will work and others won't.
We haven't had any problems moving people and gear with either our SnoBear or our tracked truck. But these machines have extraordinarily wide tracks and yours may not perform as well. Exercise extreme caution if you attempt to travel using any ATV.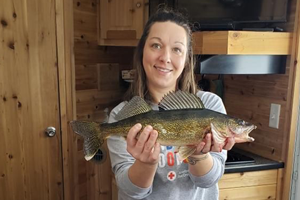 Walleye fishing has been good for our customers and for whatever reason, there's sort of a big fish bite going on right now. Folks have been having lots of fun taking photos with good numbers of quality size fish.
When you can't move around a lot, being creative with your presentations makes a huge difference. Using lures that have lots of attracting power will help call fish into your area. Many of those fish will strike the aggressive lures, but there's always some that will prefer more subtle presentations. That's when having a second line rigged with live bait comes in handy. Let the enticing action of a swimming minnow trigger strikes from the fish that came in to look at your attracting lures.
We've had some fun with Lindy's Glow Streak this winter and there is other large size, flashy and noisy lures which we've had fun fishing with too. On your way to the lake, stop at the store and we'll show you more presentations that we've enjoyed experimenting with.
Primary walleye location has been over soft bottom. The outer edges of mid-lake reefs or points leading from shore toward deep water are good starting spots. Tip up anglers should set a line with a big minnow further away from structure too. There are always a few fish roaming solo over the mud bottom and you never know when a phantom pike or giant walleye will be looking for a one bite meal.
If fishing isn't your thing, but snowmobiling is, then you'll be happy to know that the Rainy Lake/Black Bay to Kabetogama Lake to Ash River (Green Trail) is open and staked. So is the Ash River to Crane Lake trail. We'll post an update whenever more of the snowmobile trails open up.
We have a great selection of fresh live rainbows, shiners and fatheads. We've also got great supplies of both large and small sucker minnows in the tanks as well. The shelves are stocked with all of the newest and best tackle and we're looking forward to telling you all about it!" For More Information >> Contact KAB OUTDOORS or Call 218.875.2281
---
On Lake Kabetogama, KAB Outdoors January 1, 2020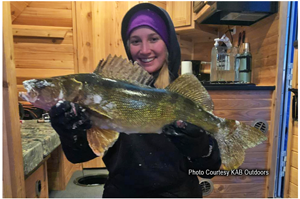 We were living a charmed life until the past weekend, but Mother Nature finally caught up to us. Our area finally got hit by the first significant snow storm of the winter.
Whether or not the snow will impact travel conditions on Kabetogama is uncertain. But we do know for sure that Kabetogama's ice is still in much better shape than most of the other popular walleye lakes around the state. With 15 to 16 inches of good, solid ice, there were virtually no wet or slushy areas anywhere on the lake prior to the recent snow. Knock on wood, but so far, we have not run across any areas where water or slush appears to be causing a problem.
The National Park Service has not plowed "the ice road" at all this winter and as of this morning, there is still no plowed road leading onto the lake. For us, the new SnoBear has been the primary mode of transportation for getting our guests to and from rental shelters on the ice. Snowmobiling is the next best alternative for anybody who'd like to strike out on their own to fish.
Walleye fishing has been productive for many of our guests and this week, there were larger fish showing up in the mix.
Key depths and locations have been typical for early winter. Fishing the outer perimeter of sunken reefs in water depths ranging between 19 to 32 feet has been the main focus. But don't rule out deeper shoreline related structures either, especially the outer edges of points that lay adjacent to wide and flat feeding shelves.
Jigging lures tipped with minnow heads is productive and so are set lines using tip-ups or dead-sticks tipped with large, live minnows. The tip-up method is a good way to double your odds of producing both larger walleye and nice size northern pike like the one you see here. There isn't anything more exciting than a hand-to-hand battle with a large pike under the ice!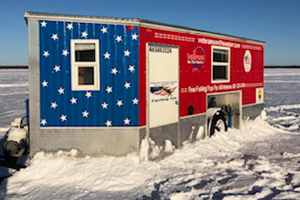 We have some exciting news about a cause that we personally really believe in. It is the Vets on the Water program, a not for profit organization that provides funding that makes it possible to take vets fishing for free.
They've sponsored a lot of events, but to our knowledge, they've always only provided service to veterans during the open water fishing season.
After spending a couple of days guiding with them this past fall, we decided that it would be a blast to open some ice fishing doors for them. So before they left, we handed over our first wheelhouse shack. Then they took it home and remodeled it, changing the colors and decorating it all up.
After the makeover, they brought it back so that we could make it available to vets and their friends as we see fit.
We're pleased to announce that our very own Vets on the Water Ice Castle to be used by veterans will be available soon. In it, veterans fish for free! All reservations for the Vets on the Water program go directly through Dawn Keeler at KAB Outdoors, so use the info below to contact her for more information.
As always, our shelves are stocked with all of the newest and best tackle and we've got plenty of live bait on hand too! We'll be looking forward to hearing from you soon. >> Contact KAB OUTDOORS or Call 218.875.2281
---
---