January 24, 2022 — "Walleye Fishing Locations and Presentations Jeff Sundin Answers Reader Questions"
On January 23, 2022, (privacy requested) emailed with a couple of questions.
At first glance, I thought answering him might warrant a few simple words regarding a couple of simple situations. But as I thought about it, it dawned on me that a truly thoughtful answer could be the basis for a full book about fishing philosophy.
So, I won't go quite that far, but I did take the opportunity to turn this into a full article and it's likely to be updated from time-to-time. I'll start by trying to break this down, starting with my observation about your 2nd question first.
Reader Q2); "I've outgrown tackle boxes, just too much stuff I like to keep on the boat.
You know, I'm ready for anything! I have sealed off my livewell and found that it holds about 12 Plano style boxes very nicely when stored "on end". Here's my problem-question. I normally carry 150 to 250 hard bodied baits, 75 or so spoons, assorted hooks + weights, spinner harnesses and parts, etc. Regarding the "hard baits" (lures), would you sort them by color or by style? For example, would you sort the boxes into orange. green. fire tiger, black OR would you sort it into pencil plugs, jointed lures, crankbaits, lipless crankbaits, surface baits, etc.?

Currently I have everything sorted by color, but I'm wondering if sorting it by style might be better, any thoughts would be appreciated.
---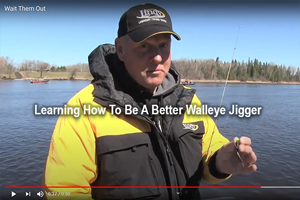 Sundin; A) It appears you've chosen to devote lots of time to studying presentations and the lures used to make the final catch. I'm familiar with the approach because my stepdad "Jay Baby", operated in much the same way. He sifted through dozens of bags and boxes, indexed, categorized, organized, ready for action at a moment's notice. He didn't know a lot about the lake we fished, but if he ever hit a school of fish, he'd be ready!
My birth father, "Fergie", on the other hand was the complete opposite. He didn't have enough fishing tackle to fill up one tackle box, in fact, his full list of tips and tricks would fit on an index card. What he did have though, was knowledge about his lake, he knew where the weed beds, drop-offs and to the extent it was possible in those days, mid-lake bars were located.
I'll bet you can guess which one caught more fish, can't you? Yes, it was "Fergie" not "Jay Baby".
Some readers will remember Steve Fox, he and his wife Bunny owned Sugar Point Resort on Leech Lake. Steve probably didn't know it, but he made a lot of impressions on me. His fleet included the first Alaskans I'd ever seen, and it was Steve that planted the seed in my mind that I should have one. Steve's comments about fishing guides rang a bell with me too; "The greatest guide that's ever come through my resort had all of the tackle he needed in in upper left shirt pocket." Fox said. That was 30 some years ago and I still think about his comment all the time.
When you get in my boat, you'll notice that my philosophy landed somewhere in-between. I do have more fishing tackle than "Fergie" did, but nowhere near the assortment of gear that "Jay Baby" did. If I was a tournament angler, I'd have more stuff because I'd have to be ready for anything that any lake could throw at me. Any given day could be spent on a lake I've never fished and finding the right lure at the right time could pose problems.
The thing is, I'm not a tournament angler, I'm a fishing guide and most of my customers don't care about singling out the 5 largest fish in the lake. They want to be entertained by catching a larger number of fish and at times, a wider variety of species. So, I don't need every gizmo and gadget that might come in handy under a highly specific, or specialized situation. My best pathway to happy guests is to know a few ultra-reliable presentations and have enough lures to cover the most predictable situations that I'll usually be facing.
In my mind, it's okay to have everything from soup to nuts stored in the boat. My advice though, would be to have one small box that contains a modest supply of the lures that can be adapted to suit the 4 most reliable walleye fishing presentations that I ever encounter when I'm fishing your lake. Jig and minnow, "Wiggle Worming", "Lindy Rigging" and trolling spinners.
Jig and Minnow vs Wiggle Worming - For me, Lindy Live Bait Jigs in 1/16- and 1/8-ounce sizes covers both jig and minnow plus wiggle worming in most situations. I do have a small supply of ¼ ounce just in case I need to jig fish deeper, but that scenario is rare. For wiggle worming, I use 1/16 ounce almost all of the time and for jig and minnow presentations 1/8 ounce is my mainstay. Blue Glow, Pink Glow, Black and Green are the colors I use most often.
Lindy Rigging – I buy the "50th Anniversary Lindy Rigs". These are 5-packs of pre-snelled, but un-cut leaders in the 10-foot length. These are perfect because they save me the time of tying up the snelled hooks, but the leader length can be customized, trimmed to match almost any scenario I encounter. Six feet is my standard length, but I do enjoy having the full 10 feet when I need them. I carry the #4 hook size for leeches and night crawlers and the larger 1/0 size for rigging with large minnows. Control the depth and location by changing sinkers, bullet weights in 1/16, 1/8 or 3/16 ounce sizes cover the weeds, walking sinkers in the ¼ to ½ ounce sizes cover the mid-depth breakline and larger,  ¾ or 1 ounce No Snagg Sinkers cover the deep structure like points and mid-lake bars.
For spinner fishing, pre-packaged Little Joe Spinners are all I need, I use the single 2/0 aberdeen hook with a #3 Indiana blade. Most of the guides I know use similar designs, some tie their own and most rarely switch colors, hammered gold is considered the best of the best. I'll never say that they're wrong. Gold is a great color but for me, the chartreuse + gold combo, perch and blue + chrome combo get called into action a lot.
Like Lindy Rigging, control the location of your spinners by changing the weights you're using. Weedline fish in water depths of 8 to 16 feet are susceptible to the bullet weights in 1/16-, 1/8-, 3/16- or 1/4-ounce sizes. For steeper breaklines in deeper water, I carry standard bottom bouncers ranging in size from 1 ounce to 3-ounce sizes. The rule of thumb is that you'll need 1 ounce of weight for every 10 feet of water depth, on your lake, the 2 ounce size will come in very handy.
Now, let's back up to Jim's question #1 regarding walleye location on his favorite lake.
Reader; Q1) "This year I would like to start out fishing on one of your favorite lakes, (witheld). I have a relatively small boat, a 17 foot open fishing boat, but reasonably well equipped with tackle, electronics, etc.
In early Spring, from the fishing opener and soon thereafter, what would be my best bet for putting a few Walleye in the boat? Which launch would you suggest to eliminate long runs to the better fishing spots. Without giving up your secrets and honey holes, what general areas should I be fishing, and with what methods and baits (trolling, jigging, drifting) should I use. I haven't caught a walleye since moving here to Minnesota, (although my wife and grandson have) and would love to get this jinx off my back.
I bow to your knowledge and would eagerly accept any suggestions you may offer. See you on the water, (Privacy Requested).
---
Sundin; A) In part 1 of your question, you referred to a specific lake, the one you want to fish the most. I omitted the name of the lake because truthfully, I could get 100 questions from readers who fish 100 different lakes, and I could still give them all the same advice. As matter of fact, the archived fishing reports contain answers to situations that you'll encounter and, in some cases, were written about the very lake you've asked about. So, let's take your original question and break it down.
You've heard this before, "10% of the water holds 90% of the fish", that's the good news. The bad news is that it's not always the same 10% of the water. From one season to the next, the fish move, and you'll need to adjust periodically. I'm afraid that over time, you'll need to learn all the lake's bays and flats, and you'll need to know all the landings that lay adjacent to them. That way you can apply your knowledge to assess where that 10% of water will be at any given time.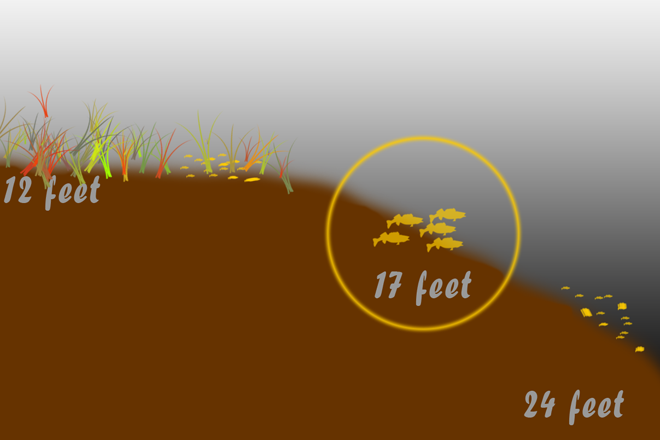 That said, because of your specific reference to, "early Spring, from the fishing opener and soon thereafter," I'll suggest that you start your search in the outermost bays where there's more shallow water. You'll find more fish on shallower shoreline breaks and along the edges of any weed patches that survive the winter. For me, key depths during early spring are 4 to 12 feet deep.
During spring, you won't need to worry much about trolling presentations like spinning the weeds or bottom bouncing. Instead, focus on both jig and minnow and wiggle worming presentations, they will carry you into early June when water in the mid-lake region begins to warm up. Whether I use a jig and minnow or a night crawler, I am more likely to cast or pitch toward structure rather than trolling or drifting through it.
As fish begin moving toward the slower-warming mid-lake structures. Transition from jigging to Lindy Rigging and begin looking at points and bars in slightly deeper water. There will still be fish on the weedline, but they will begin to segregate. Larger females will begin inhabiting mid-lake structures and smaller, "eater-size" walleye will stick to the weed edges.
On a given day, any live bait could be the top choice, but if I had to select only one, I would choose night crawlers. First because walleyes do love them, but additionally, because I can use the worm blower to inject a bubble of air that helps float them above the sand grass and other wispy weeds that grow on the bottom. Keeping the bait higher from the bottom and in the fish's' line of sight is really helpful.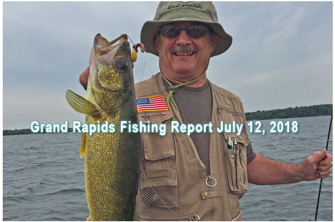 As the water warms during mid-summer, a combination of trolling and live bait rigging will emerge as the primary presentations. I watch for surface temperatures in the high 60s and begin trolling the deeper shoreline breaks. Water depths of 10 to 24 feet become important, but even now there could be some fish located shallower too.
Sooner or later, you'll hear your neighbors talking about catching fish in deeper water. You'll start seeing them on your graph and be tempted to try and catching them in water depths of 28 to 36 feet. Before I knew more about the effects of barotrauma, fishing deeper water didn't bother me, but these days I avoid it. In fact, I set the lower depth range of my Humminbird to 28 feet and leave it there. If there's a school of fish located deeper than that, I don't even want to know about them.
By mid-summer, I will typically move to other lakes that have more shallow water, better weed beds and less mid-lake structure. If you only plan to fish this lake and don't intend to go elsewhere, mid-summer would be a good time to begin pursuing more of a mixed bag. Crappies, Sunfish and Pike can keep you busy all summer long and that can be a lot of fun too.
I mentioned that many of the reports contained in the archives contain information that can be applied in direct reference to your lake. Below, I plugged in a few links to some of the most pertinent articles and I'll add more as I discover them.

— Office Cell Call or Text 218-245-9858 or EMAIL
---