---
---
KAB Outdoors — Enter For Chances To Win Prizes In The "KAB GOLD Fishing Contest" 2019
You can win prizes for submitting photos of your fish and entering the Kabetogama Outdoors Fishing Contest is easy.
Get the free app for your iphone, anderoid or desktop computer • Photo your catch and submit it using the app • Win prizes for submitting your photo of the best catch! • Follow this link to enter >> KAB GOLD Fishing Contest 2019
Good Luck!
---
KAB Outdoors "Simple Techniques = Big Payoff On Kabetogama" May 20, 2019 — Kent, Dawn and Kolby Keeler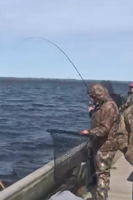 Simple Techniques = Big Catches On Kabetogama
The weather was blustery and cold for weekend anglers, but for those who braved the elements, the payoff was big.
The surface temperatures were barely tickling 50 degrees before the cold snap moved in. Once is arrived, water temps fell solidly back below 50 degrees again, hovering in the 48 to 49 degree mark in most areas.
Any ill effects that the cold water might have caused were mitigated by strong winds and as a result, walleye fishing was excellent. One friend that checked in with us said that "the bite was off the charts". For example, the guests down at Driftwood Resort reported Sunday that they've caught 75 walleye just off of the resort dock alone. That was late afternoon, before the evening bite even started, so the numbers probably got larger.
On the lake, we covered a lot of water and checked a lot of spots over the past few days. While there are some deep water options for walleye, we think that the shallow, rocky points are still the best option, especially for quality size fish. Don't be afraid to pitch your lures onto rocks in 2 to 3 feet of water, even on calm days. Work them back down the rocky edges into water depths of 8 to 10 feet.
For the shallow water spots, 1/8 ounce jigs tipped with live bait is the standard presentation. We don't worry about switching to heavier jigs until we intend to fish deeper than about 15 feet deep. Then we switch to ¼ ounce sizes, typically no larger than that. You don't need to fish jigs aggressively; repeating a drop-hop-swim, drop-hop-swim retrieve works well.
Our supply of Spottail Shiners is good and that's been a preferred minnow form many anglers. On Kabetogama though, you can never under estimate the ability of Rainbow Chubs to attract and trigger walleyes. On a fishing trip last Wednesday, Kent and his guest had shiners and used them, but caught most of their fish using rainbows instead. It's not a bad idea to pack along some of each.
The Lindy Live Bait Jig is a good design for minnows. Because of the compact design, it allows you to fish in and around rocks without getting hung up as much as some other styles. But we also offer dozens of jig shapes and designs or folks who like to experiment with plastic and other artificials dressings as well. That's one reason why we think it's good to stop by our store on your way to the lake. It's nice to get a jump start with knowledgeable staff that fish and actually use the techniques we're telling you about.
Smallmouth Bass really started coming on strong over the weekend. They're not in the shallows to spawn yet, but when the waves start crashing over the rocks, they move in to feed on crawfish and anything else that gets dislodged from the crevices. We're not sure that anyone has targeted them or that you'd need to. If you're fishing the shallow rocks, you'll catch some as you move along.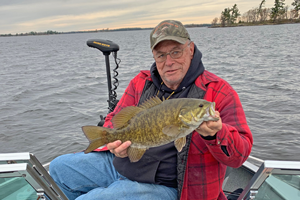 Northern Pike will grab your jig and minnow combos too. They'll mostly be smaller, but sometimes even larger pike will come along unexpectedly. But you can target and catch larger pike; it is very popular with some of our customers and they've been doing really well.
Pike are done spawning, but they're still hanging out in and around the shallow bays using whatever weed growth they can find for cover. Casting spinnerbaits, spoons and Bucktails will catch fish. But for a thrill, we like throwing big wooden jerk baits, like the Suicks. If you haven't tried it, stop in at the store and ask about it, we'll show you how to do it and what you'll need to get started.
Crappies haven't made the trip into shallow water yet. Except for a few random fish caught in deeper water, they haven't shown up anywhere. For anglers heading toward Kabetogama on the Memorial Weekend, there's a chance that they will show up in; it all depends on the weather.  We'll be watching the weather and the shallow water for any sign of them.
Remember, if you're in the area, stop in and see us. We'd love to scoop you an ice cream cone and chat about what's going on out at the lake. And if you're checking in from home, please join us here for our fishing reports, on our facebook page or contact us at KAB Outdoors.
---
KAB Outdoors "Impressive Season Startup On Kabetotgama" May 14, 2019 — Kent, Dawn and Kolby Keeler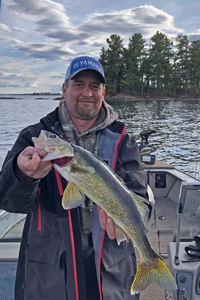 If the first few days of the fishing season are any indication of what's to come, then the walleye fishing on Kabetogama will be impressive this summer. The bite was strong over the opener and fishing patterns were predictable.
Water temperatures are still pretty cold, 45 to 47 degrees is common and so far, we haven't been able to document any temperatures over 50 degrees.
Walleyes are split up into 2 distinct groups right now. Larger fish, mostly females are relating to shallow shoreline structure. These fish are in water depths of 3 to 6 feet of water, located on sand bars and on the tips of rocky shoreline points.
The shallow water pattern probably isn't the place to look for limits of fish, but it sure is fun.
Our customers have reported that in the shallows, the ratio of protected slot fish to keepers is fairly high; they are catching maybe 4 or 5 slots for each keeper fish. Kent has been sticking mainly to this shallow pattern; "I think it's great to have a blast catching big walleyes all day long and still get to bring in a few fish for a meal, that's a great outing to me."
The people who are specifically targeting smaller fish are catching them in deeper water. The breaklines vary in depth around the lake and so do the walleyes, but 20 to 30 feet is the primary range. The challenge facing anglers in the deeper water is that the ratio of little fish vs. keeper fish is high. You could expect to find some eater size walleye in the 14 to 15 inch range, but there will be many smaller ones in the mix.
Fishing deeper water usually tilts the odds toward catching some sauger too, especially in areas where there's a little current. We've heard reports of some sauger being caught and we had one customer come in with an impressive 2-1/2 pounder.
There have been two main presentations, jig and minnow is the main one. Slip bobber fishing the shallow water is the other one.
Kent's been fishing with Lindy Live Bait Jigs tipped with rainbows or golden shiners. Depending on the wind and water depth, the weight of your jig should vary. In the shallow water, jigs from 1/16 ounce on calm days to 1/8 ounce when there's a breeze are the standard weights. In deep water, you can almost always use the ¼ ounce size, but there are times when jig weights of 3/8 or even ½ ounce may be necessary.  
We expected these patterns to be reliable and we gave some more details about presentations last week. Learn more by reviewing the report >> May 8, 2019.
There are a few crappie anglers hanging around and they have caught a few, but there's nothing like a bonanza going on. Customers reported finding some fish suspended in deep water and did pick up a few. So far, we haven't heard of any shallow water bite starting up.
What is starting to heat up is the northern pike action. There are numbers of smaller fish, 25 inches and down, mixed in with the walleyes in shallow water. We're catching them on the same jig and minnow presentations we're using for walleyes.
We really appreciated the comments from people about the helpful advice and guidance that we've strived to provide them. Some folks mentioned the fishing reports, some mentioned the expert guidance they received in our store. Thank you, we're glad that you've noticed and we're planning to do even more.
Our goal is to have everything you need for a safe and successful trip to Kabetogama. But having the right stuff doesn't mean much without the knowledge about how to use it. That's why we're on hand to show you what you need, why you need it and how to use it. Whenever you're in the neighborhood, we hope you'll stop by.
Join us here for our fishing reports, on our facebook page or contact us at KAB Outdoors.
---
KAB Outdoors "Stocked and Ready For The Lake Kabetogama 2019 Fishing Opener" May 8, 2019 — Kent, Dawn and Kolby Keeler
The fishing season is upon us!
Typical of any fishing opener, we've been scrambling to get the shelves at the store stocked and ready to go for the opener. We've still got a little work to do, but the groceries are in, the liquor store is getting stocked today and we're keeping an eye open for the rest of our live bait deliveries too.
We're expecting the fishing opener to be fairly typical, but the water temperatures may be a little bit colder than average. Most walleyes are already finished spawning, but there may still be a few in the finishing stages of their run.
Anglers should expect most of the walleye action to occur shallow, in water depths ranging between 6 and 10 feet. Depending on weather and light conditions, fish may move even shallower, it wouldn't be unusual to find them as shallow as 2 feet; we've seen that happen before.
A good starting approach will be using jigs in the 1/16 to 1/8 ounce range, tipped with minnows. Kent likes larger size minnows for early season fishing and says that it's more important to have the right size than it is to have a particular species of minnow. Minnows from 3 to 4 inches are good and the closer to 4 the better. Fatheads, rainbows, shiners, even small sucker minnows will work if they fall into this size range.
Kent's favorite presentation is pitching the jigs over the shallow tops of rock piles and shoreline points. Let the jig and minnow combos drop a couple of feet and then swim it back with a lift-drop-lift retrieve.
When the shallow bite seems off, then slip out over the edge of the breakline and fish for walleyes holding deeper, in the 10 to 20 foot range. A 1/8 ounce jig will be heavy enough most of the time, but occasionally moving to heavier weights is helpful. Finding transition areas between sand and rock is helpful. In fact areas where there's rock present, but contain mostly sand can be really good. A point leading out from the mouth of a bay that features a transition from sand to rock would be a good example.
The best presentation for these deeper fish is slow and methodical. Kent fishes his jig really slowly; almost dead stick style, dragging it just above the bottom.
On Kabetogama we like "glow" colors for our jigs. Glow/Blue and Glow/Pink combinations are good. Chartreuse Greens and Yellows are always popular too and when it sunny outside, gold jigs with lots of flash is deadly.
Slip bobber fishing for walleye is another super-effective presentation to keep in mind. Small jigs tipped with minnows and suspended below a Thill Slip Float will catch lots of fish, especially during the evening. Fish the lure of the top of shallow rock piles and shoreline points. Later in the season, leeches and crawlers will be okay on the slip bobbers, but for now, stick with minnows, they will work better.
The shiner supply for the opener is sketchy, we've usually been able to able to get a decent supply in time for the opener. But we're on the edge of our seats right now waiting to hear from our minnow supplier.
Up here, water temperatures remain cold and migrations of minnows are slow to move toward shore. The weather hasn't really played into the hands of minnow trappers, so we're hoping that conditions turn more favorable over the next few days.
We know that shiners are popular and we'll do our best to have them on hand. But if they don't come in, don't worry, our minnow tanks are stocked with plenty of fatheads and rainbows; they will definitely catch fish too. We've got the tackle section stocked up and we're ready to see you this weekend. We'll have everything you need for a great fishing opener! Join us here for our fishing reports, on our facebook page or contact us at KAB Outdoors. We'll be looking forward to seeing you.
---
KAB Outdoors "Lake Kabetogama 2019 Fishing Season Outlook" May 2, 2019 — Kent, Dawn and Kolby Keeler
We're closing in fast on May 11th, Minnesota's Walleye Fishing Season Opener and you can bet that nine days from now, the scene at our docks will look a little different than it does right now.
In preparation, it's time to share the fishing outlook the 2019 fishing season on Kabetogama.
If there was ever a time to use the term "typical ice-out", it would be now. The median ice-out date for Kabetogama is April 29th and according to the MN DNR Official ice-out map, KAB joined the list of ice-free lakes on, you guessed it, April 29, 2019.
Walleye spawning for the most part will be wrapped up before the opener and typical migrations will be occurring. Anglers should expect to find fish in a wide variety of locations, both shallow and deep.
Female fish don't linger long in the shallows after spawning and many of them will have travelled to areas that provide both food and comfort.  They'll tend to hold a little deeper, targeting an area where larger size forage is available.
Male fish are slower to move away from spawning territory and there will probably still be good numbers of "eater size" fish holding close to especially good stretches of shoreline spawning structure. Other male fish will already be focusing on food, they'll be cruising the nearby shoreline breaks and points in search of baitfish.
So where do walleyes spawn on Kabetogama? "They spawn everywhere"; says MN DNR Area Fisheries Supervisor, Kevin Peterson. "Kabetogama is unique in terms of spawning structure. There are 190 miles of shoreline and numerous stretches of it contain ideal spawning habitat for walleyes. Unlike lakes that have a major river or destination spawning grounds, Kabetogama  offers fish suitable spawning areas in a wide variety of locations"; Peterson added.
Peterson; "Kabetogama isn't exactly like other lakes in our region. It's a blend between the deeper, more sterile Canadian Shield waters and a more fertile, glacial lake. Kabetogama actually connects to portions of the Lake Agassiz Peatlands that run northwest from here. The Tanin stained water has color, but is "semi-clear" and nearly 1/3 of its water is shallower than 15 feet. The shallower, more fertile water warms faster than other lakes in the region, provides more nutrients for fish and baitfish and encourages faster growth rates."
For 2019, walleye populations are slightly above the historical median, so anglers who have fished Kabetogama before shouldn't notice any dramatic differences. First time anglers will enjoy exploring the wide range of "fish-able" locations.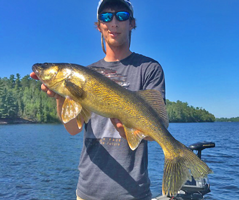 Walleye size regulations are changing for 2019. The previous 17 to 28 inch protected slot size is being replaced with a new 18 to 26 inch protected slot. Peterson; "Over time, the lake has built a large population of larger fish, that's why we're adjusting the slot regulation. There are still a lot of fish in the 14 to 17 inch range too and anglers shouldn't have too much trouble gathering fish for a meal, especially during the early season. There are lots of smaller fish too, the evidence points to strong year classes of fish from both the 2015 and 2016 seasons."
Kabetogama's walleyes love live bait. Jig and minnow combinations, Lindy Rigs and slip floats are all good presentations and in many cases, more than one presentation will work at the same time. That gives anglers some freedom to choose their favorite lures and live bait, knowing that there's a good chance that they will probably work.
On Kabetogama, the walleye is king and most anglers will target them throughout the summer. But there are strong populations of other species and anglers are becoming increasingly interested in them.
Yellow Perch have shown up at or near record levels in recent DNR test netting. Not only are the numbers strong, but size structure is very good. Anglers who target them should be able to catch reasonable numbers of fish ranging in size from 10 to upwards of 12 inches.
Northern Pike fishing should be good this season too. Peterson; "Kabetogama offers excellent pike fishing and catching fish 40 inches and larger are not uncommon." A snippet from the 2018 fisheries lake survey says; "The gill net catch of Northern Pike was 1.9 fish per net, less than the historic average and less than the 2017 catch rate. Gill net catches of Northern Pike have historically been variable at a low level on Lake Kabetogama. Northern Pike grow relatively fast and reach large and even trophy sizes."
Don't expect to catch tons of pike every day, but if the pursuit of quality fish is your passion, then you should definitely give pike fishing a try.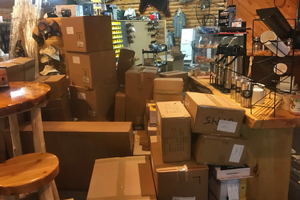 Smallmouth Bass aren't native to Kabetogama but they got in there somehow and these days there's a growing population. The average size has become interesting to anglers, with a lot of fish in the 18 to 20 inch range.
"Needle in a haystack", is the term that best describes crappie fishing on Kabetogama. The population is large enough to provide great fishing for anglers who get on them. Don't expect to find them in every corner of the lake, but if you locate them, you'll have a good chance to catch fish ranging in size from 12 to 15 inches.
Other species you could encounter include sauger, sturgeon, whitefish and ciscoes. There are also over 2 dozen baitfish species in the lake and they provide food for all of those gamefish.
We're really looking forward to another "typically good" fishing opener and we'll be sure to share updates about trends and fishing patterns as they develop. When you're in the neighborhood, be sure to stop in at KAB Outdoors, we're unloading boxes and stocking the shelves right now; we'll have everything you need for a great fishing trip on our favorite lake, Kabetogama.
Join us here for our fishing reports, on our facebook page or contact us at KAB Outdoors. We'll be looking forward to sharing our stories with you.
---
KAB Outdoors "Transitioning Between Seasons" April 24, 2019 - Kent, Dawn and Kolby Keeler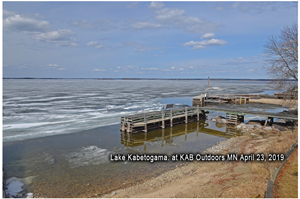 For us, the ice fishing season was hectic, the ice conditions were challenging and all told, this winter was a long one. As we look back, there were a lot of great memories made this winter and we'll be sharing some of the highlights with you next week. Right now we have a little catching up to do first.
You'd think that the gap between the ice fishing season and the upcoming open water season would offer some welcome relaxation. But this year, the "down time" has been anything but quiet.
An opportunity came knocking at our door and we opened it. A small family resort on Lake Kabetogama came on to the market and we decided to buy it. We're almost done with all of the technical paperwork stuff. So as soon as the "i's are dotted and the t's are crossed", we'll begin updating and modernizing the cabins.
We probably won't begin trying to book cabins until after the renovations are complete, but our goal is to get the resort up and running as quickly as we can. Most of the work will be done before mid-summer and we will keep you posted about the progress.
In the meantime, we're watching ice conditions on Kabetogama and as you see in our photo, the news is good. Today, ice covers most of lake, but the ice is already dark and sloppy. We're thinking that it won't last much more than 5 or 6 more days, a week at the most.
If the warm weather trend continues, walleyes will probably be done spawning and beginning to migrate back into the lake by the fishing opener. It's really too soon to make a hard prediction about that, but we'll be keeping the reports updated so you can track the fishing trends for yourself.
While we're navigating the transition between seasons, we'd like to invite you to stay in touch with us. Join us here for our fishing reports, on our facebook page or contact us at KAB Outdoors. We'll be looking forward to sharing our stories with you.
---
---