---
---
On Lake Kabetogama, KAB Outdoors Report March 2, 2021
"Experienced open water anglers, Todd, and Reed, hailing from central Iowa, told us that neither of them had spent much time ice fishing. They said too that before reading about KAB Outdoors, they hadn't even known how to pronounce the word Kabetogama. But learning about our Sno Bear rental combos, the idea of ice fishing piqued their interest. So, they booked a trip and drove on up to give ice fishing on Kabetogama a try.
During the pre-trip run through, I mentioned that if you can run a riding lawn mower, you're qualified to run our SnoBear. Okay, so operating the machine is simple, but what about figuring out where to go and fish, they asked?
That is simple too, I already have the key fishing depths highlighted on the Lakemaster Chart that is loaded on our Humminbird Helix 10. Waypoints for the better fishing spots are loaded on the unit too and so are my trails, marks, and other helpful information.
Armed with a little information and a sense of adventure, Todd and Reed headed across the ice and look what they did. As you can see in the photos, folks who don't have a lot of ice fishing experience can still find and catch fish, even on their first trip to the lake!
There's no doubt that the comfort and efficiency of the SnoBear makes it shine as a fishing machine. But we learned this winter too that not everybody needs to catch a fish to make renting the SnoBear worthwhile. Some of our guests used it for playing on the ice, sightseeing in the Voyageurs National Park, or traveling to dinner at restaurants on the lake.
We're thankful that the weather, the ice and the snow conditions combined to make this winter a fabulous one. In fact, it is hard to think of any way that things could have gone much better than they did.
But as the walleye season came to an end this weekend, we began pulling our fleet of rentals off the ice. For us, the time has come to put the ice fishing gear away and begin preparing for the upcoming open water fishing season.
We want to thank everybody who came up for a visit this winter and thanks to all of you who are making inquiries and reservations for next winter. By then, we'll be chomping at the bit to get back on the ice, but for now, we'll enjoy a little break in the action.
As the weather warms and we get closer to ice-out, we'll begin posting fresh reports. In the meantime, thanks again for your support, we're looking forward to seeing you again!" — The shelves are stocked with everything you'll need to convince those fish to bite; so be sure to stop in and let us help. For More Information >> Contact KAB OUTDOORS or Call 218.875.2281
---
More Ice Fishing Articles and Information
100 MN Lakes Get New Panfish Regs • Lake of the Woods • Lake Kabetogama 3-2 • Walleye Bag Limit Bill •

Follow Facebook
---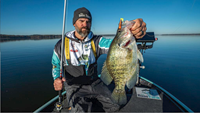 "Kevin Rogers has caught more crappie than he can even remember after decades of chasing these popular panfish all over the country. He's fished just about everywhere you can for crappie and seen all the advances over the years in fishing for crappie come and go.
But with the advent of real time sonar like Garmin Livescope, Rogers believes we all need to be good stewards of crappie populations and hopes that the catch and release mentality that has been so popular with bass fishing, also becomes a mainstay thought in crappie fishing.
While he keeps crappie to eat, he's long been a proponent of letting the biggest crappie go to replenish year classes on his favorite fisheries. While massive reservoirs won't see much affect their crappie fishing, today's angler is much more ..." View Video and Learn More About >> The Case for Catch and Release in Crappie Fishing
---
On Lake Kabetogama, KAB Outdoors Report February 24, 2021
"The great 2021 mix-up continues on Lake Kabetogama. Every day presents us with a fresh fishing pattern, every day brings us a different mix of fish species and most days, we target more than one depth range to find them.
During the past couple of weeks, our guests have caught crappies, jumbo perch, walleyes, pike and sauger, all in no sequence. The one constant has been that when folks are persistent, they wind up being rewarded.
Throughout this entire season, fish have been more likely to roam over softer bottom flats than to hug tight to structure. Still, they will occasionally move onto structure to feed, so even when we fish over the mud, we are positioned nearby more defined structure like reefs and deep water points.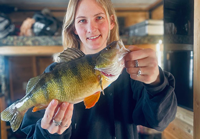 Because of the nomadic nature of the fish this season, we're convinced that the best plan is to fish with a combination of tip-ups set in shallower water, while jigging lures are fished slightly deeper. Fish are roaming in an overall depth range of about 20 to 30 feet, but 30 feet is a little deep for our liking, so we try to focus on a 25-foot maximum.
Each angler rigs a tip-up and sets it up at about 20 feet deep. Once the tip-up is set, drill a handful of holes, in a variety of depths around the neighborhood and try a variety of jigging lures in each of them.
At the store, we've got some nice lively minnows for rigging tip-ups. They run larger than your average jigging minnows, so swing by and pick up a few of each size on your way to the lake. We've got all the most productive jigging baits too, and we can walk you through some of the better choices for your next trip. Even experts agree, if you want to catch a fish on Kabetogama, we have the right tackle for the job.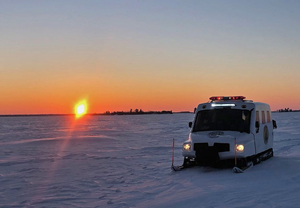 We weren't sure what to expect when we decided to start offering SnoBear and lodging combinations this winter. But the response has been strong, our guests have really enjoyed the comfort and efficiency. If you've ever wondered, these things are super easy use and really fun to fish out of. Plus, we have ours rigged up with the latest electronics to help you find and catch fish.
The Sno Bear and lodging combo trips are great for couples and families who want to fish together efficiently, but in total comfort.
Summer is fast approaching, and our bookings are already looking good, but there are still openings available. In all likelihood, the Canadian border will remain closed this summer and that means demand will remain high.
We wouldn't want you to be disappointed, so don't wait around too long, give us a call and lets get your reservation in the books before it's too late." — The shelves are stocked with everything you'll need to convince those fish to bite; so be sure to stop in and let us help. For More Information >> Contact KAB OUTDOORS or Call 218.875.2281
---
On Lake Kabetogama, KAB Outdoors Report February 10, 2021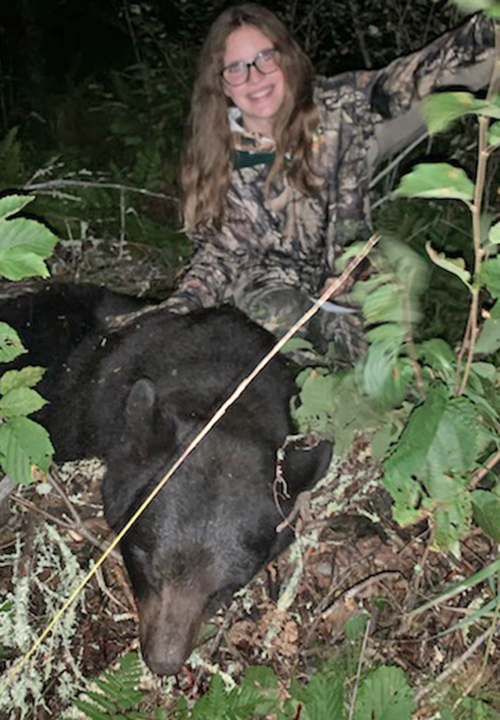 "The family that plays together, stays together and we are lucky, because sometimes we get to watch.
Natalie, along with her brothers Andy and Oliver have been coming to Kabetogama on the annual family ice fishing trips for a while now. It's been fun to watch them grow, learn and as 12-year-old Natalie proved last fall, mature.
Demonstrating more patience than many adult hunters, Natalie let several potential bear targets walk in and out of range of her stand as she waited for something "better" to come along. Finally, one did, the 300-pound chocolate that you see pictured here.
Natalie knew that persistence would pay off, but the knowledge didn't come out of nowhere. Her persistence was developed, nurtured and developed over time, we think, because of getting outside, hunting and fishing with her family. Anyway, we're proud of her and we're pretty darn sure that we'll be seeing signs of her influence on her brothers, Andy and Oliver in the near future too.
Our wildest dreams would come true if we are able to watch scenarios like this play out over and over again, right here at Kabetogama. We genuinely believe that our outdoor heritage depends on more families playing outside, together.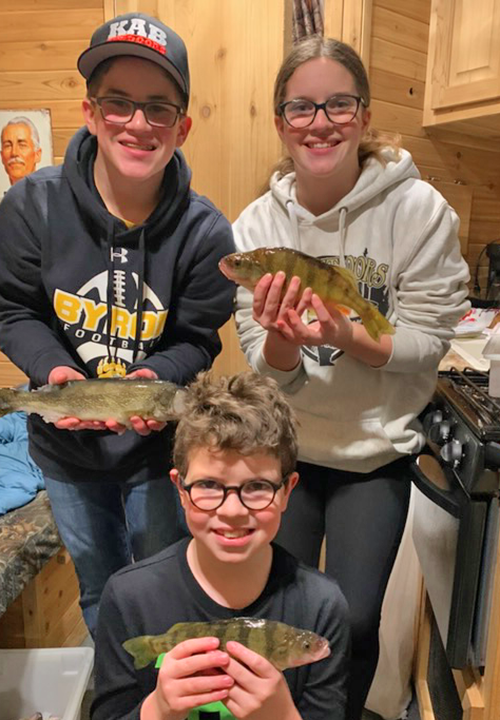 As we roll into the final few weeks of the walleye season, we've generally been pleased with the fishing on Kabetogama. While there haven't been many "hot bites", there haven't been many totally down days either. Most every group have been able to parley their catch into a fish fry for the family.
Walleyes, like we reported last week are coming from a wide range of depths and have been caught on a variety of presentations. When push comes to shove, a combination of tip-ups and jigging lures, all in action at the same time will produce results. Use large lively minnows on the tip-ups to produce both large walleye and big pike.
Set a tip up out and away from structure, but near sunken reefs or underwater points. Drill holes nearby, but closer to structure for using the jigging presentations. Periodically re-position your tip ups and drill a few fresh holes for jigging.
We have experimented with jigging lures and had some success with most of the popular presentations. Glow Spoons, Rattl'n Flyers and Quiver Spoons are a few that come to mind, but stop in the store on your way to the lake and we'll fill you in on what's hot at the moment you arrive.
Perch, sauger perch and pike have come along as bonus fish, part of the overall catch but not the specific targets. For folks interested in adding more perch to the creel, one thing we can suggest is to fish softer bottom areas. Rocks and hard gravel are fine for perch at times, but late winter is when insect larvae begin to pull fish away from defined structure.
Marl is a semi-soft material that's ideal for bloodworms and it is found in areas that transition between a hard bottom and mud. When you locate areas like these, be deliberate in your search, perch are almost sure to be roaming the flats nearby. We can help point you in the direction of some likely areas where this strategy can work.
Fishing from our Ice Castles, or for that matter, any rental shelter offers anglers opportunity to develop specialized strategies. We suggest experimentation and advise our guests to offer an array of lures that cover the gambit from attracting, to enticing to triggering.
Rig a couple of rods with large flashy lures to get the fish's attention, but always have a couple of rods set up with more subtle, lifelike baits too. When you see fish that don't strike the aggressive presentations, quickly offer them the more subtle ones.
For a family, this could be accomplished by taking turns at offering specialized presentations. Maybe mom could handle the jigging rod, using something like a Glow Streak, while dad watches the set line rigged with a large lively minnow as the kids present smaller blade style ice jigs tipped with smaller minnows or waxworms. Have fun mixing it up and forming your own "family plan".
Our Sno Bear and lodging packages have been well received this winter. In fact, we're already adding reservations to the books for next year. Even though the season is winding down soon, there are still a handful of openings during mid-week. If you've pictured yourself moving across the lake in total comfort, drilling holes and fishing spots without needing a jacket, then the Sno Bear is for you! Give us a call to find out what we still have available."
— The shelves are stocked with everything you'll need to convince those fish to bite; so be sure to stop in and let us help. For More Information >> Contact KAB OUTDOORS or Call 218.875.2281
---
On Lake Kabetogama, KAB Outdoors Report February 1, 2021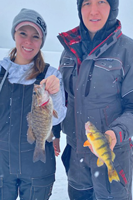 "It's amazing how time flies when you're having fun! Today, the 1st of February marks the beginning of Minnesota's last full month of walleye fishing. Ironically, our sense is that the season is just beginning!
Walleye action has not been the greatest this winter, but persistent anglers are catching some fish. Last week we mentioned the effectiveness of combining tip-up fishing searching the surrounding territory using more active jigging presentations. This approach continues to be effective and is contributing, we think, to the wide range of alternative species that our customers are catching during their pursuit of walleye.
Sauger, northern pike, crappie and jumbo perch have been in the mix all along. But this week, smallmouth bass showed up in the mix and in good numbers. The smallies were found when one group of anglers slipped across to the other side of the rock reef they were fishing for walleye. Not only are the bass fun to catch, but we'll put them up against walleye as table fare any day of the week.
The Voyageurs National Park Ice Road finally opened last week and now runs about 3 miles east, and another 2 to 3 miles straight out over the center reef. Public access to the lake is good news for anglers, but for those who have never used it, getting the hang of Voyageurs Park rules and restrictions is important.
Here's a quick start guide to help anglers stay on the right side of the law when accessing the lake via the park service ice road.
Park rules prohibit plowing any spurs longer than 300 feet off of the primary access road.
To prevent flooding, drilling holes in the road is prohibited and anglers must maintain a minimum distance from the road before drilling any hole.
Snowmobile trails are reserved for snowmobiles, do not attempt to drive your pickup truck on any established snowmobile trail.
Do not plow any spur across an established snowmobile trail.
Speed limits, whether on the road or on the snowmobile trail are strictly enforced. Check with the park service for specific details about these and other park rules that may be in place.
We don't want to oversell the fishing action on Kabetogama right now, but there's enough going on out there to make an interesting trip out it. Expect a mixed bag of fish and plan on being creative in terms of presentations. All things considered; most everybody seems to be finding something interesting to do.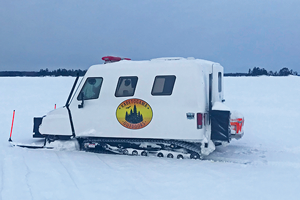 On your way to the lake, stop at the store for an up-to-the-minute update about fishing conditions on the lake. Oh and by the way, almost all of the snowmobile trails are open too, so if you just want to get away for a couple of days, that's an option too.
One parting thought, last week we mentioned the SnoBear and how it has helped Kent find fish in some of the more off-beat areas of the lake. Those comments generated a few questions from readers, like how much it costs to rent it.
In the past, our SnoBear was typically reserved for transporting customers to and from KAB Outdoors rental shelters. But it has become increasingly popular and now, we do offer a package that includes the use of our SnoBear.
Our plan includes check in to our lakefront cabin on Thursday afternoon and checkout on Sunday. During your stay, the SnoBear, rigged with a Garmin Live Scope, Vexilar 28 flashers, fuel and bait included is yours to use the entire time. All you need to bring is your fishing rod and a few ice lures.
Have you wondered what it would be like to enjoy the ultimate combination of comfort and efficiency on the ice? Then contact Dawn for more information about our super-deluxe, lakeside cabin and SnoBear rental package."
Remember, the shelves are stocked with everything you'll need to convince those fish to bite; so be sure to stop in and let us help. For More Information >> Contact KAB OUTDOORS or Call 218.875.2281
---
On Lake Kabetogama, KAB Outdoors Report January 24, 2021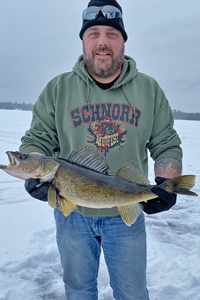 "Ice conditions on Lake Kabetogama are great, no matter where we've traveled, ice thicknesses are 16 inches and thicker. Snow cover is building as slow-but-steady snowfalls arrive every 4 or 5 days. Travel by snow machine is good, but off-road travel via pickup trucks is not possible at this time.
For reasons known only to the Voyageurs National Park staff, there is still no ice road on the lake. We get a lot of inquiries about the reasons, but the truth is that we simply do not know when, and if there will be an established ice road from the National Park this winter. Your best bet is to contact the Voyageurs Park office directly by calling 218-283-6606.
As of January 24, most of the Voyageurs Park Snowmobile Trails are open, but some are groomed, and others are not.
Groomed are the Rainy Lake-Black Bay to Kabetogama Lake to Ash River Trail and the Ash River to Kettle Falls Trails.
Not Groomed, but open are the International Falls to Kettle Falls, Ash River to Crane Lake and the Chain of Lakes Trails.
Closed is the East Namakan Lake to Sand Point Lake Trail.
Updates about trail conditions can be found here at the National Park Service Website.
Walleye fishing has been peculiar this season, if the fish are concentrated anywhere, we don't know about it yet. Our search has taken into shallow water, deep water and everything in between, plus we've fished sand, rocks and mud. Results are pretty much the same wherever we go, walleyes are scattered, and the bite is finicky.
Anglers visiting the store echo our reports, most of them catch some fish, especially those who check a lot of territory. But nobody reports getting into any large school fish.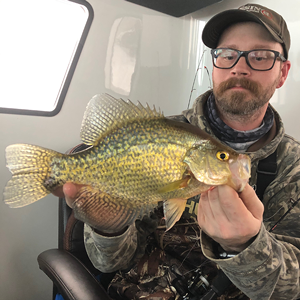 One way to maximize the effectiveness of your search is to set a tip up, rigged with large, lively minnows. Set up a search perimeter around your tip up and try jigging the structure from several different angles.
Often, the commotion of drilling holes and testing presentations gets a few fish moving. Fish that find it easy to snub a small jigging lure will find it harder to say no to a large, lively minnow. Repeat the process every time you move into fresh territory and you definitely will pick up a few fish.
Thanks in large part to the effectiveness of our Sno Bear, Kent's search has taken him into more new territory than ever this winter. And one of the payoffs has been his discovery of active crappies. When the walleyes are sluggish, crappies are a nice way to give our guests something to do.
While not considered a "Crappie Mecca", Kabetogama does have modest populations of nice size fish which are not pursued by large crowds. Maybe you're interested in a Sno Bear trip to the crappie hole with Kent, it can be arranged.
Some of our other guests report taking advantage of active perch as a substitute for sluggish walleye action. Folks are catching good numbers of nice size jumbos by fishing soft bottom transitions that lay adjacent to sand flats. Perch feed on insect larvae that inhabit the soft, marl substrate and the transitional edges provide them with a defined travel route. Anglers have done well by focusing on depths from 27 to 32 feet of water.
Perch eat a lot of different things and there are a variety of lures that pique their interest. One of the best setups is to rig one rod with large, flashy blade baits tipped with minnows, while a second rod rigged with small, tungsten jigs and larvae is used to trigger strikes from insect feeders.
Recently, pike fishing hasn't been a hot topic around the store. But remember, it won't be long before pike will begin migrating toward late winter and early spring staging areas. The force of nature is strong in these fish and they will be located in areas adjacent to spawning territory well before the ice begins melting. Using tip-ups rigged with big sucker minnows is a great way to ice one our monster Kabetogama pike." — The shelves are stocked with everything you'll need to convince those fish to bite; so be sure to stop in and let us help. For More Information >> Contact KAB OUTDOORS or Call 218.875.2281
---
Fish ED Video January 24, 2021 "Crappie Fishing Tips and Tricks"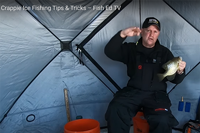 Unlike many other species of freshwater fish, crappies can be found in a wide variety of locations up and down in the water column. Feeding preferences, oxygen levels and water clarity all play a role in where crappies will be found.
Knowing where to psotion your offering can make the difference betwen a boom or bust on your next crappie fishing adventure.
Want to catch MORE crappies ice fishing? Understanding where and how crappies are feeding in the water column is the key to a consistent bite. Follow Jon Thelen as he breaks down a variety of tips & tricks that will help dial in your presentation and catch more fish! View Video and Learn More >> Jon Thelen's Crappie Fishing Tips and Tricks
---
Wired2Fish January 24, 2020 "Abu Garcia Turns 100"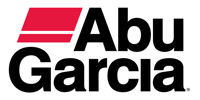 "A lot has changed over the past century, but in the sport of fishing, one brand has remained a mainstay for serious anglers worldwide who require innovative and high-quality rods and reels to pursue the fish they love.
In 2021, Abu Garcia® observes an important milestone in the company's history-its 100th anniversary-by looking to the future while also paying homage to a legacy that spans across continents and marks the foundation for many modern-day angling innovations.
Carl August Borgström founded AB Urfabriken in 1921 near the Mörrum River in Svängsta, Sweden. The onset of World War II in Europe led AB Urfabriken (ABU) to redirect its skills to the development of ..." Learn More >> Abu Garcia Turns 100
---
On Lake Kabetogama, KAB Outdoors Report January 13, 2021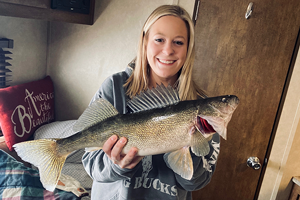 "Fishing action has improved on Kabetogama over the past week, but before we get into the ice fishing report, let's talk about travel conditions, particularly the Voyageurs National Park Ice Road.
Travel conditions on the lake are awesome for snowmobiling, the snow is deep enough to provide a nice smooth ride to and from the ice fishing spots. But drifted areas have become deep enough to rule out most off-road travel in a pickup truck, so hold off on that, it is not an option at this time. This is why we've been getting a lot of calls about whether or not the ice road is open.
So far, it is not and there is no indication that the ice road will be opening anytime soon. In fact, we're not even sure that anyone from the office has been out to inspect the landing or check the ice conditions.
Folks who are curious about the timeline for when the ice road will be open can cut out the middleman and call direct to Bob De Gross at the Voyageurs National Park headquarters in International Falls. De Gross is the one in charge of making final decisions about the road and can provide you with updates. Contact him at 218-283-6606 and be sure to leave a voice message if he's not available at the time of your call.
If we know something soon, we'll provide an update on our facebook page and of course, provide additional information here, in our fishing report.
Back to fishing, the bite has been better the past couple of days. Our graphs reveal lots of fish in water depths of 25 to 28 feet, in some areas, the activity is nearly constant throughout the day.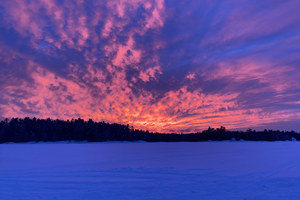 We've had some success using a lot of presentations but haven't seen any one of them really stand out. Aggressively jigging with loud, flashy lures like Glow Streaks calls fish into the area, but sometimes triggering a strike from them requires a 2nd rod rigged with a more subtle lure.
Maybe because of what the walleyes are feeding on, tiny, young of the year perch in the 1-inch size range, smaller lures and smaller minnows have proven to be effective this winter. While walleyes fill their gullets with tiny perch, a crappie size jig tipped with small fatheads or a couple of waxworms goes down easier than larger lures, at least that's one theory.
We are catching some walleyes on spoons tipped with minnow heads too. Glow Spoons are working, and so are some of the other proven and popular jigging spoons. Don't be afraid to experiment with a wide array of lures, it seems that offering fish more choices is a solid approach right now.
Tip ups set in 15 feet of water helped us bag some walleyes during the daytime this week too. We have rigged with larger minnows and take care to be sure that the bait is lively and swimming. Walleyes have a harder time saying no to a minnow that appears to be struggling to escape.
We haven't had a lot of folks interested in pike of perch so far. So any other fish we've caught have come along as bonus fish while we were in pursuit of walleyes.
Some of our upcoming reservations have fallen through, so you might want to take advantage of the cancellations. There will be a couple of openings this weekend and again over the weekend after that. Give us a call for an up to the minute availability assessment.
Up to the minute fishing reports are always helpful too and our staff at the store can always help with that. Whatever the fishing patterns are at the time, we have the right lures and selection of live bait to help you capitalize, so stop in on your way to the lake!" — The shelves are stocked with everything you'll need to convince those fish to bite; so be sure to stop in and let us help. For More Information >> Contact KAB OUTDOORS or Call 218.875.2281
---
On Lake Kabetogama, KAB Outdoors Report January 6, 2021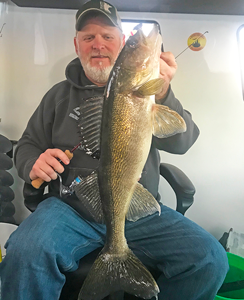 "At KAB Outdoors, 2020 was an amazing year. Despite the obvious challenges, our customers, guests, and staff all pulled together to make it an enjoyable and productive fishing, hunting, and boating season.
A growth year for us, we acquired lots of new gear, updated our fleet of rental ice fishing shelters and made a lot of progress updating the grounds and facilities. In fact, the slower-than-typical start to the ice season allowed us some extra time to make even more progress and in 2021, our customers and guests will enjoy more comfort than ever on their next visit.
That is why we're so excited to, drum roll please … RING THE OPENING BELL ON THE 2021 FISHING SEASON! Yes, that's right, the lake is locked up, our rentals are in place and customers have begun catching fish through the ice on Kabetogama.
Because of Mother Nature's tardiness in freezing the lake, pinpointing the fish has taken a little extra time, but we're beginning to zero in on some of the better fishing spots now.
Maybe it's because of the late start, or maybe fish have responded to some other natural influence, but so far, their mood has been less than aggressive. Some of the jigging baits that we typically favor during the early ice season aren't really triggering strikes.
An aggressive jigging motion will call fish in, we see them on our graphs often throughout the day. But we are actually triggering strikes and catching fish using lures that do almost nothing. In fact, we could argue that a lively shiner, on a bare hook, suspended below a slip float is the "best" presentation right now.
Trophy hunters might be interested in that because using larger than average minnows on setlines or tip-ups could produce bonus pike along with larger walleyes.
At the moment, none of the Voyageurs Nation Park snowmobile trails are open. However, there is enough snow on the lake for comfortable snowmobiling. The Voyageurs Nation Park ice road is not open either. We do not suggest attempting off-road travel by pickup truck, there are still too many potential pitfalls to make that a safe option.
We've been covering lots of ground using the Sno Bear and experimenting with depths. Kent has fished in water depths of 12 to 30 feet and everything in between. So far, there's no clear pattern, so experimentation will continue until we have to dial in key depths more specifically.
If you've never fished in a Sno Bear, you deserve to treat yourself, it's quite an experience! And this season, Kent has added a lot of new electronics, so the Sno Bear is becoming a great search tool as well. Seeing is believing, they say, so we'd love for you to come up and see the machine for yourself!
Whether you choose one of our guided ice fishing packages or check in to one of sleeper rentals, we'll be working hard to make your ice fishing trip the most comfortable and enjoyable one ever.
Oh, and if you prefer to wing it, fishing the lake on your own terms, that's great. Just remember to stop by the store for bait, lures, licenses and those last-minute items that fall through the cracks. We've got the supplies you need, and the information you want, so swing into the store and let us help!" — For More Information >> Contact KAB OUTDOORS or Call 218.875.2281
---
---