---
---
Jeff Sundin June 13, 2021 "Learning the Learn-Able and Presenting the Present-Able"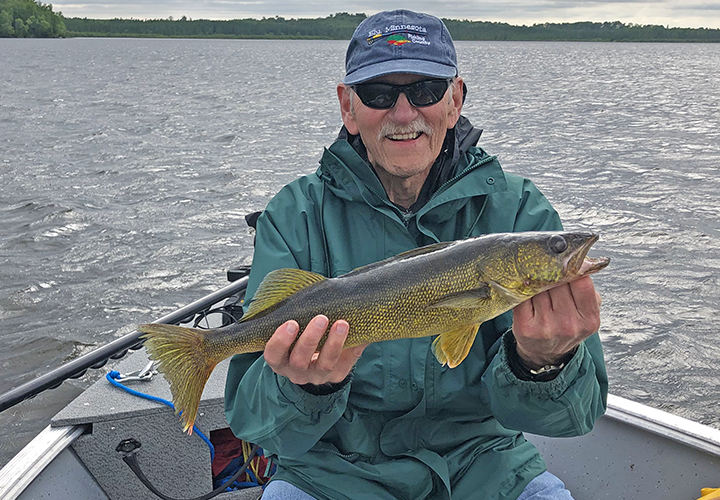 Some fish are always biting somewhere and at some time. But there are those days when we don't catch 'em because we run out of time before figuring out the pattern, or the presentation. Nobody can cover every spot, from every angle of any lake in a single day; that's the truth. But there are certain days when not catching fish is simply our own fault; days when human error is the blame.
Most folks would never admit it, but sometimes, the reason they don't catch fish is that they are "too smart". But I will, because I've done it, and I've learned some painful-but-valuable lessons because of it. Painful because looking at myself in the mirror after letting a customer down by being "too smart for my own good" really sucks. It's often the result of not trying alternative presentations, sticking to a given pattern or presentation, knowing that it if I just stick with it, it will work eventually.
There have been times when I've arrived at the dock with a meager catch, only to find out that somebody else wailed on 'em. It's been even worse when whomever has done the wailing on 'em, did it right in front of me and I didn't know it. Ooh, ouch, very painful, but valuable too, because it has taught me to be both more versatile and more thorough. Some would say, its taught me to be less stubborn about but I think I know and more accepting about what I still need to learn.
The reason I bring this up is that for the past week, I could have been my own worst enemy more than once. Take the past few days for example. On Friday, I was fishing with long time customers, friends really, the Skoglund's, on Lake Vermilion.
After moving from spot to spot, looking for fish on mid lake structure, I figured out that the fish were not out there. I knew that meant that they must be shallow, but I was having a hard time finding a suitable, shallow water territory to test my theory. Fortunately, after a long search, we finally found some weeds in a shallow bay in which to test my theory.
Earlier in the week, I had done well by fishing cabbage weeds using wiggle worms, this was similar structure, so we started with that presentation. When it wasn't working, I said some very cruel things about the lake, I should be spanked for it! But luckily, I took a deep breath and asked the boys to break out the Ugly Sticks to do some spinning. Little Joes tipped with night crawlers brought us some very "good fortune". As you can see by the accompanying photo of Elson Skoglund, we turned the heads of some very nice walleyes that were laying in that dense cover.
On Saturday, with another long-time customer and friend, Bill Linder, we fished closer to home. The structure was similar, a large, shallow cabbage flat. Only this time, trolling spinners only turned the heads of small pike and tiny perch. But when we put away the spinners and started wiggle worming, we were welcomed into "the club"; confirmed walleye specialists. Go figure, 2 patches of cabbage, 2 awesome presentations, but only 1 of them worked in 1 place at a time. As you can see by the accompanying photo of Jim Miller, "Wiggle Worming" turned the heads of some nice walleyes!
There were other episodes this week that would further illustrate my point, but I bet you already have the idea. If I would have been too stuck on either presentation, then one of my customers would have ended up with a bad day. Luckily, I am learning not to be "too smart" and to keep trying. So at least for this week, I haven't had to let any of my friends down.
If you're headed for the lake, go with confidence, the weather has been stable and water temperatures are warm; ranging from 70 to 76 degrees. With stable weather and warm water, the fish are definitely on the prowl and biting. But remember to be prepared, don't over-stock on any one lure or bait. I'd suggest that you carry a lit bit of everything, instead of a lot of anything.
Just since last weekend, we have caught walleyes on shallow water rocks, deep water points, mid-lake bars, shallow water weeds and on mid-depth sand flats. We caught them on jigs and minnows, jigs with plastics, spinners with minnows, spinners with night crawlers and slip-bobbers with leeches.
And whatever you do, don't be "too smart for your own good", fiddle around with several different structures and use a variety of presentations until you unlock the combination that works for the fish you are fishing at the time.

— Jeff Sundin 218-245-9858 or EMAIL
---
Ely Area, Arrowhead Outdoors Fishing Report June 9, 2021
"Walleye fishing slowed way down as the record heat wave moved in. Anglers fishing during the day really struggled to find active walleyes. Early risers and night owls often reported a very different story. Both of these angler groups reported similar locations, techniques and times to be out for success.
Early risers often caught walleyes in 6 feet of water or less, using a slip bobber and a leech. Often times right off their docks or campsite, before 8am. Night owls also reported catching walleye shallow, in 6 feet of water or less, with slip bobber and a leech or search baits (paddle tails or minnow baits), but this time after 8pm.
Smallmouth bass are either building spawning beds, spawning or have wrapped spawning, depending on what lake your on. Regardless of where they are with the spawn, they are shallow and very easy to catch right now. Ned rigs, tubes and even top water lures have all been very effective on bass right now.
Stream trout fishing has cooled off for the shore angler, on many of the area stream trout lakes. Warm water temps are largely to blame for this. Boat/canoe anglers have been catching some very respectable trout in some of the smaller, less fished trout lakes. Jigs and twisters jigged over deeper water, small crankbaits trolled over deep water and night crawlers floated off the bottom have all been very effective was to catch trout.
Lake trout has remained stead this last week, but there are more and more reports of the trout being caught out in deeper water. Trolling spoons fished behind down riggers, or three colors of leadcore and stick bait have both been the predominant way anglers are catching lakers. Anglers fishing from a canoe have been reporting good success jigging heavy 1 1/2 to 2oz bucktails over deep water.
Northern Pike anglers continue to catch good numbers of pike. Pike over the 30" mark have become few and far between as raising water temps push the out into deeper water. Anglers have been catching pike with buzzbaits, spinnerbaits, spoons and large suckers. Due to the heat, best success has been very early in the day in shallow weedy bays.
Sunfish and Crappies have begun to setup and spawn in many area lakes. Anglers have been catching them in shallow bays with small jigs tipped with either a small angle worm or wax worm for sunnies. Crappie minnows fished under a bobber has been very effective on crappies." — Arrowhead Outdoors, 218-365-5358
---
Jeff Sundin June 8, 2021 "Wiggling the Wiggle-Able"
Recapping the last few days boils down to this. When the clouds move in and the wind picks up, the fishing action is great! When the wind stops blowing and the sun beats down on the water, the fishing gets tricky.
I used the word "tricky" because fish can still be caught in the bright conditions but catching them takes both creativity and determination. Knowing a lot of fishing spots doesn't hurt either, moving frequently and picking off a fish or two at each stop is a good idea right now. One of my fishing guide buddies added to that thought yesterday. In a discussion about Lake Winnie, he said; "When I see a school of fish on my graph, we stop, drop in our jigs and pick off the best ones, keepers, right away. After we catch 3 or 4 fish, the rest of the biters get smaller and staying in that spot is a waste of time."
I wasn't fishing on Winnie yesterday, but the pattern was still the same for us. Make a move, get a few strikes, try one more pass and then move on to fresh territory. Whenever the element of surprise was on our side, the fish would strike, fairly aggressively actually. It was just a lot easier to spook them under bluebird skies.
Another trick that came into play for me yesterday, was switching away from the jig and minnow, over to the wiggle worms. An experiment at first, I tied on a 1/16 ounce Lindy Live Bait Jig tipped it with a whole night crawler and tossed it into the water. Within a few minutes, I had a pickup which led to a nice keeper walleye in the livewell. After it happened again, I tied up the same rig for Janet and it worked for her too. Then I tied another one up for Marty, and … yes, Wiggle Worming Season has definitely arrived!
If jig and minnow is your thing and you really don't want to change to live bait yet, that's okay. In fact on Sunday, the "Grand Finale' of Fun With Dick and Paul, jig and minnow fishing was awesome. But that day we had cloudy skies and strong, strong winds blowing. Fishing the same area yesterday, there were still some fish striking jig and minnow too. However on Monday, it was clear that the lion's share of walleyes where we were fishing had a strong preference for red meat.
One mistake I did make on Monday was looking for fish in deeper water. It seemed like the right thing to do at the time, but we did not find any fish much deeper than about 15 feet. Apparently, the increased algae blooms, along with the presence of emerging weeds has begun to soften the harsh, clear water conditions that persisted through last week. This probably means that as water temperatures continue to rise, and weed growth fills out, trolling with spinners will soon take over as the leading presentation.
About water temperatures, it is now easy to find 72-to-75-degree surface temperatures. On Saturday, we discovered some readings as high as 80 degrees, but Sunday's turnover dialed them back to a few degrees.
Insect hatches are another thing to watch for now. I noticed the tell-tale, black goo coming from the exit ramps of fish that we caught yesterday. That was the signal that they are probably feeding more heavily on bugs than on minnows. That may also be why the fish showed a preference for night crawlers. Emerging insect hatches are often the reason for fish changing from minnows over to live bait.
Today, I may just make another run up to Red Lake. I thought about it yesterday, but wanted to give the lake an extra day to settle down after the tempest that blew through on Sunday. Whatever we do decide to do, I'll fill you in tomorrow.

— Jeff Sundin 218-245-9858 or EMAIL
---
Lake of the Woods, LOW Tourism June 8, 2021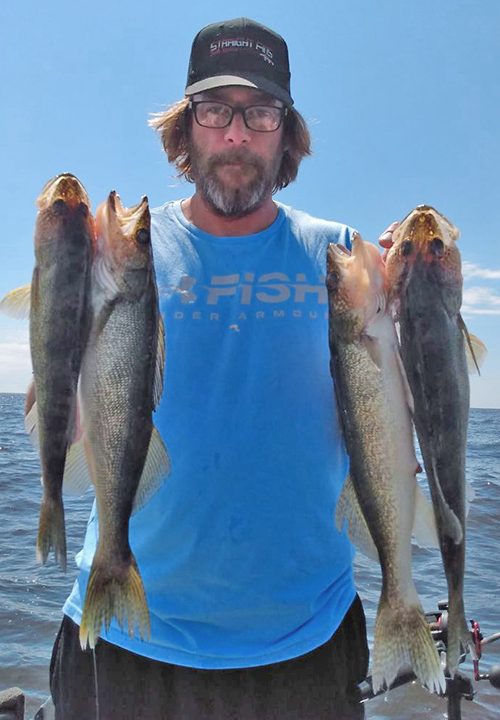 "Walleyes were active on the south end of Lake of the Woods this week. Some warm weather hit the north country and the fish responded nicely. Jigging with a live fathead minnow or frozen shiner vertically jigged or drifting spinners with a minnow or crawler in 15 to 29 feet of water has been the ticket for most walleye anglers.
Snelled spinners or night crawler harnesses work well all summer and into the fall. These are also a really good way to cover water while searching for fish. They are also versatile as they can be fished shallow to deep. 1.0 to 1.25 mph is a good speed, as long as the spinner is spinning. Reliable colors to start out with are hammered gold, either by itself or with another color, pink, glow red, orange and chartreuse. Are also all good colors in the stained waters.
Trolling crankbaits is gaining steam with very good results. A great way to cover water. Get the lure where walleyes are living and hang on!
Some good walleye fishing on The Rainy River too. Most anglers fishing the river are locals or folks who have smaller boats and the river gets busier on windy days. Although many walleyes head back to the lake after the spawn, not all do! There is 42 miles of navigable Rainy River from the mouth at Wheeler's Point to Birchdale which is 26 miles east of Baudette.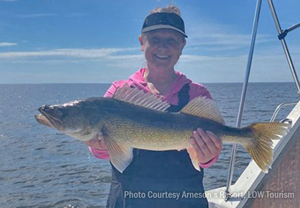 Most anglers jigging with a minnow with spinners and crankbaits starting to perform well.
Multispecies in the river. Smallmouth bass in rocky or slack water areas. Pike in bays. Sturgeon season opens again July 1st.
Great walleye fishing continues around The Northwest Angle as well. Fish coming from 14 to 25 feet of water. A lot of fish being caught in the mud, but there are plenty being caught around structure as well.
Jigging with a minnow and drifting with spinners the go to methods. Not as many anglers pulling crankbaits but they are working. Much like the south end, Gold or gold mixed with another color has been effective this week.
The Canadian border still closed, but anglers heading to and through Minnesota waters can still get there. The LOW Passenger Service, charter boat shuttle service from the south end, is open and running. If you have the right boat and expertise, boating across is an option too. 3. And finally, Lake Country Air flying service, a float plane service out of Baudette can get you there as well." — Lake of the Woods Tourism, (800) 382-FISH
---

Lake of the Woods

, Border View Lodge June 7, 2021

"We've been working Little Traverse Bay all week with good results. Floating with jigs has been bringing in a lot of nice fish. Plain hammered gold and chartreuse with hammered gold has been working really well. We saw some blistering hot days this last week in the mid-90s, just a week after getting some freezing temps and snow.

The forecast for the coming week is mid-80s with chance of thunderstorms almost every day. If you plan on coming up, bring your rain gear just in case. Winds are supposed to be in the teens with possible gusts into the 20mph range.

Stay safe and hope to see everyone soon!" — 1-800-776-3474 Border View Lodge
---
Jeff Sundin June 4, 2021 "Day 2 Fun With Dick and Paul 2021"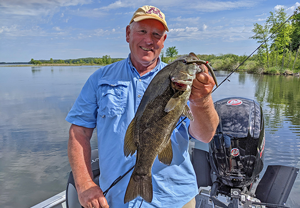 Day 2 of "Fun with Dick and Paul 2021", took place right here in Grand Rapids. Like I said yesterday, cloud clover and a breeze gave me the only excuse for trying one of my neighborhood's clear water lakes that I was going to get before the heat wave strikes. Near as I can tell, we were a little bit early for some fish, and a little bit late for other fish.
One of the primary intended goals was to fish for crappies, so that's what we tried first. Although there was some dispute about crappie location at the bait shop, weed flats containing cabbage weeds would be our best bet, I thought. We made our first stop on a wide patch of cabbage and cast 1/16-ounce jigs tipped with action tails. There were some pike, some largemouth bass and a few perch in the weeds, but no crappies that we could find.
Maybe Andy was right, maybe there were crappies in the shallow spawning beds? We checked that theory out by stopping at several well-known spawning spots. I'm not saying he was wrong, but we did not see evidence that there were any crappies in shallow water, in fact, we never saw any crappies anywhere yesterday. I think we were too late for the shallow bite, but too early for the cabbage patch bite.
Sunfish and bass, now that was a different story, they were easy to spot in shallow water. They were not always large, but they were plentiful, and I don't remember stopping anywhere that didn't produce a few sunnies, bass or rock bass. The one problem was that bluegills and bass were well into the late phases of spawning. Schools of roaming female fish were non-existent, only the bed guarding males remained. That meant they were glued to the nests and very reluctant to move.
Even though we did catch some nice bass, I think we were a little bit too late to get in on any fast, pre-spawn action. Same thing was true for bluegills, too late for pre-spawn, too early for the weedline bite.
Walleyes, according to a friend had been active earlier this week but appeared to be taking the day off on Thursday. In fairness to the lake, our search for walleye was not exhaustive. If we happened to wind up near a good walleye hole between bass and panfish stops, we would give them one pass to see if there were walleye biting. Apparently, they were not, because we didn't catch any and my buddy confirmed later that the fish he'd caught earlier had vanished from the area. I guess we were too early for a solid, full-time gathering of walleye on weediness and mid-lake structure.
So, for day 2, bluegills and bass were the highlight. My attention turns back to walleye today and I'm debating which lake they will like best. If you were a walleye and the weather forecast was for 95 degrees and sunny, where would you go? I need all the help I can get, so if you happen to have a fabulous idea, please do let me know! Otherwise, I'll let you know on Sunday how our next couple days play out.
I remember days from my youth when we fished too long in the lily pads and got big sunburns. Don't forget to slather up this weekend, that sun could be hot! OH and drink your water too, the Hippie Chick will be proud of you if you do! Good Luck!

— Jeff Sundin 218-245-9858 or EMAIL
---
Jeff Sundin June 3, 2021 "Fun With Dick and Paul 2021"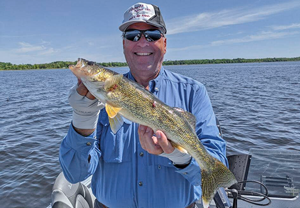 Fun With Dick and Paul 2021, started off mellow. The air temperature was mild, the skies were blue, and the breeze was light. Walleyes were coax-able, but not overly aggressive and they were more scattered than I've seen them recently.
Fishing isolated bars surrounded by flat terrain with a soft bottom was the general rule for finding fish. Not all the bars held fish yet and the ones that did, hosted only a few fish each. But, if we kept moving and fishing, we had enough action to call it a good day.
As far as presentation was concerned, our Lindy Live Bait Jigs tipped with shiners worked fine. But I've gotten the heads up from 4 bait shops already that the shiner supply will be exhausted soon. So, to test the alternatives, we rigged up the Little Joes and took them for a spin along the weed edges. Pike responded to them, but on Wednesday, we did not pick up any walleye, perch, or crappie.
We'll be using Lindy Rigs with leeches and night crawlers today and in my opinion, "rigging" will likely be the preferred presentation for a few weeks before the spinners really take over the conversation, more on that later.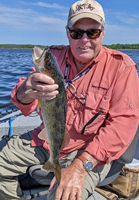 The heat wave, poised to strike this weekend, will prove to be problematic in some ways. Comfort will obviously be affected, but what I'm concerned about now are water levels. Small to mid-size lakes with river outflows are low already and the last thing they need is the hot sun evaporating even more water. And then there is this, the only way out of a heat wave, it seems to me, is by having a big storm. Before this episode is over, we're going to endure a doozy and that will cause a major disruption.
Not all the news about the hot weather is bad though. There are a lot of lakes that could really use a boost in terms of algae production and some heat will help the progress. Adding some color to the water will benefit anglers, making fish a little easier to catch. But better algae blooms benefit fish in terms of producing better growth rates and that would be helpful for the survival of the current, 2021-year class of fish. The hot sun should super charge weed production and that's a good thing too. In many ways, you could say the more weeds, the better because of the luscious habitat they provide.
Another effect of the heat wave will be to intensify spawning of the warm water fish. Sunfish and bass spawning activity will be in overdrive by the weekend, even in the deepest, coolest water lakes. Crappies, if there are any remaining that haven't spawned already, should be totally finished in the next few days.
With 4 days of "Fun with Dick and Paul" remaining, I'm scratching my head about which lakes I will visit on which day. But apparently today will be my best odds of having some cloud cover to work with, so I do see a clear water lake in our short-term future. I'll let you know how that goes tomorrow.

— Jeff Sundin 218-245-9858 or EMAIL
---
Wired2Fish June 3, 2021 "Railblaza Gift Certificate Giveaway"
"Anglers love to accessorize their boats, and finding the best way to take boat items with them without filling every compartment, can be a quandary. Railblaza has you covered with their line-up of mounting accessories that hold everything from electronics, to drinks to fishing rods. They even have carts to tug your kayak around too.
Any boat with a rail system along the gunnel is ripe for Railblaza but they also have plugin mounts that allow flexibility to mix and match items like cell phones and cameras to be placed in the best places in the boat. Electronics can also be mounted and moved too.
To give you a taste of Railblaza gear we are going to Learn More and Enter >> Railblaza Gift Certificate Giveaway
---
Jeff Sundin June 2, 2021 "Mixing the Mix-Able"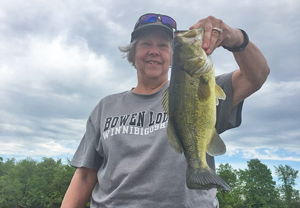 I took the bait when Fritz Becker mentioned going for a mixed bag of fish on Tuesday. I had chosen a lake where we could catch almost anything from rock bass to walleye to largemouth to crappies to sunfish to pike.
The good news is that the fish, some of them at least, took the bait too, but not before giving me reason to doubt the decision.
When we arrived at the landing, surface temperature readings ranged from 64 to 65 degrees. Before we even broke idle speed, we spotted schools of sunfish, along with a handful of largemouth bass in the shallows. "We might as well start right here", I said. "Why bother driving all over the lake when we can get the action started right away?"
Well, the answer was because those fish were not going to bite. It's easy to look at a graph, see fish on it and then discover that they can't be caught. There is always speculation that maybe the fish are not the right species, of that some odd occurrence has given them lockjaw. But disappointment goes to a higher level when you can see fish with your eyes but can't get them to respond to your lure. Try as we might, those sunfish and bass would not, could not, did not strike.
Okay fine, we'll try for walleyes instead, so I rigged us all up for wiggle worming with 1/16 ounce Lindy Live Bait Jigs and night crawlers; that didn't get the action started either.
Okay fine, we'll try for crappies instead, so I rigged up a 1/16 ounce Lindy Jig and tipped it with a 2 inch paddle tail and began casting-retrieving into the cabbage weeds; that didn't get the action started either.
Okay fine, we'll break out the spinners and rule out whether that would be a better presentation. We rigged up with 3/16 ounce bullet sinkers and Little Joe Spinners, we tipped them with small fatheads and began trolling the weed edges; that did get the action started.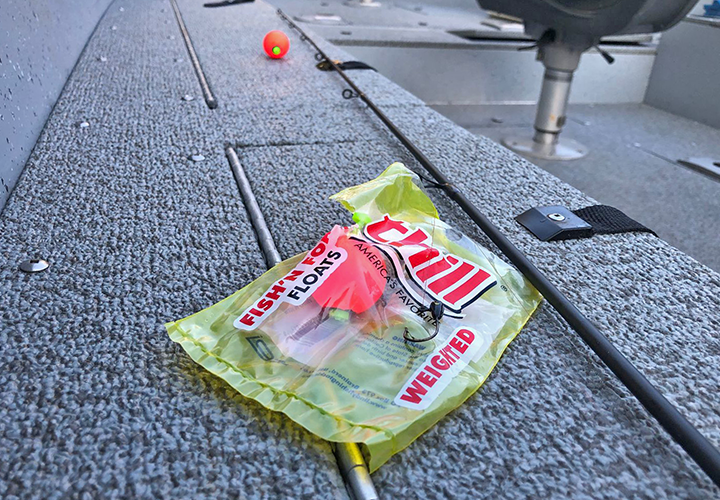 At first, trolling the Little Joes was producing only northern pike. But eventually, they did allow us to bag a couple of crappies and a couple of walleyes too. We weren't setting the world on fire, but the livewell was beginning to fill up. After about our 50th pike, I thought we could use a break, so I re-visited the spot where we'd seen the bass and panfish earlier.
By now, the sunshine had warmed the water up to 75 degrees, a full 10-degree increase. We could see panfish dimpling the surface and occasionally a bigmouth swirling too.
A 1/16 ounce Lindy Live Bait Jig tipped with a chunk of night crawler and suspended 18 inches below Thills Fish'N Float, weighted clip on bobbers did attract some strikes this time. Compared to the number of fish we could see, there still weren't a ton of strikes, but the action was steady enough to hold our attention. There were sunfish, largemouth and rock bass all mixed together, so somebody was always reeling in something.
We didn't harvest all that many fish, but by the time the day was over, we'd probably caught 100 or more. At the cleaning shack, we identified 7 species of fish, just enough of each for a meal or two.
Is it time to break out the heavy artillery and stock up on Little Joes? I'm not quite sure about that yet, the majority of our trolling catch consisted of northern pike. Walleye aficionados definitely would not have liked that detail about this fishing trip. But it would have been a different story for anyone whose inner child still loves being on the receiving end of high action, they probably would have been tickled.
My spinner supply will increase, and my trolling rods will get a more prominent spot in my rod locker today. But wiggle worming, along with the jigs and minnows are not being put away yet. With 5 days of "Fun With Dick and Paul" beginning today, I should have ample opportunity to experiment. I will keep you posted about how that goes.

— Jeff Sundin 218-245-9858 or EMAIL
---
Ely Area, Arrowhead Outdoors Fishing Report June 2, 2021
"Walleye fishing has steadily improved as anglers work out what walleyes are doing on their favorite lake. More and more anglers reported excellent early morning fishing and even better evening fishing for walleyes.
Anglers have been finding walleyes shallow in 6 feet of water or less over gravel or rock. Leeches fished under a bobber or on a jig pitched shallow has been very effective. Many cabin owners and resort goers also reported catching walleye right off the dock during the evening. Trolling minnow baits in 8-12 feet of water has also been effective during the evenings. There were also a few reports of crawlers working well over the weekend.
Northern Pike anglers have been having a great time catching lots of pike in the 30" range this last week. Majority of these anglers were using large suckers fished under a large bobber, right off their docks or in shallow bays in about 10 feet of water or less. Spinnerbaits, spoons and large minnow baits have were also effective on pike, this last week.
Smallmouth bass have begun setting up on their beds looking to spawn on many area lakes. Anglers have been catching some real giants with tubes, Ned rigs or wacky worms. Anglers should be looking for bass in shallow bays with sand/gravel bottoms.
There have been some good Lake Trout reports have been coming in as of late. Anglers have been catching lakers trolling three colors of leadcore with medium size stick baits or trolling spoons with down riggers. Regardless of the lake, anglers have been reporting trout are about 20 feet down.
Stream Trout fishing report have been few and far between, but reports have been good with some very big brookies caught. Anglers have been catching big brookies with 1/16oz jig, with a 2" white twister. Early in the day trout have been shallow, but as water temps rise trout go deeper in search of cooler water. Slip bobber and crawler about 10 feet down has also been very effective on rainbows as of late too.
Crappies were being caught in shallow bays as they were looking to spawn very soon, but after the cold snap, anglers lost track of them. Warm stable weather this next week will get them back on track. Sunfish were also being caught in good numbers too, up shallow, before the cold snap. Angleworms fished under a bobber was the ticket before the bite cooled off. Again, warm stable weather will get them back on track, before they start setting up to spawn after the crappies." — Arrowhead Outdoors, 218-365-5358
---
Lake of the Woods, LOW Tourism June 1, 2021
"There was some excellent walleye fishing on the south end of Lake of the Woods this week. Guides, like Houston from Sportman's Lodge, who you see pictured here, did a nice job of being versatile on days when the wind really blew!
Jigging with a live fathead minnow or frozen shiner vertically jigged in 14 to 29 feet of water has been the ticket for most walleye anglers. Never discount trolling though, there were some good reports that trolling crankbaits achieved very good results. Trolling is a great way to cover water where walleyes are living.
Some popular crankbait colors to start with are pink, UV Firetiger, Firetiger, chrome-blue, gold-orange. Mix up crankbaits and experiment with different shapes, sizes, wobbles and colors until you get dialed in. Good to have everyone in the boat with a different lure to start out.
More big pike surprised unsuspecting walleye anglers this week. When you get hooked up, hang on!
There were some nice walleyes are being caught n the Rainy River this week too. They were located up and down the river in water depths of 8 to 15 feet. Fishing on the Rainy River is a nice alternative to fishing the big lake for smaller boats and big blow days.
Most anglers on the river were jigging with a minnow. Spinners with crawlers and crankbaits are also a good option to cover water. The river offers many species of fish in a setting second to none. Sturgeon season opens again July 1, 2021. Summer sturgeon fishing doesn't get attention due to walleyes but it is productive and fun.
Great walleye fishing continues around the Northwest Angle as well. Fish coming from 13 to 20 feet of water. Anchored around neck down areas with a bit of current, points and around shoreline structure producing nice fish.
Most anglers jigging with a minnow. Gold-chartreuse is a good color this week. Gold, glow colors and brighter colors in the stained waters are always a solid choice.
With the Canada border still closed, there are many ways to get up to the Angle.
The LOW Passenger Service, charter boat shuttle service from the south end, is open and running.
If you have the right boat and expertise, boating across is an option.
And finally, Lake Country Air flying service, a float plane service out of Baudette and other locations."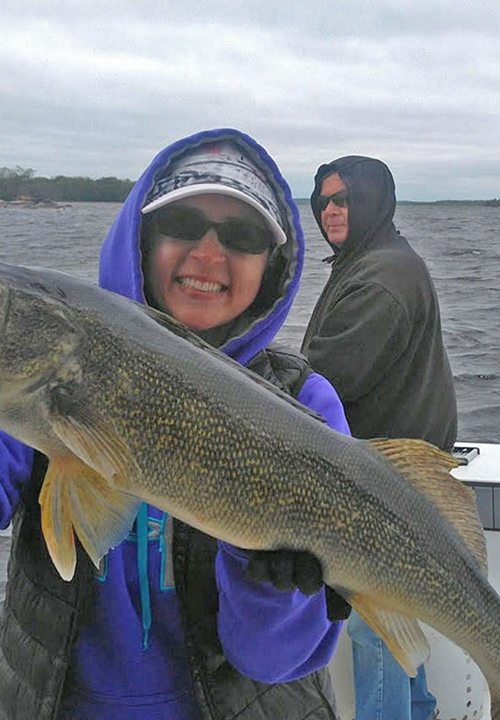 — Lake of the Woods Tourism, (800) 382-FISH

Lake of the Woods

,

Border View Lodge June 1, 2021

" We continue to work different areas across the lake. We have anchored and jigged on the South Shore and East Border of Big Traverse Bay. In Little Traverse we have mostly anchored and jigged but there has been a little bit of drifting. The Walleye Master Guides are focusing on areas around structure near the 29 foot of water mark. One day live Fathead minnows are best and on another the frozen Shiners. The wind has had an impact this past week.

We have started doing Shore lunches, so far there are no docks in at Garden Island so it has worked out when able to fish by Zippel Bay State Park. Garden Island is a State Park and hopefully they will take on the task of making it useful by putting the docks in soon. In past years we have put in the docks at Garden Island but with too many liability issues at stake we will have to wait for them to maintain it.

We continue to work on our projects with some of the remodeling waiting on parts. The 3 bedroom river cabins as an example are still waiting on cabinets for over the stove so we can hang the new microwaves. Additionally the new kitchen tables and chairs have not yet arrived so we currently are using the older ones.

Overnight temps this week look warmer with 40-50's and daytime highs in the 70-80's." — 1-800-776-3474 Border View Lodge
---
You Are Invited To Become A Duly Deputized Fishrapper Cub Reporter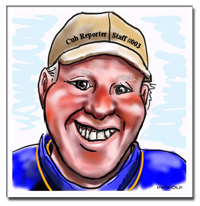 If you've been waiting for a gold engraved invitation to participate in the daily reports, then stop waiting and consider this your own personal invitation.
Helping your fellow fishermen and women stay abreast of fishing conditions in your area is good for everybody and it's easier than you think!
You don't have to write a book, you don't have to share your secret fishing spots and you don't even have to mention your lake. But even a few words about general trends, seasonal patterns and local weather conditions can really help.
Be like me, become a duly deputized "Cub Reporter", it's good for fishing! Contact Us or if you prefer to be "social", Fishing Reports Minnesota, the Facebook counterpart to this page is open to the public, so you can post your own fishing update or just share a photo of a nice catch.
---