---
---
May 13, 2021 — "What Does Jeff Sundin Know About Kabetogama?"
On May 13, 2021, Cody Clarke wrote, Q) "Thanks for posting the fishing reports. The have been helpful as my father, my buddy and I prepare for our fishing trip to Lake Kabetogama next week. This will be our first trip to "KAB", and we have heard great things.
I was curious to know if you have fished the lake and if you had any tips on structure or areas of the lake to start out with? We will be focusing on the walleye, pike and perch/crappie bite. Looking at the map it appears the north east end of the lake would be prime for spawning with all the shallow sand flats and weed growth.
Also, what is the water temperature currently up there? From what I read on your reports it appears as though the walleye have completed their spawn for this year, and I am trying to figure out where would be a good depth to start. Any help or advice you could provide would be great! We are excited to get up there and do some fishing!
A) Cody, as a matter of fact I have fished Kabetogama, not a lot, but enough to get a feel for the basics. My first open water trip was in 2018 and I fished the lake with Kent Keeler, who along with his wife Dawn and their son Kolby operate KAB Outdoors. Kent is an expert guide on the lake and fishing with him really gave me a jump start in terms of learning the lake and some of his favorite fishing patterns.
As it happens, the folks at KAB Outdoors submitted a fresh Kabetogama fishing report just this morning Read May 13, 2021. As of Wednesday afternoon, the water temperature on the main lake was 55 degrees.  Compared to readings from other "opening week reports" this is warm by comparison. In fact, in 2019, the water temperatures were still in the 40's on opening day. Again in 2020, surfaces temperatures were 5-6 degrees colder than they are now.
Walleye spawning activity has been finished for several weeks. That, combined with the warmer water temperatures, makes me believe that fishing patterns will more closely resemble Memorial Day than a typical fishing opener weekend.
I could attempt to re-write everything I know about fishing patterns and presentations on Kabetogama. But most of that information is already available and I think if you're willing to follow a few links, you'll find a lot more information and it will be available faster. These 5 are specifically pertinent, I think, to the conditions you'll find on Kabetogama this weekend.
So, let's do it this way, take a look at the bullet points below and click on links to the articles that look most interesting. After perusing these, let me know if you still have questions and I'll fill in the gaps tomorrow morning. If I don't hear back from you, good luck on the opener, I think you'll have a blast.

— Jeff Sundin 218-245-9858 or EMAIL
---
Wired2Fish May 13, 2021 "Fishing Rods: Understanding Lengths, Powers and Actions"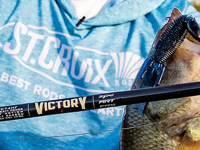 "It's easy to become overwhelmed by the sheer number of different fishing rods available today. In its quest to offer anglers the upper hand in any fishing situation, St. Croix Rod, the Park Falls, Wisconsin-based, family-owned American rod manufacturer, offers over 700 distinct rod models alone.
So, how does one go about making the right choice?
There are many variables that affect a fishing rod's performance and price, including materials, components, engineering, manufacturing technologies, and much more. But, moving into the more-fundamental realm of what a fishing rod actually needs to do in a given situation, basic performance is dictated by three primary variables: length, power, and action. Length and power are almost always ..." Read Full Article >> Fishing Rods: Understanding Lengths, Powers and Actions
---
Jeff Sundin May 12, 2021 "Spring Crappie Fishing Timing the Time-Able"
After what seemed like an endless sleepy spring, this week before opener has been the complete opposite. My new Alaskan showed up last Friday and that means that the heat has been on to get her rigged and ready to go for Saturday morning. Between that, and taking care of all the typical last-minute preparations, the week has been hectic to say the least.
We've tried more than once to find crappies this spring, but for the most part, have arrived too early to find them in their typical spring haunts. But on my semi-weekly ECG visit to the Twin Cities, we found the Lilacs were in bloom in Eden Prairie last weekend, and you know what that means; crappies were already moving into shallow water spawning structure in metro area lakes.
We haven't seen any Lilacs blooming in the Grand Rapids area, but for those of us in north central Minnesota, the countdown has definitely begun. Thanks to sunny, warm daytime weather, anglers are reporting good catches of crappies in shallow water.
I will know more tomorrow than I do today because we're headed for the lake to give it a whirl. But for now, I do not believe that the fish these folks are catching have set up shop on spawning beds, but I do think that they're "testing the waters", pun intended.
Shiner minnows, or the lack thereof, are a common topic during the week before opener, but this year, they are a non-news story. Again, warm daytime temperatures and lots of sunshine has triggered shiner runs and the bait trappers are reporting good catches. Bait shops in Bemidji have had spottails on hand for almost a week already.
Grand Rapids area shops have them and so do the larger stores in the arrowhead region. I'm not sure that it will be needed, but tomorrow, I'll compile a more comprehensive list about how bait supplies are holding up.
Words to the wise about getting your new fishing license for 2021, buy them online and save yourself a lot of time!

— Jeff Sundin 218-245-9858 or EMAIL
---
Jeff Sundin May 6, 2021 "Where Will Walleyes Be On Opening Day?"
When asking bait dealers about the prospect of having shiners for the fishing opener, "cautiously optimistic" is one term I could use. Another one, depending on who I talk to, could be "living on pins and needles".
The minnows are trying to cooperate, bait trappers are catching a few. But Mother Nature keeps throwing curve balls at them. The conditions have been too cold, too windy, coming from the wrong direction .. everything except for what minnow trappers need, calm and sunny.
Luckily for we anglers, the fishing opener is late this year, as late as it can ever be, so we still have time for the situation to straighten out.
On the phone yesterday with Lynne Powell at Fred's Bait, I could hear the nervous tone in her voice. As usual, it is a race against time, if the tanks start filling up before the phone starts ringing, then everyone will be happy. But when the answer to anxious anglers calling about whether they can come in for shiner minnows is no, life just is not fun.
For me, it is still too early to get worried about it. The weekend forecast looks more favorable for producing good spawning conditions and shiners could make a move into shallow water fast, if that forecast comes true. Another reason to stay calm is that bait shop owners, all of them that I've talked to have good supplies of both fatheads and rainbows. If need be, those minnows will easily get us through the first few days of the season.
I've seen how stressful life at a bait shop gets around the fishing opener, so I'm not talking out of turn. If you want to do your part to make things run more efficiently, wait a while before you start calling them every few minutes. Give bait dealers a little time to breathe and do their work, then everything else will fall into place.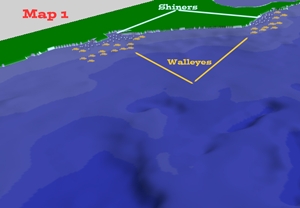 Preparing for the fishing opener myself, I always worry more about fish location than I do bait supplies. As it happens, this season, finding those minnows in the lakes will likely be more important than finding them in the bait tanks at the tackle shop.
It's already been two full weeks since DNR fisheries wrapped up all of the walleye spawn take operations statewide. In most of those lakes, the majority walleyes are already done spawning and in their post spawn recovery period. Walleyes in some of the deeper, cool water lakes might still be actively spawning, but those runs should be done before the opener too.
That tells me that this year, finding feeding areas will be more important than focusing on the typical "post-spawn" habitat and locations. This will be especially true on the north central region's large, shallow water lakes like Winnie, Leech, Upper Red and others.
Check the accompanying maps of Lake Winnibigoshish for a couple of likely scenarios. Shallow sand flats like those highlighted in Map 1 provide spawning habitat for spottails and other baitfish as well. When the weather is calm and warm, minnows will make daily moves onto the sand, into water depths of 1 to 3 feet. That's when we experience those hot, shallow water jig bites. It is not uncommon to catch walleyes in 4 to 6 feet of water and if it's breezy, they may go even shallower.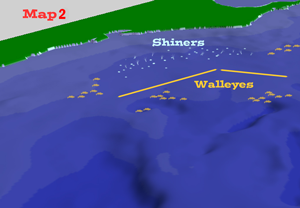 Where do those minnows go when cool weather interrupts spawning and they evacuate the shallow sand flats? The answer is mid-depth flats with lots of emerging, low-lying weed stubble. During early season, the weeds might not be more than a couple inches tall, but that's okay, minnows don't need heavy cover and those stubbly weed flats are perfect. If there are some heavier weed patches that's okay too, but don't spend your whole day looking for them, it isn't necessary.
When the wind blows, walleyes will move onto the flats. But a cold front or calm water conditions will discourage that. Instead, they will move out to the deeper edges, adjacent to the flats. If the weather is super calm, they will move out to the even deeper, secondary breakline into the lakes main basin like the ones highlighted in map 2.
Jig and minnow combinations can be good, even in the deeper water. But last year I learned that using a Lindy Rig with large, lively minnows can produce better results. You may recall the story, fishing guides were locked out of work, so I joined Jon Thelen for a day of fishing on Mille Lacs. We used large shiners at the time, but big rainbows, redtails or even light pike suckers will do the same job. Review the video if you want a refresher course, of if you haven't seen it yet, watch it now. You'll see the presentation explained in full details.
I'm up against the clock, so for now, I'll wrap it up here. Tomorrow, I'll throw out a few more ideas about where to look for walleyes on opening day, so if you have a specific question, this would be the ideal time to ask.

— Jeff Sundin 218-245-9858 or EMAIL
---
Wired2Fish May 5, 2021 "Pending World-Record Redear Sunfish Caught"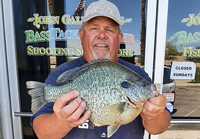 "This time of year gives anglers an opportunity to catch all kinds of different species in shallow water. One of the most exciting bites going on right now is actually the sunfish bite as they're in the middle of their annual spawning process in many parts of the country.
We see a lot of big fish in the spring months but this particular fish has absolutely dropped our jaws. Screenshots of the catch immediately started circulating within the Wired2fish editorial team.
While fishing on Lake Havasu in Arizona, angler Thomas Farchione of Waterford, Wisconsin ..." Read Full Article >> Pending World-Record Redear Sunfish Caught
---
Jeff Sundin May 5, 2021 "Countdown To Fishing Opener 9 Days"
Angling life in north central Minnesota is starting to get interesting. Reports about minnow supplies from bait shops in the region are cautiously optimistic. Nobody that I know of has Spottail Shiners in their tanks yet but supplies of large fatheads and rainbows are already good.
Spottails had just started to run on Upper Red Lake last week, but then a cold front moved in and that turned schools of shiners back toward deeper water. Today, those minnows could begin appearing again in certain shallow water areas as the sunshine and calm seas return.
Along with minnows trapped on Upper Red Lake, most of the state's largest bait dealers depend on massive shiner runs that occur on Lake Winnie, Leech Lake and Mille Lacs. While there are smaller lakes that contribute shiners too, the larger lakes with expansive shallow sand flats provide the most ideal habitat for shiners. Because the lakes are so large, trappers depend on having calm and sunny conditions to produce their better catches. So, in the interest of helping them out, say the bait dealers a prayer, cross your fingers or send kind thoughts for great weather and great catches of baitfish this week.
Tracking the progress of shiner runs, along with reporting about who has them in stock will be ongoing this week, so watch for updates.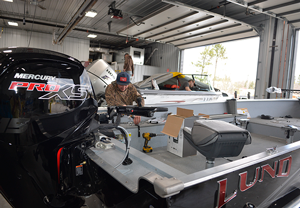 For me, it was personally gratifying to catch a glimpse of my new Alaskan parked in the lot at Ray's Marine in Grand Rapids on Tuesday. For many, ordering any new boat for delivery this spring has been frustrating and many have been told that they will have to wait for months before they can take delivery.
There is no doubt that I was extremely lucky to get my order slipped in just under the wire. But in my mind, this experience illustrates the importance of having a good relationship with a great dealership. For 32 years now, every boat I've owned has been a Lund and every Lund has come from Ray's Marine in Grand Rapids. At times like these, there is no way to calculate the value of that long, strong relationship and I'm grateful beyond measure for their help and support.
Anglers fishing for panfish are reporting mixed results this week. The colder weather discouraged a lot of folks from fishing during the daytime, so there were few panfish reports from boaters. Dock and shoreline anglers have been happier though and report catching decent numbers of both crappie and sunfish. One caveat, the schools of feeding panfish do not start moving until last light.
I could see gathering with family and friends to fish the evening runs could be a great idea for fishing this weekend. Call your friend, you know, the one who has a cabin on a good little panfish lake. Ask what they want you bring for dinner before you start fishing off their dock.
Remember, Moms get a free fishing pass on Mother's Day weekend, so there's no need to buy yours a fishing license. You can use the savings to get her a gift and something tasty to put on the grill during your fishing trip.
With only 9 days remaining between now and the fishing opener, life is getting busy again and it feels good. I'll be out and about, gathering information on water conditions, bait supplies and pre-season panfish reports. Remember, you don't need to wait for an invitation, send along a few words about what you see and how you plan to spend your fishing opener; I'll do the same.

— Jeff Sundin 218-245-9858 or EMAIL
---
Jeff Sundin May 3, 2021 "Opening The Open-Able"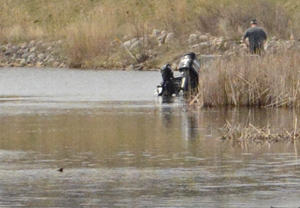 Warmer weather is providing some incentive for panfish in some lakes to make short feeding runs into shallow water during early evening hours. Anglers in central and north-central Minnesota are beginning to report moderate to good catches of both crappie and sunfish.
Surface waters have yet to achieve temperatures suitable for spawning though, so daytime fishing has remained slow. On Saturday, I spotted dozens of people fishing shallow bays and small lakes my drive along US Highway 169 between Grand Rapids and Minneapolis. By Sunday, there was not hardly anybody fishing anywhere and that tells me that for most folks, fishing was probably a flop the day before.
Now, temperatures are forecast to cool again, so it is unlikely that panfish will get too serious about spawning runs into shallow water this week. If you're thinking about wetting a line, get your chores done during the day and be in position for the chance at a late afternoon, early evening feeding run.
Last week, I started looking into who was planning what for this year's walleye fishing opener, now less than two weeks away. After last season's "non-opener", I was particularly curious about where and when the 2021 Minnesota Governor's Fishing Opener would take place. A quick search on the internet informed me that Ottertail County will be the "official epicenter" of walleye fishing on May 15, 2021. There were several references about how this year, the fishing opener would be "different" than past openers, but I didn't learn much more than that.
Hungry for more details about what the term "different" means, I tracked down the Chairman of Ottertail County's organizing committee, Erik Osberg. On the phone with Osberg, my first, most obvious question was whether Governor Walz will himself take to the water in pursuit of walleye on opening day.
Photo left; "Minnesota Governor Karl Rolvaag and Iowa Governor Harold E. Hughes on Gunflint Lake" courtesy Minnesota Historical Society.
"At the moment, the plan is that Governor Walz will attend the event and that he does intend to be fishing. There is no guarantee that he will be here and officials from the governor's office tell us that there never is. But if all goes according to plan, we do have somebody ready and standing by to take him fishing," Osberg said.
On the surface, that reply sounded odd, because personally, except for the covid-cancelled 2020 event, I couldn't recall any governor missing any fishing opener, ever. But looking into it, I did discover that there have been several governor-less fishing openers since the very first event held in 1948.
Organizers from Explore Minnesota, the agency who oversees the annual fishing opener events, suggested that I search the Minnesota Historical Society's archives, so I did. But a web article by Drew Wood on the Mpls-St-Paul Magazine's website, was actually more helpful. In his article "How the Governor's Fishing Opener Came to Be", Wood asserts that Governor Luther Youngdahl, instrumental in establishing the very first fishing opener event, skipped the very first one in 1948, but did attended later events. Governor Elmer C. Anderson must not have cared for fishing much, he skipped 3 events in a row.
The entire purpose of these fishing opener events is to promote fishing and fishing related businesses. Typically, the governor, along with invited VIP guests are treated to a full schedule of events and festivities that go on for a couple of days before the opener. Access to celebrities like the governor, along with other interesting guests help attract members of the outdoor media who then gang up to bring attention to whichever area of the state is being showcased.
Typically, public participation helps drive interest in localized events. But, this year, almost all the local events will be reserved for invited guests, VIPs and the governor himself. The traditional Friday afternoon community picnic has been left off the agenda and the Saturday shore lunch will also be closed to the public as well. In fact, all the local events on the schedule are reserved for invited guests.
Still, Ottertail County's 2021 Walleye Fishing Opener could deliver broader media reach than past fishing openers, whether Governor Walz attends the 2021 event or not. That is because for the first time ever, anglers statewide are invited to participate in the virtual online walleye fishing derby.
Anglers do not have to be in Ottertail County to join the event. You can fish any lake in Minnesota, here's how it works.
Download the Fish Donkey app on your phone and use the hashtag #onlyinMNCup to join the event. When you catch a walleye, submit one photo of your fish being measured on an accurate yardstick or bump board. Submit another photo of you holding the fish horizontally and the Fish Donkey app takes care of the rest. Thanks to the catch-photo-release style format, every fish you catch could be a potential winner, even if it must be released because of a slot-limit or other special regulation.
The longest walleye wins a $1,000.00 shopping spree at Mills Fleet Farm. There are down-line prizes too, a $500 Fleet Farm card, a $500 "anywhere in Ottertail County" card, and certificates worth $400 for Blackfish and $280 for WSI Sportswear. Sorry, there are no other categories, walleye is the only fish species that qualifies for prizes.

— Jeff Sundin 218-245-9858 or EMAIL
Reader Comments Shared With Permission May 3, 2021 MN Walleye Bag Limits
Larry Brown, East Peoria, IL wrote; "Jeff, Once again you are spot on with your response to Mike (April 29, 2021) about social versus biological facts in reducing limits in Minnesota. I agree with the sunfish limit reductions that will be implemented this year. As a tourist fishing Minnesota each year, I have seen the sunfish size deteriorate on many ofthe lakes I fish. I am for the reduction of limits to bring back the quality that I experienced in the 90's. I think the DNR got it right to limit the daily limit to 5 fish but also allow us a possession limit to take home at the end of the week.
To reduce the walleye limits would effect my having fish that I actually make last for a whole year, only fishing in Minnesota one week a year. If taken into consideration what I spend in one week on our vacation, the fish that I actually consume probably cost us $50 a pound.
Thanks again for being the voice of reason and remembering those of us who are traveling to your state to enjoy your beautiful resources."
Reader Comments Shared With Permission May 3, 2021 MN Walleye Bag Limits
Gerry Albert, retired MN DNR Large Lake Specialist wrote; "I just read your April 29, 2021 response the the walleye limit question. Your response should be required reading for politicians voting on the bill."
A) Larry and Gerry, thank you both for the comments. I've written before that we appear to be in the minority on this subject. But to the extent that it might be helpful, sharing the links with MN State Legislators is always an option. Here's a link that makes contacting them very easy >> MN Legislator Locator. Larry, other non-residents who have contacted me used the map to select the district for the resort or lodge where they stay when visiting Minnesota.
---
You Are Invited To Become A Duly Deputized Fishrapper Cub Reporter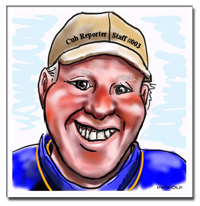 If you've been waiting for a gold engraved invitation to participate in the daily reports, then stop waiting and consider this your own personal invitation.
Helping your fellow fishermen and women stay abreast of fishing conditions in your area is good for everybody and it's easier than you think!
You don't have to write a book, you don't have to share your secret fishing spots and you don't even have to mention your lake. But even a few words about general trends, seasonal patterns and local weather conditions can really help.
Be like me, become a duly deputized "Cub Reporter", it's good for fishing! Contact Us or if you prefer to be "social", Fishing Reports Minnesota, the Facebook counterpart to this page is open to the public, so you can post your own fishing update or just share a photo of a nice catch.
---